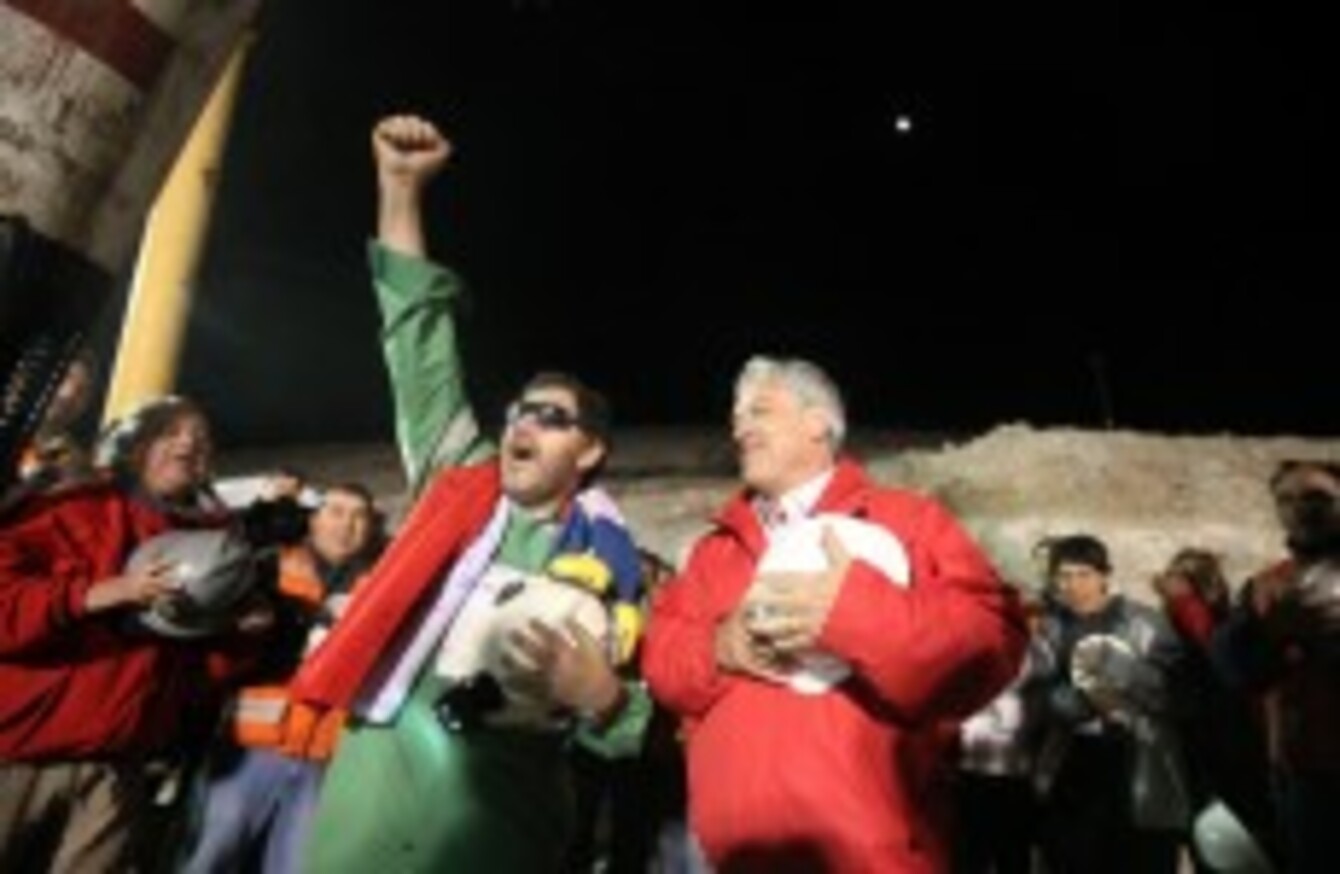 Luis Urza, the last of the miners, is freed.
Image: HUGO INFANTE/GOVERNMENT OF CHILE
Luis Urza, the last of the miners, is freed.
Image: HUGO INFANTE/GOVERNMENT OF CHILE
[LAST UPDATED 8.50am - hit Refresh or F5 for the latest update]
All 33 men trapped in a mine in Chile for more than two months have now emerged safely to be reunited with their families.
In its early stages, the operation freed about one miner every 45 minutes to an hour, but by the time the last miners were freed yesterday evening, they were emerging at a rate of one every half hour. The last of the miners to be rescued was site foreman, Luis Urza – know as Don Lucho to the miners. He got out at 9.56pm local time.
Above: The moment Mario Gomez, 63 and the eldest of the miners, made it to the surface
How the rescue unfolded:
All times are in Chilean time (four hours behind Ireland).
11.15pm The rescue operation began shortly after 11.15pm, when a technical expert, Manuel Gonzalez, was lowered down.
Gonzalez was supposed to return to the surface and report on the condition of the rescue shaft, and then repeat the journey, before handing over to a paramedic. However, Florencio Avalos – who is one of the fittest of the miners – instead prepared to be winched up immediately.
12.10am The first man, Florencio Avalos, reached the surface smiling widely to cheers at ten minutes past midnight local time, after being winched up the 624 metre shaft in a capsule.
Avalos was greeted by the arms of his family, including his emotional seven-year-old son, and the Chilean President, Sebastian Pinera. He gave a thumbs up before being taken in an ambulance to a triage medical centre.
Next up were Mario Sepulveda and Juan Andres Ilanes Palma.
1.09am Mario Sepulveda was a bundle of energy as he emerged from the mine, embracing the President and shouting with joy as he handed out souvenir rocks to the crowd. He immediately asked the media not to treat him as a celebrity. "I would like you treat me as what I am – a miner," he said.
We are so happy. I never had a doubt. I always believed in the professionals, I always had faith in God.
2.07am Juan Ilanes made it to the surface. He was asked how his trip was. "Like a cruise," he replied.
3.11am The fourth, Carlos Mamani, made it to freedom at 03.11 (07.11 GMT+1) saying "Thank you to everyone", before hugging his wife, Veronica.
4.15am A shaken-looking Jimmy Sanchez was taken from the winch, and hugged his family and rescuers before he was carried away on a stretcher with a final thumbs-up. Sanchez was thought to be the most psychologically vulnerable of the men.
5.34am Thirty-year-old Osman Araya emerged just after 9.30am (GMT+1), smiling broadly before being overcome with emotion as he hugged and kissed his wife. He looked euphoric as he spoke to rescuers before being taken off on a stretcher.
6.22am At 10.22am (GMT+1), Jose Ojeda emerged from the rescue tunnel, smiling broadly and unfurling a signed Chilean flag, before hugging his stepdaughter. He was widowed eight years ago. Doctors had been concerned for his health as he is diabetic, but he looked to be in good shape as he came out of the mine.
7.04am A jubilant Claudio Yanez emerges – as dawn breaks – into the waiting arms of his fiancee Cristina.
7:59am After a press briefing indicating the health conditions of the miners already brought to the surface – all, it appears, are in good shape and better spirits – miner number nine, Mario Gómez, surfaces. Gómez, the eldest of the 33 men at the age of 62, is met by his wife Lila before falling to his knees and offering a prayer.
Gómez suffers from some respiratory problems, and is being brought to hospital by air ambulance as a matter of precautionary urgency. Miners three and five, Juan Ilianes and Jimmy Sánchez are joining him for the trip.
8:53am Next up is Alex Vega (31), who suffers from hypertension and some kidney problems. He is the mine's most experienced worker, having been there for nine years (Goméz, up just before him, has been mining for 51 years, however).
He's met by his wife Jessica, who looked almost nervous before her husband surfaced, in a long and steady embrace. He even covers their faces with his hard hat to grab a quick kiss with her, away from the media spotlight.
Vega celebrated his 31st birthday in the mine, 634m below the surface of the earth. As he goes to speak to his doctors, he clutches his shirt: 'Gracias Senor', meaning 'Thank you, Lord'.
9:32am Time for number 11, Jorge Galleguillos (56), who had regular blood pressure problems. He's met not only by his loved ones but by Bolivian president Evo Morales, who had tried to be present a few hours ago for the surfacing of Carlos Mamani (number four) who is Bolivian.
The rescue operation is expected to continue until the early hours of tomorrow morning.
10:13am The twelfth miner, Edison Peña, appears at the surface. A fitness fanatic who apparently ran 10km a day in the underground mine to stay in shape, Peña led regular Elvis singalongs to keep up the spirits of his trapped colleagues. He's met by his wife, who is clutching a video camera. The chances of her being keen to remember her final moments of solitude are slim.
10:55am Carlos Barrios, 27 years old, bounds out of the capsule and exchanges an emotional hug with his dad. Barrios, 27, worked as a taxi driver as well as a miner. Local media reports say Barrios had told his mother he was unhappy with the intensity of the miners' psychological evaluation while trapped below.
11:28am Víctor Zamora is the fourteenth man out of the mine. He had only been a temporary visitor to the mine – he had simply gone in that morning to fix a broken-down vehicle when the rockfall trapped him with the 32 others. His wife Jessica Cortez is pregnant – she and their young son Arturo are there to meet him as he arises.
12:10pm Víctor Segovia is number 15, the 'writer' of the group who wrote regular messages to the surface telling them how things were going, 622m below. Having already declared his desire to write a book about the experience. Javier Bardem is already reported to have agreed to play Segovia in a big-screen retelling of the miners' story.
12.50pm Daniel Herrera Campos is the 16th man to be rescued from the mine, and has emerged looking fit and well. Herrera has been acting as "paramedic's assistant" during his time underground. He said that the advice being issued by psychologists above ground was causing "hysteria" among the men. The 27-year-old's mother Alicia greeted him as he emerged.
1.50pm The operation has now moved past the halfway point with the successful surfacing of the 17th miner, 56-year-old Omar Reygadas, has reached the surface. Reygadas is said to have helped organized life underground. His fourth great-grandchild was born a month after the men were sealed into the rock.
2.28pm Esteban Rojas Carrizo became the 18th man to be rescued. When he reached the surface, Carrizo knelt and prayed. He has been hailed as the romantic of the group, having proposed to his long-term girlfriend, Jessica Yanez, while still trapped underground. On a note written on a scrap of paper, his said to his love of 25 years: "When I do get out, we will buy a dress and get married." On reaching the surface, the first thing he said to her was "Have you bought your dress yet?"
3.32pm The 19th man emerges from the mine: 45-year-old Pablo Rojas Villacorta, brother to the 18th man Esteban Rojas Carrizo. Villacorta has been married for 21 years and has one son. He requested his favourite dish to be cooked by his mother-in-law upon his escape from the mine: "He wants spaghetti with sauce, but they way my mother makes it," reported his wife Ximena Contreas. "It's his favourite and he thinks she is a better cook than me."
3.59pm Darío Segovio Rojo become the 20th man to come to the surface. The 48-year-old has six children and hopes to use the money he makes from the leaving the mine to start up his own vegetable business.After he emerged he punched the air and then hugged his wife.
4.36pm Next out is number 21, Yoni Barrios Rojas – "the doctor" among the trapped men. Before he can celebrate too wildly, however, Rojas has a domestic issue to iron out: both his wife and his girlfriend showed up at the mine after hearing about the accident – and have reportedly almost come to blows with each other.  It later emerges that it is his girlfriend who is waiting to greet him – his wife decided not to attend.
5.07pm Samuel Ávalos Acuña is the 22nd miner to emerge from the ground. He is greeted by his girlfriend, who has worn a matching hard hat and bomber jacket.
5.38pm Carlos Bugueño Alfaro is the next miner to reach to top, bringing the number of men rescued to 23. The 27-year-old has been described by his brother as "a man of few words", and hugs his mother and the president before being taken for his check up.
#Open journalism No news is bad news Support The Journal

Your contributions will help us continue to deliver the stories that are important to you

Support us now
5.59pm Jose Henriquez, a 54-year-old evangelical preacher, becomes the 24th miner to escape. His role had been to keep his colleagues' spirits up. He was greeted by his wife, Blanca Hettiz Berrios, who shouted "Bravo!" as he emerged.
6.27pm The rescue operation is really picking up speed now, and Renan Avalos arrives at the surface less than 30 minutes later. He is the 25th miner to be released. His ascent was the fastest so far – it took just 9 minutes 13 seconds. Asked how the journey went, he replied, "really beautiful."
6.47pm Number 26, Claudio Acuna makes it to the surface, where he is greeted by his wife-to-be (he reportedly proposed in the mine) – and his favourite football shirt.
7.18pm Franklin Lobos, number 27, is out. He has a long embrace with his daughter, and gets a signed football – which he immediately starts kicking around.
7.45pm Father-to-be Richard Villarroel emerges from the mine and unfurls a Chilean flag, where he is greeted by his little sister – an emotional reunion that brings even head of rescue, Andre Sougarret, to tears.
8.13pm Miner 29, Juan Aguilar, is free.
8.37pm Raul Bustos, who might now want to change his self-ascribed title of "unluckiest man on earth" after he lost his business in the earthquake and headed north to mine for a living, is a free man. He's the 30th miner to climb out of the rescue capsule.
9.03pm Pedro Cortez emerges smiling broadly, the 31st man freed.
9.30pm Ariel Ticono, who watched the birth of his daughter, Esperanza – which means Hope – on video from the mine, is free. "Your daughter is waiting for you," the Chilean President tells him.
9.56pm It's an emotional moment as the last miner steps out of the capsule and back into his life. The man known as Don Lucho – Luis Urza – is free. Champagne is sprayed around Camp Hope, and the remaining rescuers and media join in with the cries of 'Viva Chile'.
~
Watch this video of the moment the first miner, Florencio Avalos, made it to the surface and was reunited with his son:
This report from ITN shows the first three rescues:
Additional reporting by Jennifer Wade and Gavan Reilly