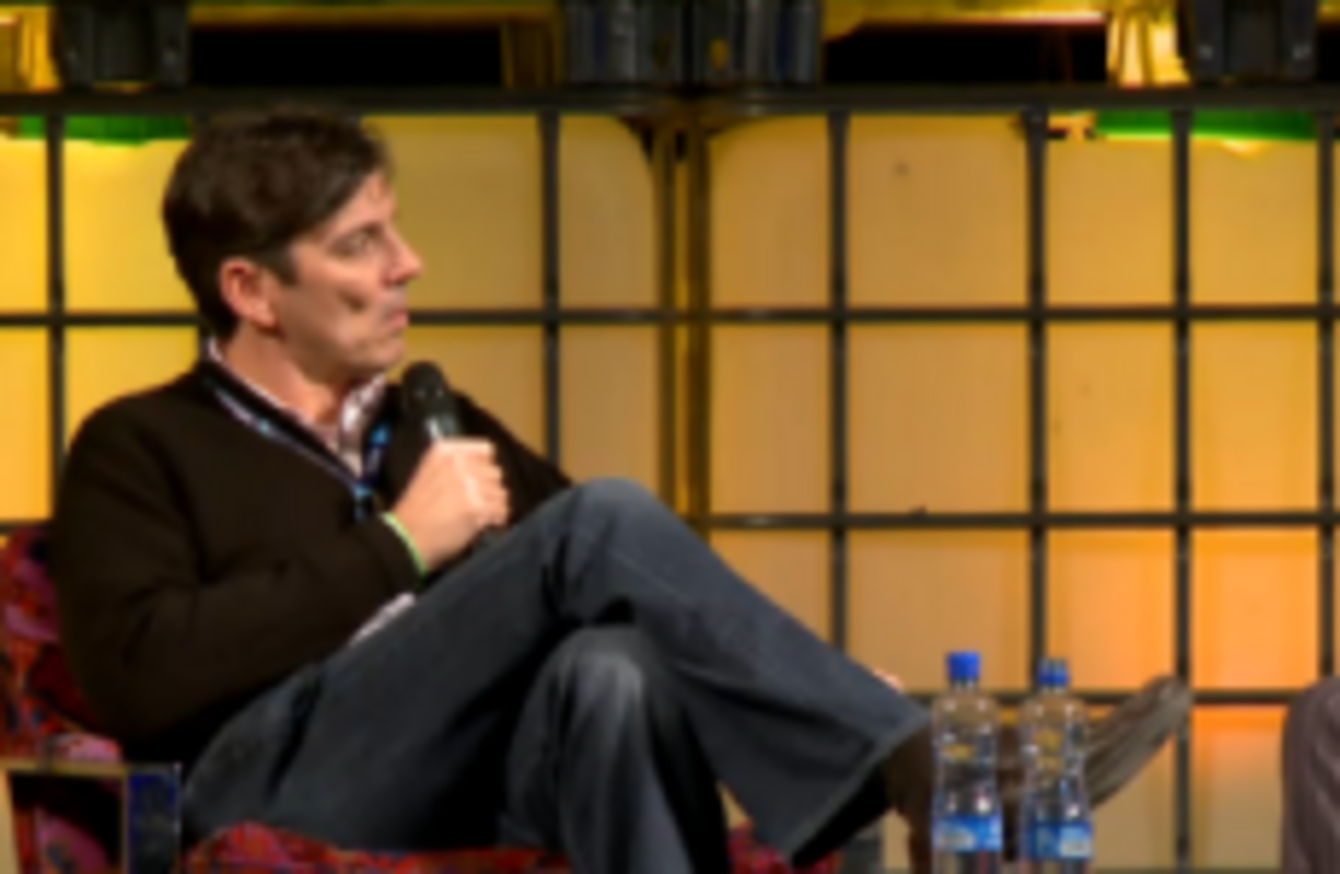 Tim Armstrong being interviewed at today's Web Summit in Dublin's RDS.
Tim Armstrong being interviewed at today's Web Summit in Dublin's RDS.
THE CHIEF EXECUTIVE Tim Armstrong has admitted that AOL "missed the market" in the past – but says that the company is on its way back up.
Speaking at the Web Summit in Dublin's RDS today, he said that AOL was a media technology company that not only built or owned consumer products (like TechCrunch and Huffington Post) but also created ad brand products and operated around 40,000 partner platforms – meaning that what the public sees of AOL is not the totality of its business.
However, said Armstrong, AOL is still a strong brand, adding the qualification that "whether you like the AOL brand or you don't, you know it".
He said that while AOL had "missed the mark" in the past, he believes it's on the way back up, for example, by becoming a "significant player" in the video space, referring to the AOL On service.
AOL has been regarded as a company with a deal of failures and missed opportunities in its history – as chronicled in this New York Times blogpost from 2009.
As Armstrong admitted today:
If you are doing average things in the world, technology and software is going to eat you alive.
But he claimed that the company had learned its lesson by focusing less on what their rivals were doing and more on making space for themselves in "big disruptive markets" such as trying to figure out what is next for video online.
"The areas we have not done well in we have worried too much about the competition and worried about getting in line with the competition (rather than about the user)," he said.
Focusing on human behaviour and how that will shape how technology is used is vital, he said. "Technology changes, humans don't," he said, "Human behaviour doesn't change and now you see technology curve to adapt to that. It's very important you understand as a company what you are adding to someone's day."
Armstrong's tips for the future of online:
He's excited about the growth in smartphones and how and where people are using the internet, ie, faster connections, services and connectivity are going to get better and faster and people will demand content and services that are immediate and mobile.
"Sight, sound and motion" will be a "mega trend" – video is just at the "first inning".
A second "mega trend"? The "live publishing of information" – "Twitter doing a good job but it's only the start".
How to make a tech company successful:
Armstrong reiterates his mantra of the four Ps…
People – those driving the company of project have to be "driven, maniacal about their product"
Plan – the company has to figure out what it's providing that is of value to people – what distinguishes what you are offering from the next guy
Product – the design, the devices it will work on, the user experience
Promotion – how will you access your target market and how will you present your product to people.
He also mentions a 'fifth P' as Profit but says he doesn't put that as top priority because you can't get there if the other four are not right.
Meanwhile, Armstrong was also asked about the tax affairs of AOL and the inclusion of AOL on a list of internet companies who allowed the US National Surveillance Agency to prowl their servers for potential terrorist communications. He had one-sentence answers to each of these.
On tax affairs:
"We pay our taxes and that's something we will continue to do."
On AOL being included on the list released by whistleblower Edward Snowden:
"AOL works within the legal confines of whatever country it operates in."