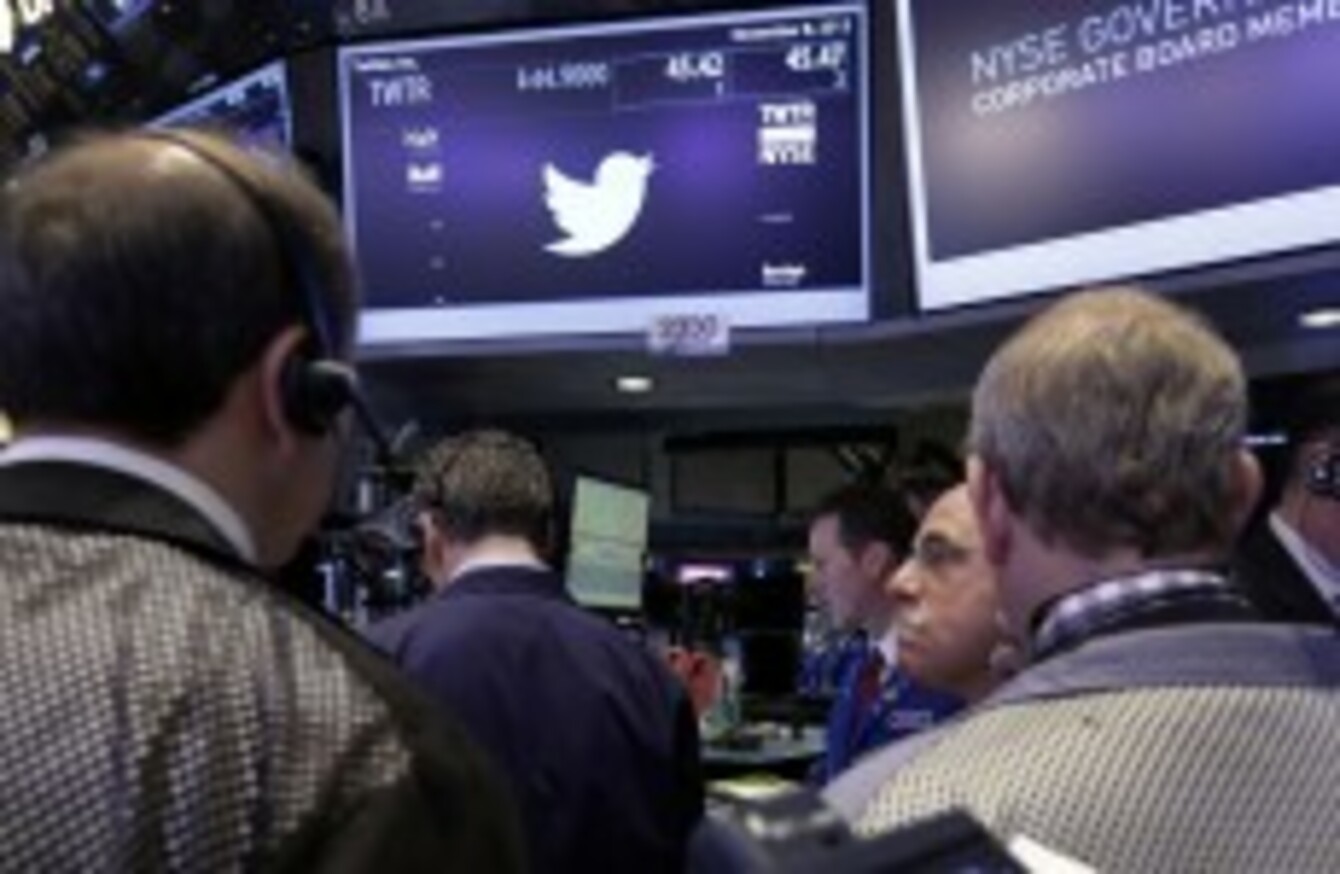 Image: AP Photo/Richard Drew
Image: AP Photo/Richard Drew
FOR THOSE WHO follow Twitter regularly, last night's earnings call was probably more of the same. While it made $479 million (€418 million) in revenue, its highest yet, user growth fell to an all-time low of 1.4%.
Yet with a flurry of new features arriving in recent weeks and new deals being struck, it looks like it will be a crunch year for Twitter as it makes the service more appealing to both current and new users. But what were the main issues facing it now it has the last report of 2014 out of the way?
Are people making too much of a deal about user growth?
Almost every time an earnings call happens, the question of user growth is the first thing that's thrown about. When you're compared to the likes of Facebook's 1.3 billion users and the success of apps like Instagram and Snapchat, it's hard to escape the focus.
For this quarter, Twitter's monthly active users grew by four million to 288 million and by 47 million across the year. And it would have been up to 292 million was it not for an "unforeseen bug" with iOS 8, causing it to lose four million users because of integration issues.
The slow growth rate is a concern, and the fact that this is at a low certainly doesn't help matters, yet this makes its revenue growth more impressive and shows its potential to investors. And until growth stops or slows down, that's the main concern.
Twitter's biggest problem isn't accessibility, it's perception 
Social media, by its very nature, is all about sharing moments in your life and ideas, or mention what you're doing as a way to show the world that yes, you do have an interesting and fulfilled life, thank you very much.
However, not everyone can be interesting or funny all of the time and so going on Twitter can feel like a trial of sorts. It's a platform where you're given the mic, even if you've nothing really to say. There are other reasons like the learning curve for new users and not to mention the trolling and harassments problems that are regularly brought up.
Twitter is taking measures to address the latter, like Instant Timeline, which generates a curated timeline for new users so they can jump in without any hassle, and its CEO has said it will tackle the abuse and trolls problem, but again, the purpose of social media is interaction, and when it's not entirely clear who you're talking to (and what the response can be), that's a problem.
Twitter's increased dependence on third-party services is a double-edged sword.
With revenue and user growth dominating headlines, something that may have been lost in the noise was Twitter's focus on third-parties. For one it launched Fabric, its mobile software development platform, in December and has struck deals with third-party services, mainly its deal with Google – as a way of getting more traffic – and its advertising appearing on news reader Flipboard and Yahoo Japan.
The more Twitter relies on third-parties, the more its fate is determined by external factors – the iOS 8 bug mentioned earlier being one example of where things can go wrong.
Yet while it's a new way of getting tweets out there, it could just convince non-users that there's no need to join if they can get relevant tweets elsewhere. That's the worst case scenario and it will be many months before we see how exactly its partnership with Google and third-party apps unfolds.
How does Twitter video fit into the grand scheme of things?
During the earnings call Q&A, Twitter's CEO Dick Costolo was asked what the relationship between Vine and the new video upload service will be. The response was somewhat interesting, Vine would be for creatives while video upload will be for those who want to record and upload without fuss.
Yet is that really enough to get people to use it. At least with Facebook Video, it has an algorithm to push such entries up and expose people to the idea, but there's no clear direction or impetus for the average user to upload a video.
Vine has the six second limit which forces those to be snappy and creative – which can lead to some great punchlines – but for 30-second video, will people use it to upload regular moments like Facebook or Instagram, or will it be used for specific moments like news events and such? Probably the latter.
http://vine.co/v/b0BzIJMqxde
Is 2015 the year Twitter gets out of the red?
Nine years is a long time to wait for any business to make a profit, but the growth in revenue from the last quarter is cause for optimism and bringing ads to third-party sites could help accelerate this further.
The company made $1.4 billion (€1.22 billion) in 2014 and while spending is rising as well, there's nothing to say that by this time next year, Twitter will be out of the red. At the very least, things are looking up.