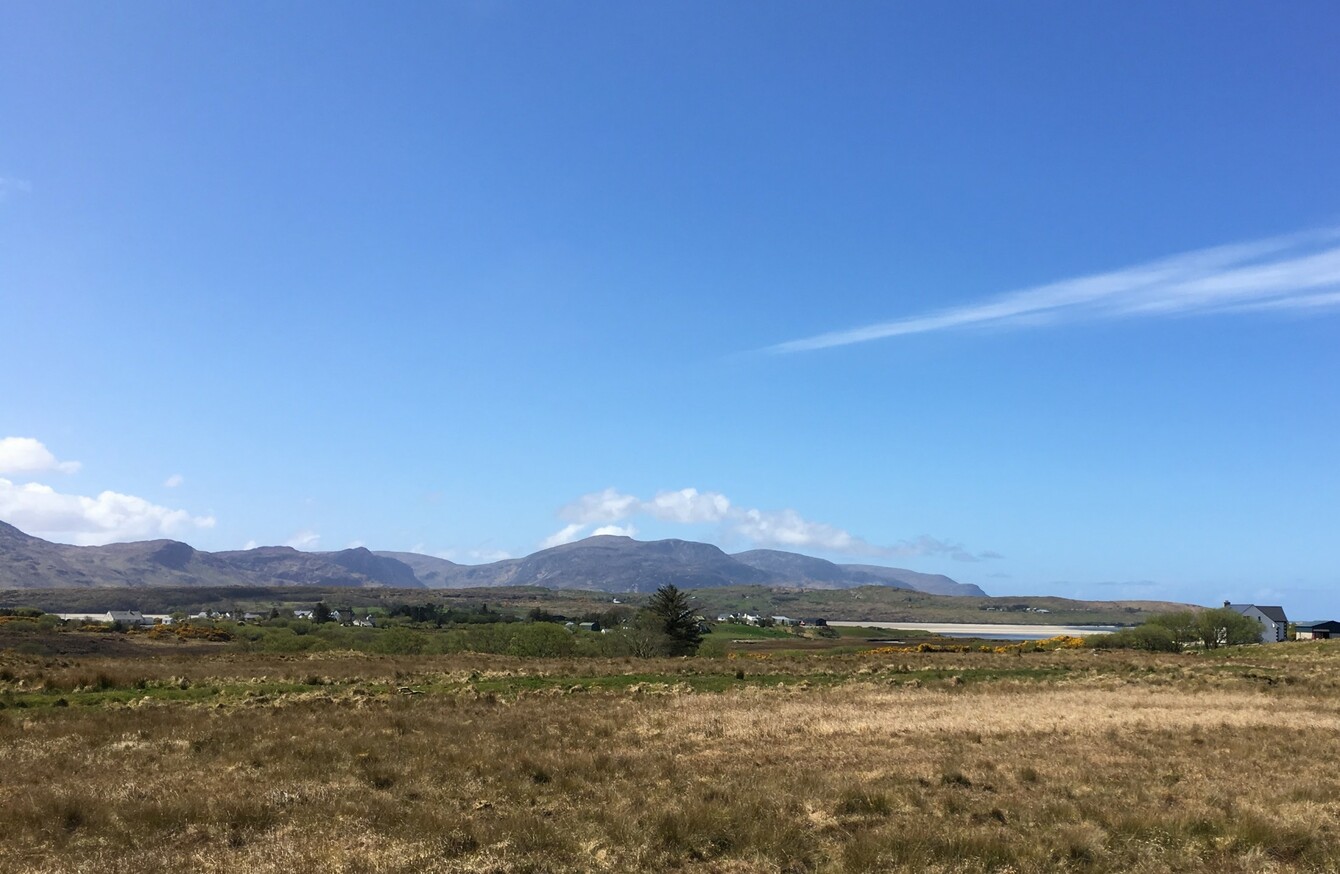 Image: Quinton O'Reilly/TheJournal.ie
Image: Quinton O'Reilly/TheJournal.ie
AS FAR AS assignments went, it was probably one of the oddest I've received.
My editor asked me to pick a broadband blackspot in Ireland and go work there for a day. Considering the fact that my job revolves around having internet access, it felt like I'd be the exact opposite of productive.
Yet that was her point. Decent internet access has been a major problem for rural Ireland with many relying on unworkable speeds for quite a while, despite promises of high-speed broadband.
With the timeline for the National Broadband Plan being pushed back – it will be 2022 at least before every home has access to high-speed broadband – it was as good a time as any to see just how bad the situation is in rural areas.
My base was Kilclooney in west Donegal, five kilometres north of the small town of Ardara and a picturesque location to boot.
As scenic as my location was, I had to work with speeds that hovered around 2.5Mb/s. On paper, it sounds achievable considering how many homes out there have speeds hovering around the 1MB/s mark, the kind of speeds that would quickly drive you into a rage from trying to load up Google's homepage alone.
I figured that with the right concessions, I could make a good go of it and get through the day without any major problems.
I was wrong. Very wrong.
Slow starts
It did start out encouragingly. I began my day at 8am by opening up my usual tabs for work. Gmail, Slack (think a cross between email and real-time messaging for teams and you have the right idea) thejournal.ie homepage, Google Docs, Tweetdeck and our dashboard for writing stories.
Each one took a little longer than usual to load up but I expected this to happen as I began reading and answering emails.
And then the Chrome dinosaur made its first appearance of the day as the first outage occurred. I did briefly consider playing the running mini-game it hides but thought better of it and waited for the connection to return.
A minute later and I was back to work, sending emails and making calls to people – one of the few things that went smoothly that day – but after 9am the second outage occurred.
Even if the outages didn't happen – they only lasted a minute or two at most – the longer than usual time to complete basic actions like loading pages, sending emails or saving drafts began to add up. At that point, I had lost close to an hour and a half of my day to tasks that would normally take up just 30 to 40 minutes.
I decided to counter this by switching Gmail to HTML mode and leaving only it and a draft for one article open. I also had my phone on me so any important Slack messages could go through that instead. It didn't really help matters as I was still left waiting while pages loaded up when I needed them.
Yet the real kicker was dealing with uploading speeds. All connections have different speeds for download (practically almost every task you complete on the web or app) and uploading (saving or attaching files online). Those speeds hovered around 0.6Mb/s which made uploading anything bigger than 1MB a pain.
To put that into context, the average size of a photo from your smartphone would start at around 2MB and increase depending on the type of camera being used, while an MP3 song that's three minutes long would likely be 3MB in size.
In one case, uploading a 1.5MB file took about 40 seconds to complete, which began to feel like a lifetime at this point (despite the progress made in the GIF below, it took another seven seconds before it was completed). Saving drafts regularly also took a fair bit of time to complete which didn't help matters.
The frustration gradually increased but came to a head when one service, which we use for securely accessing accounts like imagery and other files, spent two minutes loading up before timing out. Another two minutes were wasted waiting for it to load up the second time.
#Open journalism No news is bad news Support The Journal

Your contributions will help us continue to deliver the stories that are important to you

Support us now
And then the connection went out again. At this point, the Chrome dinosaur mini-game felt like an old friend who would make you a cup of tea to make you feel better (it's not effective but you appreciate the thought).
Although my top score improved, I was tired of seeing messages like the one below appearing regularly.
To say I was relieved when I finished the assignment would be an understatement. During the entire process, I only managed to get one article up and even though a part of my day was spent travelling and interviewing people, I was incredibly frustrated at how little I managed to get done.
When I arrived back in Dublin that night, I was relieved to have broadband that didn't time out constantly, let alone it being significantly faster.

More than inconvenient
Although it's obvious in hindsight, probably the most surprising part is how quickly wasted time adds up, even excluding the few outages experienced.
It can be easy to claim that having fast speeds is a luxury and you should just cope with whatever connection you have access to, but that greatly underplays just how pivotal a role the internet plays in our daily lives.
Whether we like it or not, its quality affects us both directly and indirectly from communication, emails and messaging to online shopping. Even just checking out a place first before visiting may be a trivial use of a powerful tool but these small things are important for us.
And when you're faced with the pressure of a normal day job – it's probably faster to list the jobs that don't require you to have internet access – or school work, even the simple tasks become tedious.
And yet this is the situation many people have to deal with. It may not seem like the worst problem to have, but with the number of WiFi-enabled devices in a household increasing, and data-heavy services like livestreaming becoming more prominent, things are only going to get worse before they get better.