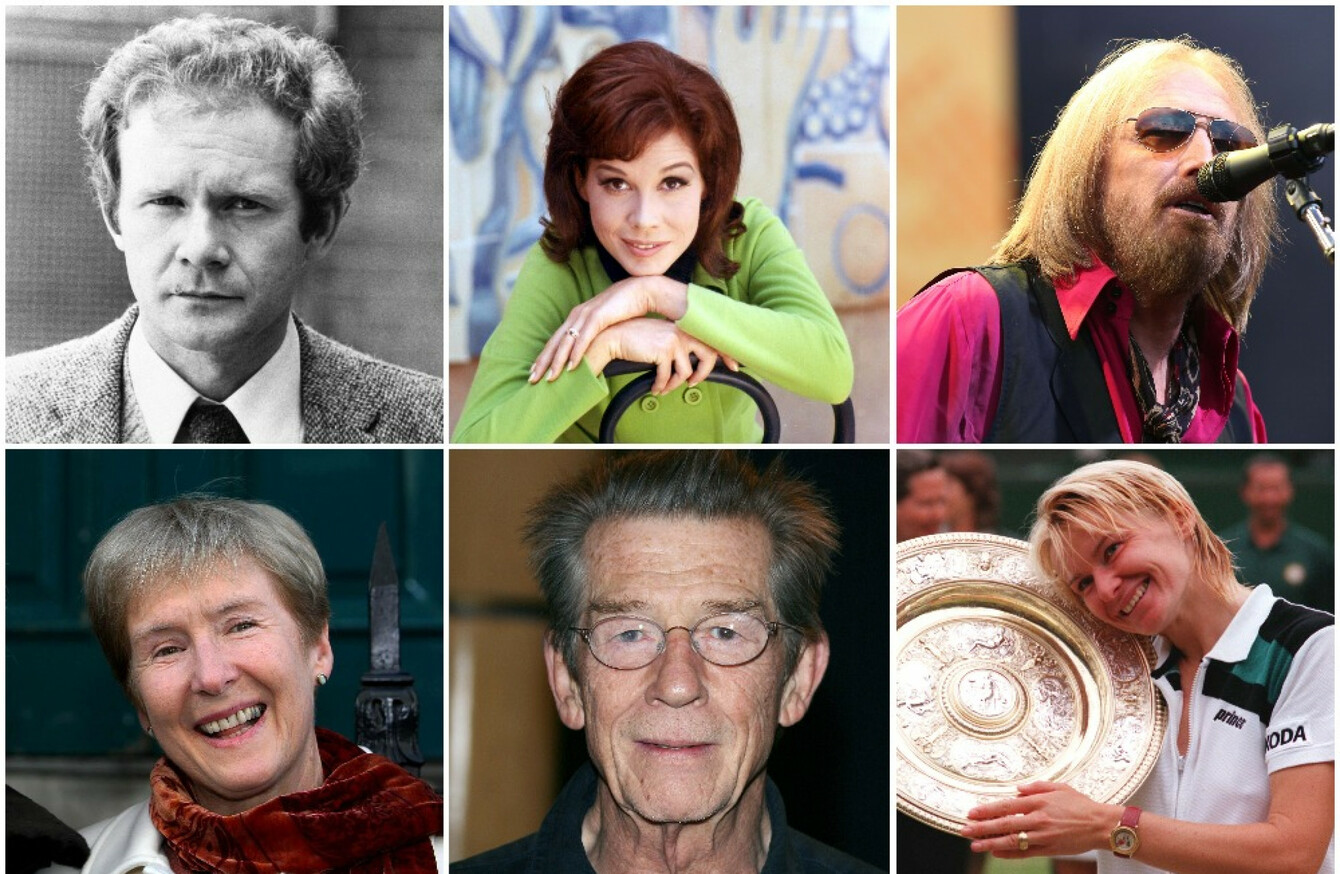 Top: Martin McGuinness, Mary Tyler Moore, Tom Petty. Middle: Ann Louise Gilligan, John Hurt, Jana Novotna. Bottom: Jimmy Magee, Liz Dawn.
Image: PA Images/PA Archive
Top: Martin McGuinness, Mary Tyler Moore, Tom Petty. Middle: Ann Louise Gilligan, John Hurt, Jana Novotna. Bottom: Jimmy Magee, Liz Dawn.
Image: PA Images/PA Archive
IRELAND LOST MEN this year with whom it had complicated relationships – Martin McGuinness, a comrade and hero to many and a tentative friend to others; Bishop Eamonn Casey, revered by many until his fall from grace; and Liam Cosgrave, remembered in his Irish Times obituary as an "uncompromising and often controversial political figure".
There were also universally loved figures laid to rest – RTÉ's Jimmy Magee, Galway's Tony Keady and Ireland's man of the century TK Whitaker.
Internationally, Tom Petty, Hugh Hefner, and Roger Moore were all mourned.
It was also a year we said goodbye to notable women like Coronation Street royalty Liz Dawn, Wimbledon favourite Jana Novotna and Hollywood legend Mary Tyler Moore.
We remember them all, together, here.
January
At just 40 years of age, local radio favourite Kevin Casey died after a short illness on 4 January. He was a multi-award-winning sports editor with WLR FM in Waterford.
The civil servant credited for creating the blueprint for modern Ireland, TK Whitaker, died at the age of 100 on 9 January. He was remembered by then-Taoiseach Enda Kenny as "both incomparable and irreplaceable".
He had a rare vision for our country and its future. He was a gentleman and patriot. Today, as a nation, we mourn the passing of this outstanding man.
Former England football manager Graham Taylor passed away unexpectedly, aged 72, on 12 January.
Three days later, on 15 January, the wrestling world lost legend Jimmy Snuka.
Gene Cernan died on 16 January. Maybe not a household name, he was the last person to walk on the moon. He came back to Earth with a message of "peace and hope for all mankind". He was 82.
Artists lined up to pay tribute to Barry Ennis, a music promoter from Wexford who was well known on the Irish music scene who died suddenly on 18 January. He was described as an "immense loss to the music world in Wexford", "an inventive and bold promoter" and a "gracious and generous host".
On 23 January, one of the country's most successful developers Owen O'Callaghan died after a short illness.
On the same day, actor Gorden Kaye, who was best-known for his portrayal of cafe owner Rene Artois in Allo Allo, died aged 75.
Legendary actor Mary Tyler Moore, who delighted a generation of Americans with her eponymous sitcom which ran for seven seasons in the 1970s, died on 25 January. She was 80.
Harry Potter star and two-time Oscar nominee John Hurt passed away on 27 January after battling pancreatic cancer. He was 77.
February
Diagnosed with motor neurone disease in 2011, Rugby World Cup winner Joost van der Westhuizen died on 6 February. The Springbok scrum-half was just 45 years old.
British socialite Tara Palmer Tomkinson died at the age of 45 on 8 February. Her sister later said she passed in her sleep due to a perforated ulcer and peritonitis.
Former All Black Sione Lauaki died at the age of 35 on 12 February.
On 14 February, Westmeath GAA was devastated by the sudden death of hurler Donal Devine after falling ill at a training session.
Mere days after Lauaki's death, the rugby world again received shocking news when the death of Australian lock Dan Vickerman was announced. He was just 37 years old.
Hollywood actor Bill Paxton, best known for his roles in blockbusters Apollo 13 and Titanic, died at the age of 61 on 26 February.
Peter Mathews, the former Fine Gael and Independent TD, died on 28 February. He was 65 and had been diagnosed with oesophageal cancer in the run-up to the 2016 General Election. The finance consultant and political commentator was elected to the Dáil in the Dublin South constituency in 2011. In the years previous, he had gained national prominence as a columnist and as a regular panelist on Vincent Browne's TV3 show during the financial crash.
March
Tipperary hurler Michael Maher, a five-time All-Ireland senior hurling winner with the county, passed away on 8 March at the age of 87 after a long illness.
Joni Sledge, one of four sisters who together sang one of disco's most enduring songs with We Are Family, died on 12 March. She was 60.
"Having been ill for some time, Bishop Eamonn Casey, Bishop Emeritus of Galway and Kilmacduagh, died peacefully early this afternoon at Carrigoran Nursing Home, Co Clare," the Irish Bishops' Conference said in a statement on 13 March this year. The controversial church man was a prominent figure in Ireland having been an outspoken human rights advocate and prominent figure during the visit of Pope John Paul II. However, he was best known for the scandal that saw him resign as Bishop of Galway after it emerged he had an affair and fathered a child with American Annie Murphy in 1974.
The wife of former Taoiseach Charles Haughey, Maureen Haughey, died aged 91 on 17 March. Haughey was also the daughter of former Taoiseach Sean Lemass.
Chuck Berry, one of the creators of rock 'n' roll whose dance-ready rhythms and energetic stage performances helped define modern youth culture, died on 18 March, aged 90.
"Along with all those who support Irish football, I express my sadness and condolences to the family of Derry City FC Captain Ryan McBride," President Michael D Higgins said in the wake of the 27-year-old's untimely passing on 19 March.
This week, Ireland lost a hero. Derry lost a son.
These were Gerry Adams opening words as he delivered the graveside oration for his "dear friend and comrade" Martin McGuinness who died on 21 March, aged 66.
Veteran communications consultant and former RTÉ chairman Tom Savage died on 31 March. He was 76 and had been ill for a short time.
April
On 6 April, US comedian – and the voice of Mr Potato Head - Don Rickles passed away. He was 90.
His fellow comedian, Charlie Murphy, died less than a week later on 12 April. He was 57 and had collaborated with his brother Eddie Murphy for films Norbert and Vampire in Brooklyn.
Former US ambassador to Ireland, and owner of Pittsburgh Steelers, Dan Rooney died aged 84 on 13 April. During his time in Ireland, he visited every county and was a major contributor to the Ireland Funds.
Leading Irish keyboardist Patrick Fitzy Fitzpatrick, who played with the likes of Aslan, the Blades and Van Morrison, died following a battle with cancer on 19 April.
Germaine Mason, the Jamaican-born British high jumper who took a silver medal at the 2008 Beijing Olympics, died on 20 April in a motorcycle crash.
"Words cannot express the shock and sadness that we all feel at the club. Ugo's immense presence will be irreplaceable. Our heartfelt sympathies go out to his wife Gemma and his family," Spurs head of coaching John McDermott said when news of Ugo Ehiogu's death emerged on 21 April. The U23 coach at Tottenham Hotspurs had been a star at Aston Villa in the 1990s before joining Middlesbrough in 2000.
Erin Moran, the former child star who played Joanie Cunningham in the sitcoms Happy Days and Joanie Loves Chachi, died on 23 April. She was 56.
As a journalist, actor and campaigner he made a contribution to Irish public life that was of immense value. He will be missed in particular by all of us who had the privilege of knowing him.
This heartfelt tribute was made by Michael D Higgins after the death of disability rights activist Donal Toolan was announced on 24 April.
Director of Silence of the Lambs and Philadelphia Jonathan Demme died on 26 April surrounded by his family. He was 73.
May
Heartfelt tributes were paid to PhD candidate and co-founder of the well-known blog Women Are Boring Grace McDermott when she died in a tragic fire in Limerick on 2 May. Her colleague and friend Catherine Connolly wrote:
This is such a loss for the world. We were due to celebrate the first birthday of the site on Friday and it will never be the same without her. Utterly torn apart to have lost my partner-in-crime.
Source: RobertMilesVEVO/YouTube
Robert Miles, the music producer behind one of the most iconic dance tracks of the 1990s, died aged 47 on 10 May.
US singer Chris Cornell died by suicide at the age of 52 on 18 May.
The family of Bond actor Roger Moore announced his death on 23 May. He was 89 and died after a "short but brave battle with cancer".
June
The former Newcastle United midfielder Cheick Tiote was just 30 when he died on 5 June. He reportedly collapsed during a training session and was rushed to hospital where he was later pronounced dead.
Peter Sallis, the Wallace and Gromit and Last of the Summer Wine actor, died aged 96 on 6 June at a retirement home for actors in London.
Austin Deasy, the former Fine Gael TD and minister, died aged 80 on 10 June.
That same day, the actor who played Batman in the 1960s TV show, Adam West, died aged 88. He died after a short battle with leukemia.
Concern founder Father Jack Finucane died aged 80 on 10 June. He died suddenly while on retreat in Dublin. President Michael D Higgins said in a statement that Jack and his late brother Father Aengus Finucane were "inspirational figures among the large group of people in Ireland who value and embody the importance of the humanitarian spirit".
Four days later, legendary sports broadcaster Fred Cogley died, aged 82.
Ann Louise Gilligan, described as a "champion of equality, fairness and justice" by her wife, Minister Katherine Zappone, died unexpectedly after a short illness on 15 June. She and Zappone had been together since 1981.
TV presenter and environmentalist Dick Warner passed away at the age of 70 on 16 June. Tributes were paid to Warner, who was best known for his Waterways series.
The former German Chancellor Helmut Kohl also died on 16 June, aged 87.
American college student Otto Warmbier was imprisoned in North Korea after confessing to trying to steal a propaganda banner. On 19 June, his story took a tragic twist when he died after being medically evacuated, in a coma, to the USA. His family said he had been mistreated by North Korea.
Former Fianna Fáil senator Des Hanafin died, aged 86, on 22 June. He was father to former minister Mary Hanafin and former senator John Hanafin.
July
On 1 July, legendary film critic Barry Norman died, aged 83.
Young Sunderland fan Bradley Lowery was diagnosed with neuroblastoma at just 11 months old. He gained fame for his huge love for the club, and over £700k was fundraised to send him to the USA for specialist treatment. He died, aged just six, on 7 July.
Also on 12 July, Irish horse racing legend Tommy Carberry passed way. The former jockey and trainer was 75.
George A Romero, the legendary director who brought zombie films to a whole new level, died on 17 July.
The music world was rocked by the death of Chester Bennington by suicide on 20 July. The singer, who was just 41, was found dead at his LA home.
John Heard, best known for being the dad in Home Alone, died aged 72 on 22 July.
On 31 July, actress Jeanne Moreau died aged 89, while actor and playwright Sam Shepard died at 73.
August
Glen Campbell was 81 when he passed away on 8 August. The country music star had been living with Alzheimer's disease.
Galway hurling great Tony Keady died on 10 August. A day later, Holocaust survivor Yisrael Kristal died aged 113.
Source: Matt/Facebook
Many tributes were paid after Nan Brennan, who ran the famous Brennan's Criterion Bar with her sister Patricia, died on 13 August.
Tipperary hurling legend Liam Devaney died, aged 82, on 16 August.
Two days later, entertainer and former Strictly Come Dancing presenter Bruce Forsyth died at the age of 89. He had been unwell for some time.
All Blacks 'player of the 20th century', Colin Meads, died on 20 August after a battle with cancer. Over a week later, former Leinster Ireland and Lions great Willie Duggan passed away.
September
On 3 September, another music great was lost, when Walter Becker – Steely Dan co-founder – died at just 67. He had been suffering from an illness and missed a number of recent shows.
The former TV news presenter Don Cockburn died aged 87 on 5 September. On 9 September, Don Williams, the country music star, died aged 78. Sopranos and Goodfellas actor Frank Vincent died aged 78 on 13 September.
Another Hollywood legend died on 16 September – Harry Dean Stanton passed away aged 91.
On 18 September, wrestling legend Bobby 'The Brain' Heenan died.
Many tributes were paid to Pat Geraghty, the former media manager for Munster and Leinster rugby, who died on 19 September  after a long battle with illness.
There were also many tributes from the sports world paid to the broadcaster Jimmy Magee, who died aged 82 on 20 September. He had been ill for some time.
Coronation Street royalty, Liz Dawn – who played Vera Duckworth – died on 26 September. She starred in the soap for 34 years. The same day, former Ireland international Neville Furlong died aged 49. A day later, Lady Lucan, the widow of Lord Lucan, was found dead at her home in London. She was 80.
The founder of Playboy, Hugh Hefner, died aged 91 on 28 September.
October
Tom Petty, the iconic musician, died aged just 66 on 3 October. He passed away after going into cardiac arrest. Tributes poured in from across the music world.
Former Taoiseach Liam Cosgrave was described by current Taoiseach Leo Varadkar as a "true patriot" after he passed away aged 97 on 4 October.
On 16 October, the Irish comedian Sean Hughes died aged 51. Three days later, Dubliners' guitarist Eamonn Campbell died.
Fats Domino, the rock n' roll pioneer, died aged 89 on 25 October.
Two days later, on 27 October, Irish filmmaker Simon Fitzmaurice died. He was 43 and had been living with motor neurone disease, and a documentary about his life had been released just months earlier.
On 31 October, former The Chieftains member, Ronnie McShane, died.
November
The famous Italian chef Antonio Carluccio was 80 when he died on 8 November. He was considered the Godfather of Italian cooking.
On 18 November, AC/DC co-founder Malcolm Young died aged 64. Two days later, former Wimbledon champion Jana Novotna died aged 49. And on 22 November, 1970s heartthrob David Cassidy died aged 67.
Riordans star Biddy White Lennon, described as one of Ireland's most-loved actresses, died on 25 November. On 29 November, the legendary former Cork hurler and manager Willie John Daly died, aged 92.
December
Christine Keeler, who was a young model when she featured in one of the UK's biggest political scandals, the Profumo Affair died aged 75 on 5 December.
TV presenter Keith Chegwin had been battling a long illness when he died, aged 60, on 11 December.
Ashley Jensen, the Catastrophe star, was left devastated after the sudden death of her husband Terence Beesley in November. He was found dead at their home in Somerset but news of his passing didn't break publicly until 18 December.
Bruce McCandless, the first astronaut to fly untethered in space, died on 22 December. Heather Menzies-Urich, who played Louisa von Trapp in the Sound of Music, died aged 68 on 26 December.
On 28 December, actor Rose Marie (famous for her time on the Dick Van Dyke Show), American author Sue Grafton and activist Recy Taylor all died. Taylor was 97, Rose Marie was 94 and Grafton was 77.
On 30 December, Erica Garner, the activist daughter of Eric Garner – who died after being put into a chokehold by police – passed away aged just 27. She had suffered a heart attack.