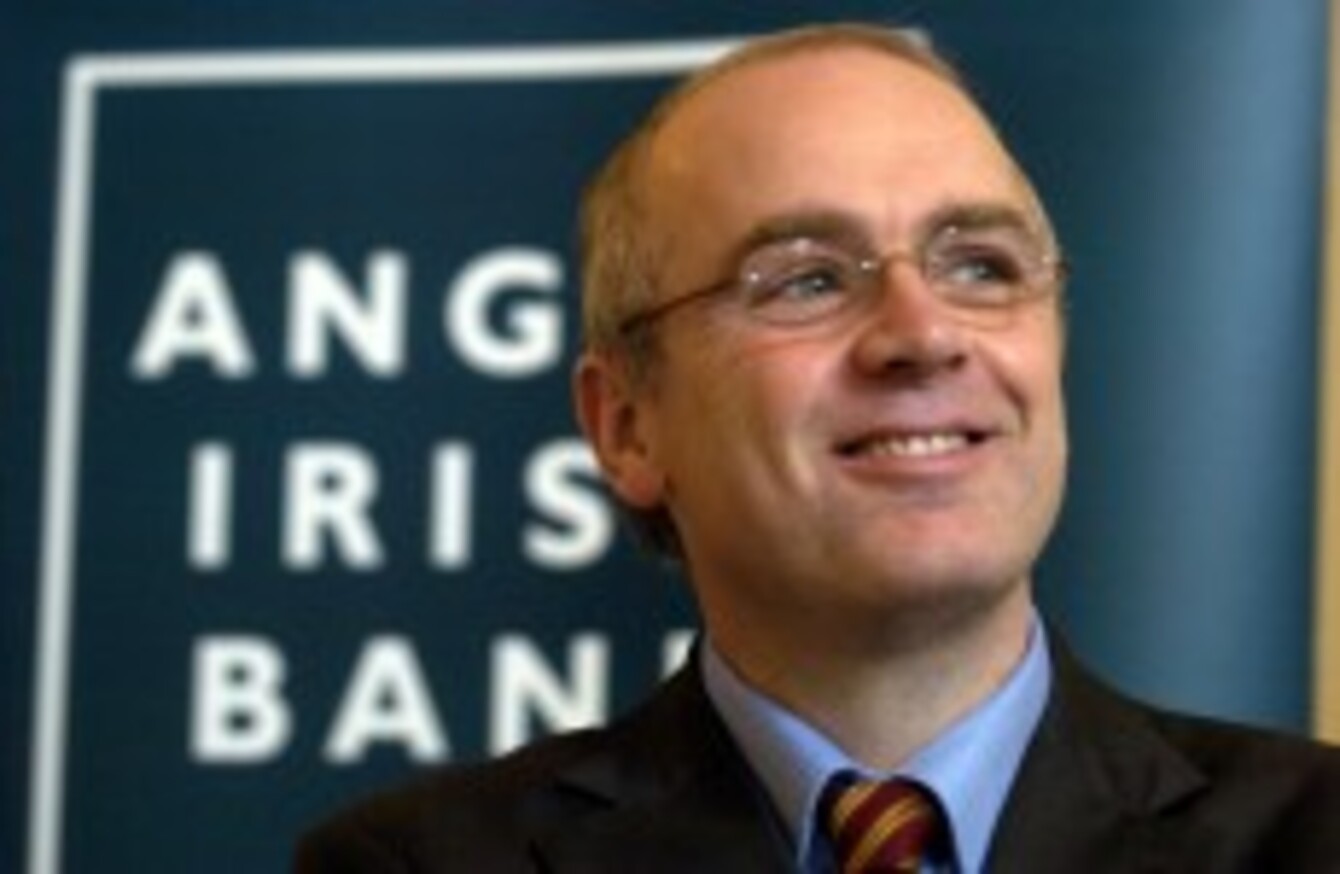 David Drumm as CEO of Anglo Irish Bank in 2004
Image: Graham Hughes/Photocall Ireland
David Drumm as CEO of Anglo Irish Bank in 2004
Image: Graham Hughes/Photocall Ireland
HAVING PUMPED €29.3 billion of taxpayers' money into the beleaguered Anglo Irish Bank, you would imagine that the money used was essential and not used for any frivolous purposes. New evidence suggests otherwise. Whilst we are all experiencing the pain and difficulty associated with the ensuing cuts, new revelations in a book by Irish Times journalist Simon Carswell suggest that we were the only ones who ever had any intention of tightening our belts.
If any more evidence was required of quite how aloof the banks thought they were is needed, this book highlights it in abundance. As further evidence of the bank's executives 'fiddling while Rome burned' in the weeks leading up to the bank guarantee in September 2008, Anglo Irish not only lost the run of itself in the mortgage and property but also completely lost any sense of moral fibre.
Carswell reveals that just three weeks before the government took the drastic action to introduce the bank guarantee to save Anglo from collapse, 600 staff were partying at the Mansion House in Dublin. I appreciate that not all of the staff will have been aware of the precarious position that the bank was in but there would have been at least a handful that did and based on what was happening around them, a much larger number that should have had some idea. Ignorance is bliss with an expensive cocktail in your hand!
Someone, somewhere didn't give a damn
It is preposterous that such a party would have been authorised. Somebody, somewhere, more than likely with the authorisation of David Drumm, thought it better that they continue as if nothing was wrong. In an email, he wrote: "Dear colleagues, the stock markets are down. They say the economy is in recession. It rained most of the summer. The holidays are over. This is Anglo, so there is only one thing to do – party!"
As we all now know, it was worse than wrong, the bank was technically insolvent, pushing the country to the brink of collapse but someone, somewhere didn't give a damn.
Some of you may think that was understandable, that they really had no choice, trying what they could to rescue the situation. I wouldn't be in your number, nor would the majority of people. What happened after was just sticking up two fingers at the people who were rescuing the bank. In December 2008, the bank's position was worsening. Rather than put in a few extra hours and try to remedy the situation, they have another party! It sounds like one big fraternity bash.
Great country this. Somebody must have thought, we did it once, we might as well do it twice. Only this time let's do it bigger. Same venue but the cost of the party rose to €175,000. In the same month the bank also spent €53,000 on hampers and wine for clients and €24,000 bringing customers and their children to the annual Christmas panto in the Gaiety Theatre in Dublin. How foolish did they think we all were?
Remorse and Anglo Irish Bank are words that cannot be used in the same sentence
Did they think they were above the law? They did and still do so, hiding away, avoiding questions and refusing to cooperate with investigations. Remorse and Anglo Irish Bank are words that cannot be used in the same sentence.
Banks compete aggressively for clients. The lavish gifts and entertainment packages are constantly improved upon to lure customers away from the competition. Vast sums of money are spent bringing clients to sporting events and paying for match tickets. Some will excuse this, after all much of the money was spent supporting the nations rugby and soccer teams but there is a line that has to be drawn and the moment things starting to deteriorate, excessive expenses should have been a thing of the past.
This weekend, Dublin Labour TD Alex White, chairman of the Oireachtas Finance Committee said: "We already knew that Anglo broke the country. What we didn't know was that its key people were laughing while they did it."
It is clear that Drumm used Anglo as his personal 'piggybank'
David Drumm is still rolling around in fits of giggles. On the eve of his resignation, we have heard of how the former chief executive of Anglo Irish Bank transferred multi-million dollar sums into the name of his wife Lorraine. At the same time, Anglo Irish now alleges that through a sham business in the US, David Drumm continued the party with lavish periods at New York hotels. The bank says that he had money in several business accounts and this money was used by him as a "personal piggybank".
It is clear that he used Anglo Irish Bank as his own personal 'piggybank' and when the bank was bailed out by the government, he just moved onto a bigger piggybank. The complete and blatant disregard with which he continued this abuse is astounding.
As the revelations continue, Mr Drumm's repatriation to these shores is possibly the most eagerly anticipated homecoming ever.
Anglo Republic: Inside the bank that broke Ireland, by Simon Carswell, is published today by Penguin.