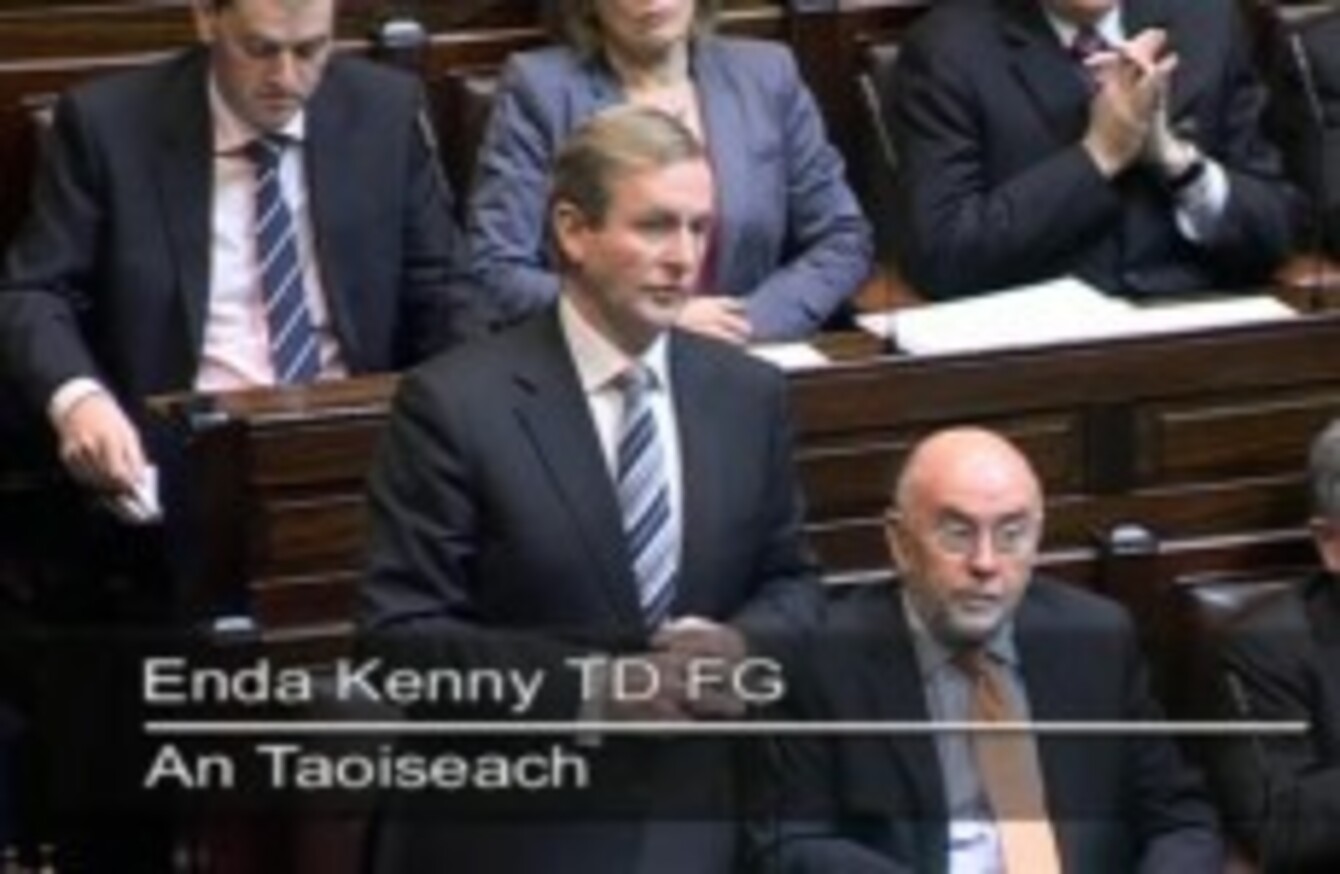 Enda Kenny in the Dáil this morning
Image: Screengrab
Enda Kenny in the Dáil this morning
Image: Screengrab
Updated 1.25pm
TAOISEACH ENDA KENNY has said that the chairman of the team investigating the death of Savita Halappanavar is not being allowed to meet with her husband and called for such a meeting to take place.
During Leaders' Questions in the Dáil this morning, Kenny appealed to Praveen Halappanavar to meet the chairman of the inquiry, Sir Sabaratnam Arulkumaran, despite the solicitor for Savita's husband saying this morning that this would not happen.
The grieving husband has reiterated that he will not meet with Sir Sabaratnam in an interview with RTÉ's Prime Time programme.
"I would appeal directly to Praveen Halappanavar, who is a decent man, to meet with the chairperson of investigation team without prejudice because it is very necessary that the truth of these circumstances be found out."
The Taoiseach again faced calls from the opposition benches to set up a full public inquiry into Savita's death at Galway University Hospital last month.
The 31-year-old dentist died of blood poisoning days after suffering a miscarriage. Her family claimed that repeated requests from her to have an abortion were denied and say that she would have survived had she been given one.
Fianna Fáil leader Micheál Martin said there "no point" in going ahead with an investigation that "nobody has any confidence in".
"We need the truth, and we need the truth in the way that commands the wider confidence of the public," Martin told the Taoiseach.
'Eminence'
Kenny said that there was a lot of confusion surrounding the issue and said that it would not proper for him have contact with Savita's husband as there would be a "different construction put upon it" if he did.
He also ruled out a tribunal of inquiry because of the length of time this would take and said it could not be concluded within seven days as Praveen Halappanavar's legal team has apparently claimed.
Kenny said later during exchanges with Sinn Féin's leader Gerry Adams that it "appears to me that the legal team representing Praveen Halappanavar will not allow him to meet with the chairman of the investigation team."
He described Sir Sabaratnam as a person of "eminence, reputation and integrity".
The Taoiseach said: "The chairman of the investigation team is not being allowed to sit down with Praveen Halappanavar because the legal team apparently are saying 'We want a full, public sworn inquiry.'"
Praveen Halappanavar's solicitor Gerard O'Donnell could not immediately be reached for comment to discuss this claim this morning but told RTÉ's News at One that his client would not be meeting with the chair of the inquiry.
O'Donnell said that Sir Sabaratnam's "impartiality and independence" concerns him given that he was appointed to the inquiry by the HSE  and called for an inquiry that would allow for "evidence [that] can be tested properly within the normal legal realms".