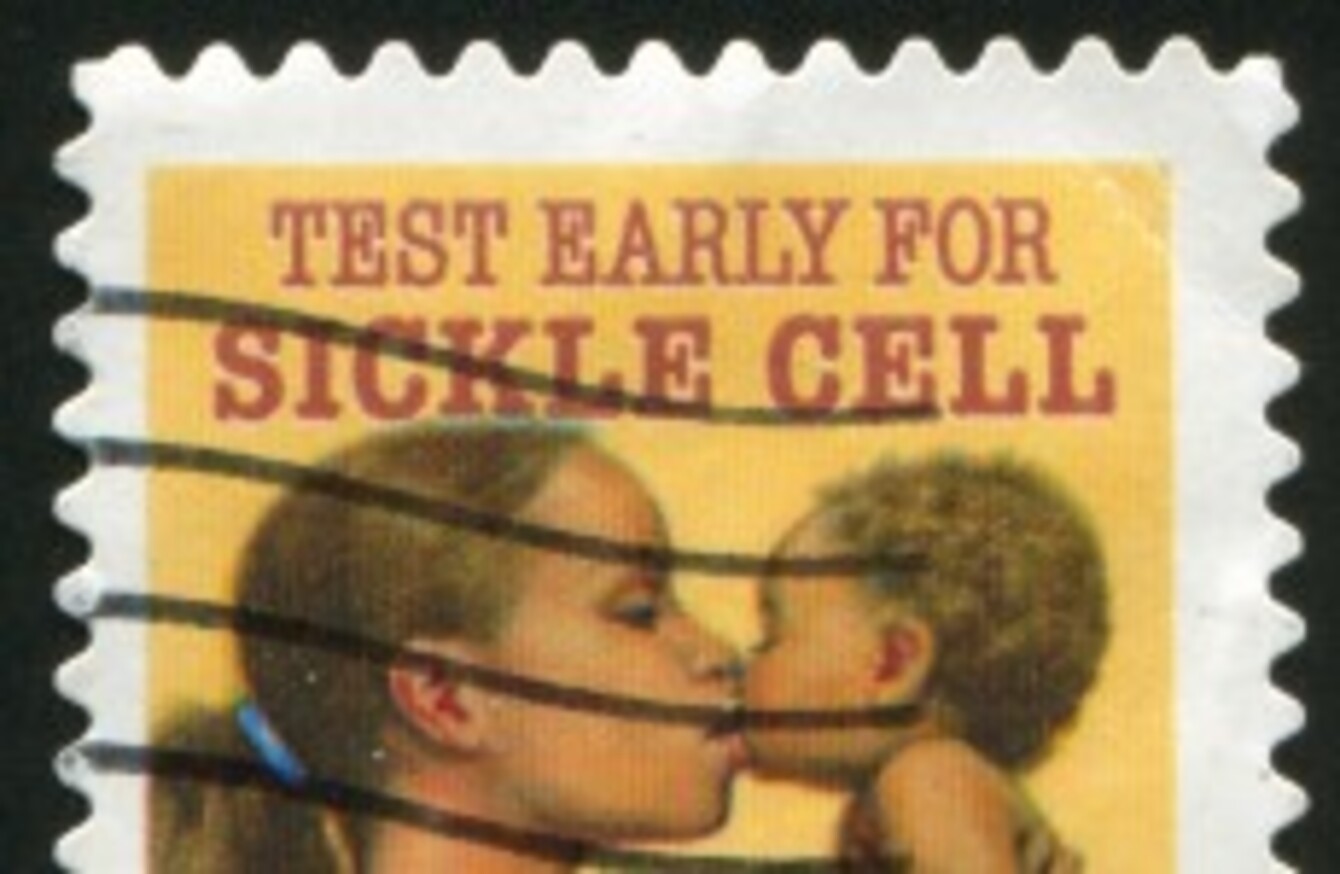 A stamp printed by United States of America, shows mother and child, circa 2004.
A stamp printed by United States of America, shows mother and child, circa 2004.
THE HEALTH COMMITTEE has heard how Ireland has a "new disease" – sickle cell.
In the year 2000, there was just two children with sickle cell disease in Ireland. Today, that number has risen to 400.
There are also 100 adults suffering with the condition, which is a disease in red blood cells.
Dr Corrina McMahon, a haematologist from Crumlin Hospital, told the committee that she had anticipated an explosion in the disease.
The increase happened "during the Boom", she said. There was a rise in 2003 to 200 children being diagnosed.
Dr McMahon said Ireland has an opportunity now to "do something right and groundbreaking".
It is a new disease in an Irish context, she explained, so the country could "build on the shoulders" of others, learn from their mistakes and figure out best practice.
Describing the disease to Oireachtas members, she said it was "unpleasant" and that it can kill. Its main characteristics are anaemia (which can be chronic and fatal), a block of the spleen's functions and a blockage of blood cells.
"Anaemia makes you tired…but it also interferes with how your brain functions. You don't achieve as you should. Intellectually, you are blunted. Americans looked at this over a 30-year period, people with anaemia were less likely to do well. It is a real significant issue."
She revealed there have been 10 sickle cell deaths in Ireland. However, she noted that they are not recorded as such on death certificates as there is no way of categorising it at the moment.
"It is a fact that people with sickle cell will die from it or a complication of it. There needs to be a specific box on death certificates. We need to be able to extract that data."
McMahon also called for a targeted screen test.
"Children as young as six weeks can died…we need to get early with diagnosis," she continued.
"Newborn screening saves lives. We should be doing this."
There is also a need to look at the possibility of carrying out bone marrow transplants early, according to McMahon. Currently, children who require transplants are sent to London for the procedure.
This is not cost effective, according to the doctor, who praised the French model where transplants are carried out early.
"We can get it right from time zero," she concluded.
Also at today's committee was Lora Ruth Wogu of the Sickle Cell and Thalassaemia Ireland.
She said it was important to raise awareness of the condition across the country because the "public don't know what it is".
Chairman Jerry Buttimer said it was important for the committee to bring the issues raised this morning with the Minister for Health and the HSE.
Senator Colm Burke suggested – and it was agreed by the cross-party group – that there would be a specific request for a targeted screening programme to be introduced in maternity hospitals.