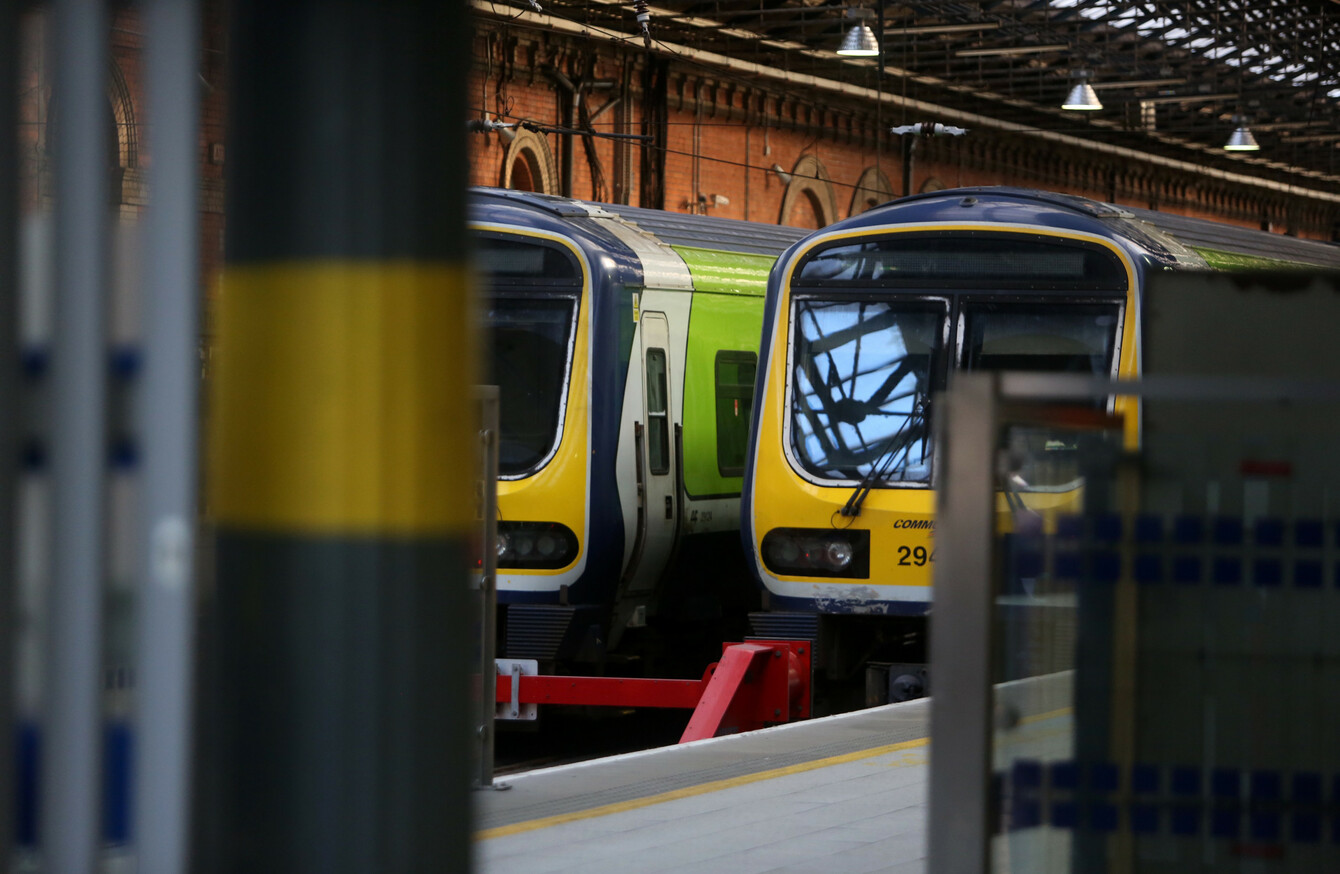 The woman was arrested at Connolly Station.
Image: Sam Boal/RollingNews.ie
The woman was arrested at Connolly Station.
Image: Sam Boal/RollingNews.ie
A JUDGE HAS lifted a gagging order which had granted anonymity to a woman charged in connection with the handover of a loaded gun on a Dublin to Belfast train.
Mother-of-one Nikita Murtagh (20) from Mariners Port, Sheriff Street, Dublin 1, is charged with unlawful possession of a CZ model 70 semi-automatic pistol, two rounds of 7.65 Browning calibre ammunition and a shotgun cartridge which were allegedly recovered by gardai on the Dublin to Belfast train at Connolly Station on 19 July.
A court order which had prevented reporters from identifying her was lifted yesterday following an application on behalf of the news media.
Murtagh and a man, aged 23, also from Dublin's north inner city, were arrested following an intelligence-led operation involving officers from the Garda National Drugs and Organised Crime Bureau.
At her first hearing at Dublin District Court on 21 July last, Judge Gerard Jones, then presiding, had agreed to a defence application for reporting restrictions and he directed journalists not to name her or the 23-year-old man out of "safety concerns".
The co-defendant is due to face his next hearing later this month but Murtagh appeared again at the district court before Judge Alan Mitchell.
He said he had received an application from the press asking for the legal basis for the order made by his colleague and for the order to be discontinued in the proceedings before the court yesterday.
The application contended that the reporting restriction order made on 21 July appeared to be inconsistent with Article 34 (1) of the Constitution which states: "Justice shall be administered in courts established by law by judges appointed in the manner provided by this Constitution, and, save in such special and limited cases as may be prescribed by law, shall be administered in public."

Order
Defence solicitor Eoin Lysaght asked him not to interfere with the order and to put the case back before Judge Jones. However, Judge Mitchell said a question had been raised and he was giving the defence an opportunity to say if there was a reason for the order.
He said his colleague is a moveable judge in the Dublin area and did not have seisin (possession) of the the case. He also said restrictions on naming a defendant are normally used in certain cases such as sexual offences.
The court must operate in public, he explained, and because he was given no legal basis for the order he lifted the reporting restrictions in Murtagh's case.
The young woman was initially refused bail at Dublin District Court last month and was later denied bail when she made an application to the High Court.
"Get on with it"
Garda Marguerite Reilly told Judge Alan Mitchell yesterday that directions from the Director of Public Prosecutions (DPP) still need to be obtained. Judge Mitchell asked was it likely that the case would be sent to the Special Criminal Court but Garda Reilly said the trial venue had not been decided yet.
Judge Mitchell noted the woman is in custody and said the DPP "needs to get on with it" and he was marking "time running" in the case. He further remanded Murtagh in custody to appear again in two weeks and he said the DPP's directions should be available then otherwise he will be asking for an explanation.
Dressed in a black jacket and grey tracksuit Murtagh remained silent during the hearing yesterday.
The man was approached by gardai on the train while Murtagh, who allegedly handed him a bag containing the gun, was stopped outside Terminal 1 at Dublin Airport later that day, the district court has heard.
The two are charged with three counts under the Firearms Act, offences which can result in sentences of up to 14 years imprisonment.
Garda Reilly had said the woman had strong links outside the jurisdiction in particular in Northern Ireland and she has close associates throughout Europe.
Her solicitor had told her bail hearing that the woman denied knowing what was in the bag.
The co-defendant is due back before Cloverhill District Court later this month but the gagging order currently remains in force in his case.