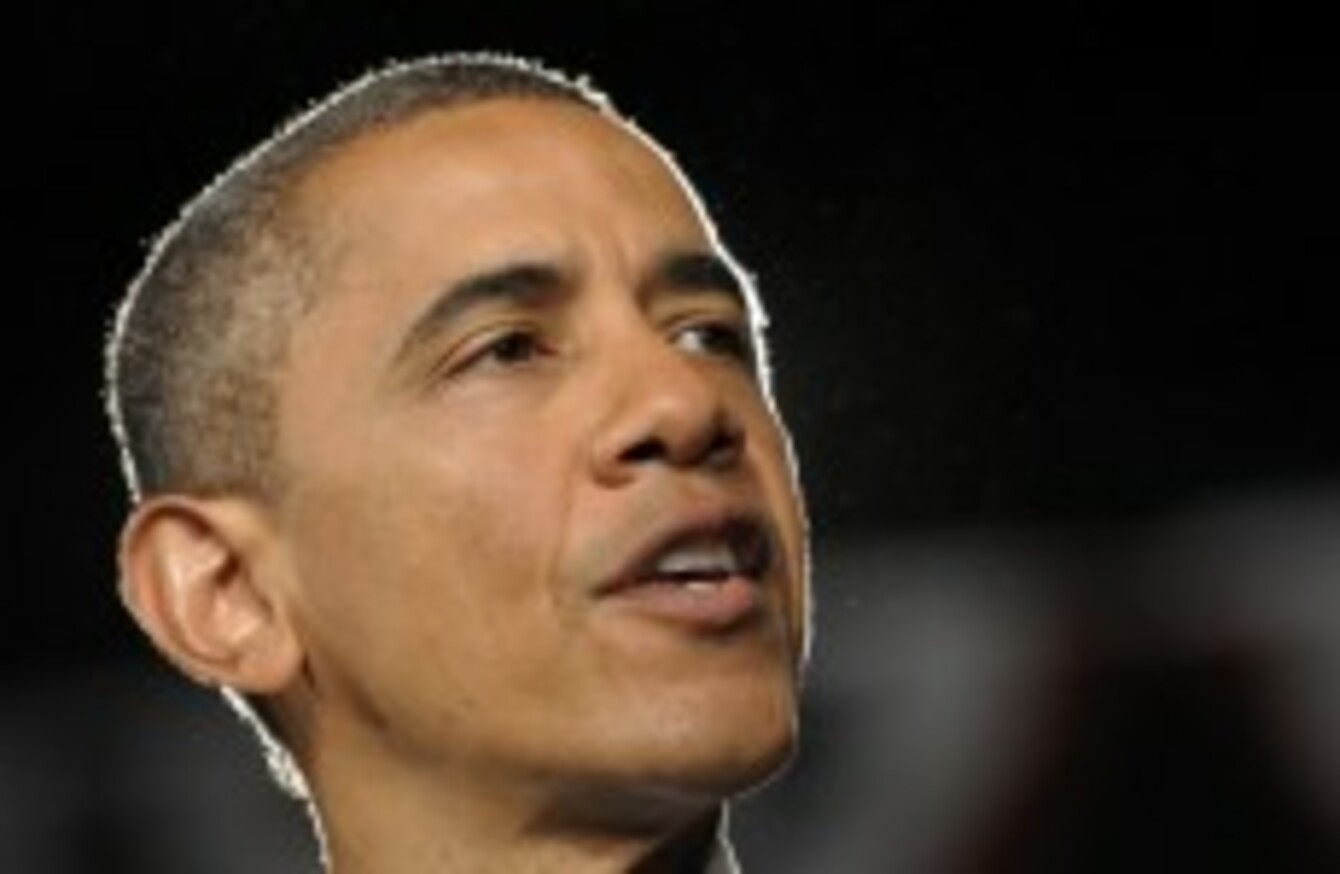 Image: Susan Walsh/AP/Press Association Images
Image: Susan Walsh/AP/Press Association Images
WITH 100 DAYS to go before the US election, President Barack Obama appears to have a slight edge over Republican rival Mitt Romney, though he is still at the mercy of a stumbling US economy.
Polls show the Democratic incumbent's lead is shrinking as voters lose faith in his ability to tackle crucial domestic issues, in particular the economy, as growth slows and the job market stubbornly refuses to pick up.
According to a Wall Street Journal and NBC poll published this week, only 36 per cent of American voters are confident Obama can improve the economy, while 43 per cent prefer Romney, a multi-millionaire former venture capitalist.
Unemployment at 8.2 per cent
Obama and his team have been hammering away at Romney's argument that his business experience makes him the better choice to get Americans back to work, alleging that his firm often sacked US workers and sent jobs abroad.
But the attacks appear to have gained little traction with a pessimistic electorate. Unemployment is stuck at 8.2 per cent and is not expected to fall below 7.9 per cent by the end of the year, the White House acknowledged Friday.
Figures released by the US Commerce Department on Friday showed GDP growth in the second quarter slowing to 1.5 per cent from 2.0 per cent in the first, amid falling consumer demand.
Economists warn that growth of less than two per cent is not enough to make inroads into unemployment, and Romney's economic advisors claim that their policies could quickly double the rate.
Sixty per cent of Americans believe the country is on the wrong track, the Wall Street Journal poll found.
Obama slightly ahead
An average of national polls compiled by RealClearPolitics.com, a non-partisan website that tracks political trends, shows Obama slightly ahead of Romney overall, with 46.4 per cent of the vote to 45.1 per cent.
His lead has narrowed from 3.6 per cent at the beginning of July, even though polling expert Nate Silver of the New York Times, gives Obama a 65 per cent chance of being re-elected thanks to the lead he enjoys in certain key states.
In his speeches, Obama exhorts his followers to mobilize for what he warns will be a tight election. In fact, the WSJ and NBC poll found that only eight per cent of the electorate remains undecided at this point.
The campaign is likely to gather in intensity in August, and several key events in the coming weeks could still shift the momentun.
Romney must unveil his running-mate, Republicans and Democrats will hold nominating conventions at the end of August and early September respectively and televised debates have been scheduled for October 3, 16 and 22.
"What matters most is economic news over the next 100 days," said Thomas Mann, an expert on the US presidency at the Brookings Institution, a Washington think tank.
"Every democratic government around the world faces a daunting challenge getting re-elected during these difficult economic times," he told AFP.
But Mann said he was "impressed by the fact that Obama has maintained a small lead over Romney and job approval ratings just a few points under 50 per cent over the last months is spite of the economy."
32 per cent 'very negative'
Still, Obama has recently suffered a drop in his personal popularity. Some 43 per cent of voters responding to the WSJ and NBC poll said they had a negative opinion — 32 per cent of them "very negative" — of their president.
The decline comes amid an onslaught of aggressive Democratic campaign ads targeting Romney's Swiss bank accounts and what they portray as a record of lost jobs at companies controlled by Bain Capital, the investment company he led.
The two camps have have pummeled each other on issues as diverse as foreign policy and support for small business. Romney accuses Obama of espousing a view of the economy that is "foreign to the American experience."
For its part, the White House has mounted a deft counter-program to Romney's current trip overseas, hailing the "special relationship" with Britain on Thursday just as Romney struggled with a gaffe over the Olympics in London.
On Friday, Obama signed a law strengthening US cooperation with Israel in an Oval Office ceremony that happened to be held just ahead of Romney's visit to Israel this weekend.
On the campaign trail, Obama strategy has been to position himself as the defender of the middle class while lambasting his rival as an "outsourcing pioneer."
He has campaigned heavily in states that could decide the outcome of the November 6 election, such as Ohio and Florida, to where he travels next week.