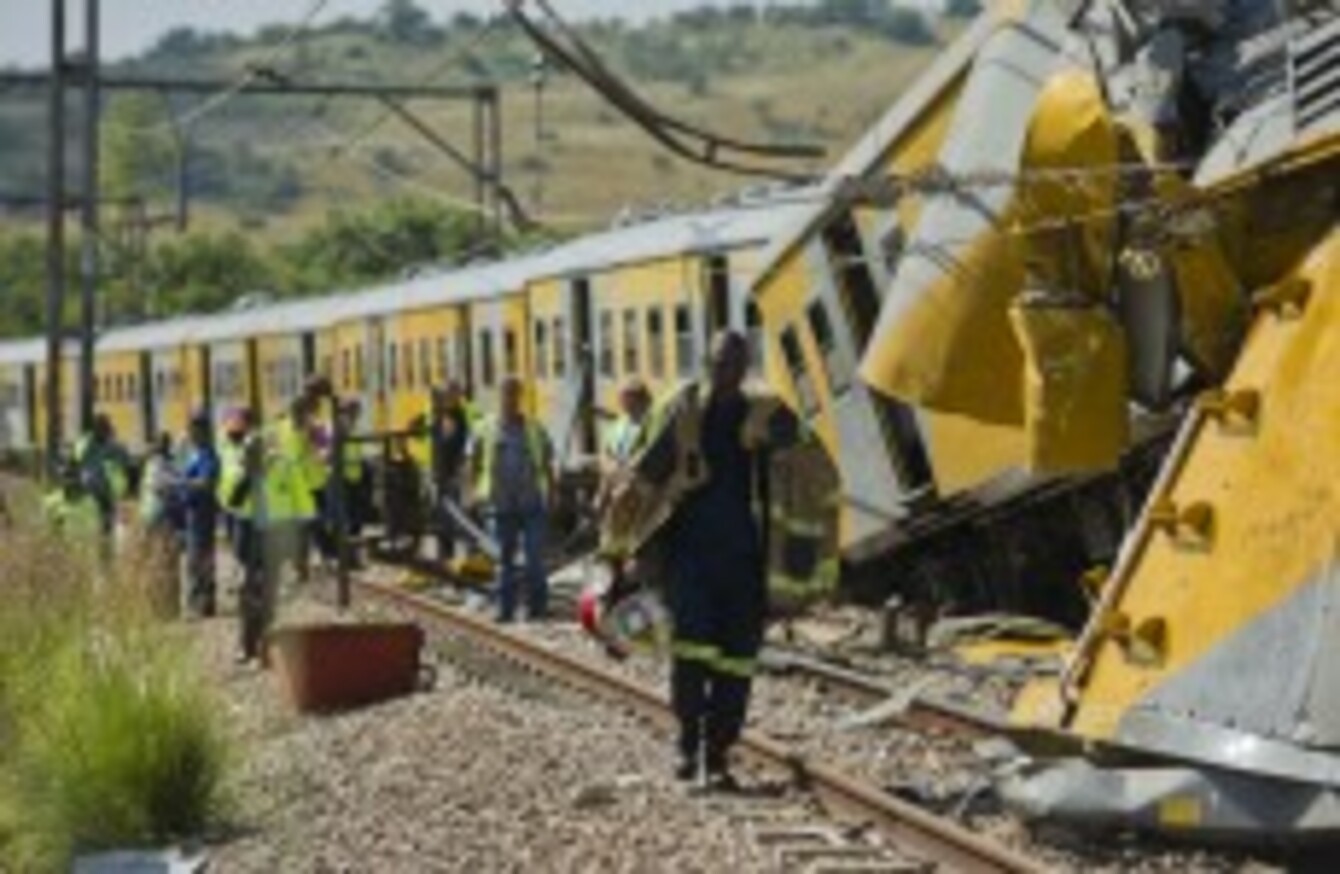 Emergency workers attend the scene of a collision between two trains near Pretoria.
Image: (AP Photo)
Emergency workers attend the scene of a collision between two trains near Pretoria.
Image: (AP Photo)
TWO PASSENGER TRAINS packed with school children and rush-hour commuters collided near the South African capital Pretoria today, leaving 150 people in hospital.
The authorities suspected the crash was caused by the theft of cables used for signalling, either by people cashing in on the copper or by striking workers sabotaging the track.
The crash took place at around 7.10 am when a commuter train heading from the suburbs to the capital ploughed into a stationary train on the same track.
Medical workers said up to 350 people were treated by medics and around 150 were taken to hospitals around Pretoria.
"Two are critically injured, one driver and one passenger" and there are 19 seriously injured, said Mosenngwa Mofi, chief executive officer of railway operator PRASA.
It was not immediately known how many children were injured.
A passenger is attended to by paramedics at the scene of the collision. (AP Photo)
Every day around 20,000 people use the blue line between the residential suburb of Kalafong and central Pretoria, the country's administrative capital.
Rescue workers initially struggled to cut away the tangled wreckage of the trains to free the passengers.
One of the train drivers was freed from the carriage where he was trapped for two hours.
The crash is the latest serious rail accident to hit South Africa's ageing urban rail network.
In 2011, 857 commuters were injured in Johannesburg's Soweto township when a passenger train smashed into a stationary train during the peak rush-hour period.
PRASA has itself described its passengers as "travelling like cattle".
Over 90 per cent of commuter trains in South Africa date back to more than 50 years, the most recent dating from 1986.
The network is currently undergoing a major revamp to upgrade its fleet, spending €10 billion over 20 years.