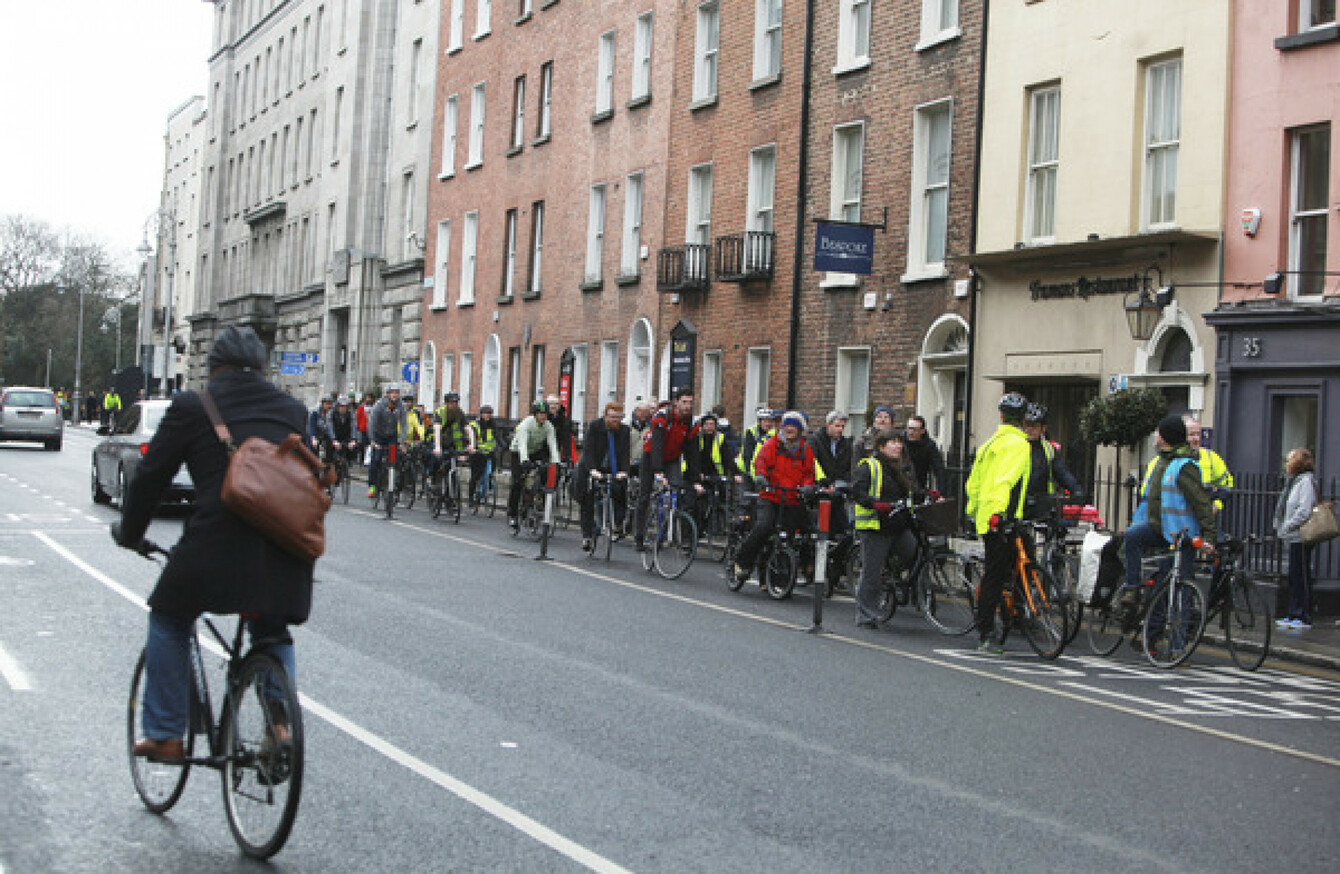 GARDAÍ HAVE HANDED out 1,660 on-the-spot fines to cyclists in the two years since the penalties were introduced.
Figures released by the gardaí reveal that breaking red lights is, by far, the most common offence cyclists are pulled up for with nearly 850 fines doled out since the end of July 2015, when the "fixed notice charges" were introduced.
The second most common offence is "cycling without reasonable consideration", for which 273 people have been fined, while the third most regular infraction was cycling without a front light.
The penalty for the infringements starts at €40 but rises to €60 if the fine isn't paid in 24 days. It can jump to as high as €2,000 if court fines are imposed.
So far this year, 441 people have been issued with fines.
Again, breaking red lights leads the way as the most regular infringement with 172 people being charged.
The number of people caught cycling in a pedestrianised area has increased dramatically in 2017, with 88 fines handed down so far.
This has already surpassed the combined total of 77 which were handed out between 2015 and 2016.
Only one fine has ever been issued for breaking a red light at a railway level crossing while just two have been handed down for failing to stop for a school warden.
Dr Paul Corcoran, chairperson of the Dublin Cycling Campaign, said the fines are welcomed by cyclists in the city.
"We welcome the charges and that gardaí are clamping down on cyclists," he said.
"There is a minority of cyclists who break the law by breaking red lights and cycling on footpaths and the fines are a good deterrent to stop that.
800 fines over the course of a year is quite a small number particularly when compared to the figure for drivers which is in the tens of thousands.
"The big issues for cyclists in Dublin are lack of infrastructure, lack of facilities and car drivers parking in cycle lanes.
"There's a real lack of enforcement for parking in the cycle lanes and it makes things dangerous for cyclists," Dr Corcoran concluded.
Figures released in October of last year revealed that gardaí catch 24 times more motorists than cyclists breaking red lights in Dublin.