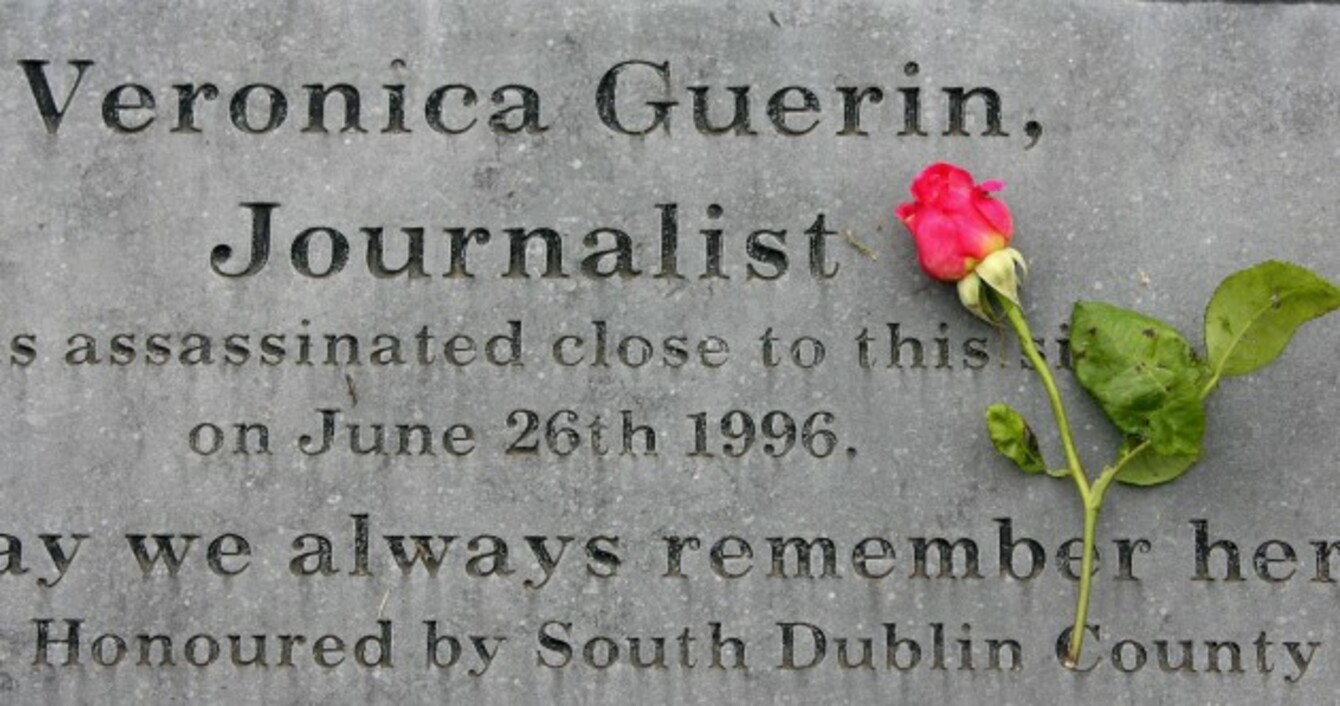 A plinth marks the spot on the Naas road in Dublin were journalist Veronica Guerin was shot dead
Image: Niall Carson/PA Archive/Press Association Images
A plinth marks the spot on the Naas road in Dublin were journalist Veronica Guerin was shot dead
Image: Niall Carson/PA Archive/Press Association Images
THIS DAY 17 years ago, well-known journalist Veronica Guerin was shot dead, a murder that shocked the nation.
The Sunday Independent crime correspondent had given Ireland the faces of the organised crime that had started to spiral out of control in the mid-1990s.
"She would go down to drug pushers, to an addict's house, or to the Taoiseach's house," her brother Jimmy Guerin recalled this week. "She could go anywhere and get them to trust her. That was the kind of person she was."
Her personal campaign against "the big guys" of the drugs underworld was described during a TV3 documentary to mark the anniversary of her death this week.
It recalled two previous attempts on her life before that fateful day on 26 June 1996.
In October 1994, shots were fired into her house but nobody was injured. And then in January 1995, a gunman came to her door and she was shot in the leg. She survived because of a faulty gun.
Jimmy Guerin believes more action could have been taken then to prevent her death just 18 months later.
"These were serious criminals and they would stop at nothing," he said.
The 37-year-old mother of one was also beaten up by known criminal John Gilligan when she visited his house during 1995. She was forced to wear a neckbrace after the assault which left her "black and blue". Former garda Assistant Commissioner Tony Hickey said it was "hard to imagine someone would take on a woman, a national journalist".
The name Veronica Guerin has now become synonymous with the war on drugs, according to her brother.
"When there is a terrible crime, they talk about the reaction to Veronica's death, or if they talk about drug dealers, they talk about Veronica.
"She has become an icon. There is always mention of it. I wouldn't want it any other way. I wouldn't want weeks to go by when I wasn't thinking about Veronica."
Veronica Guerin

Veronica Guerin

Veronica Guerin

Veronica Guerin

Veronica Guerin Funeral

Veronica Guerin

Veronica Guerin Murder Scene.

Veronica Guerin

Veronica Guerin

Veronica Guerin

Veronica Guerin Murder Scene

Veronica Guerin

Veronica Guerin

Veronica Guerin

Veronica Guerin

Veronica Guerin

Veronica Guerin

Veronica Guerin

Veronica Guerin