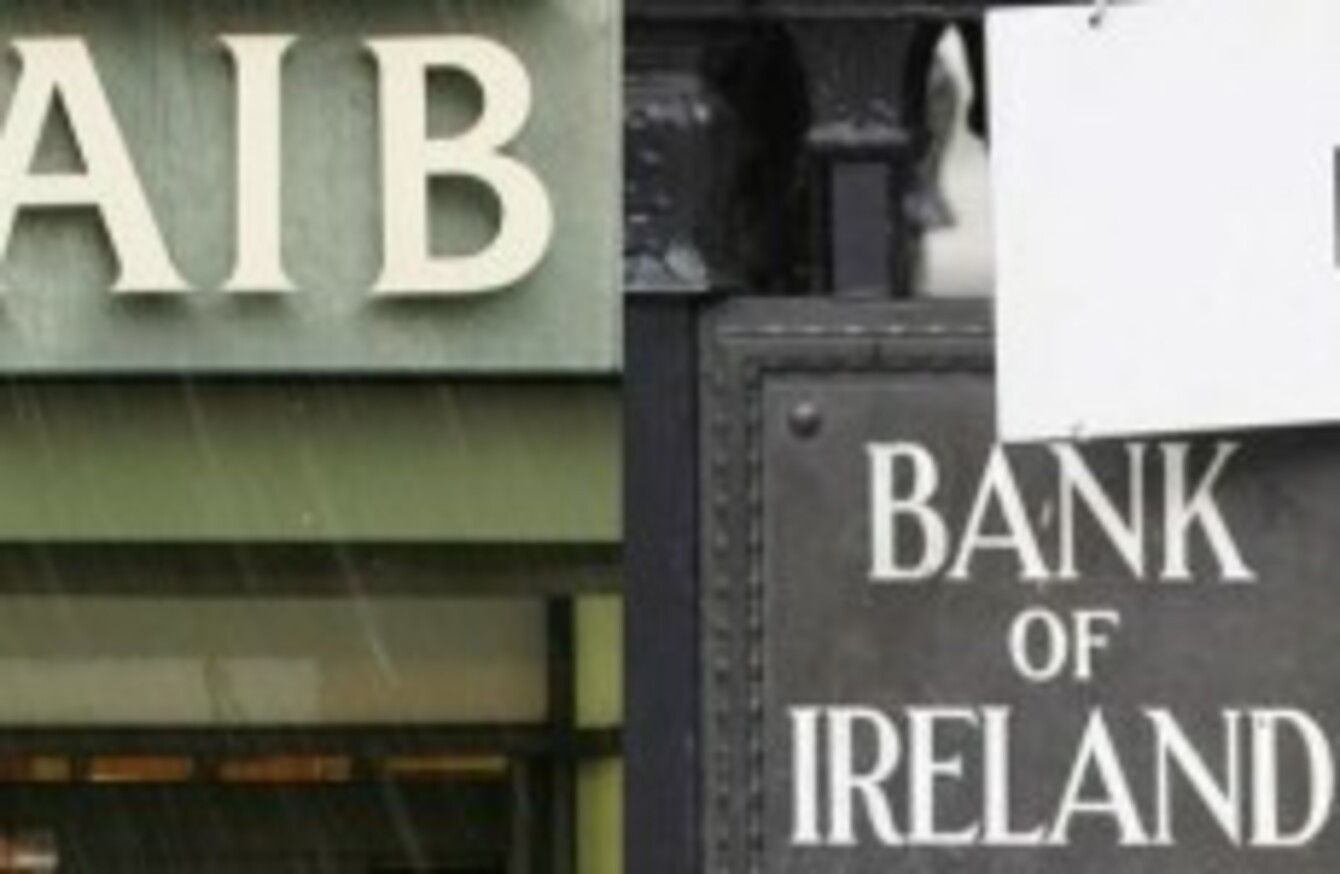 Image: PA Images/Photocall Ireland
Image: PA Images/Photocall Ireland
THE NEWEST ROUND of European Banking Authority tests of bank capital came out this week, and one thing is clear: everyone's deleveraging, and fast.
The EBA has told EU banks that they must raise a total of €114.69 billion in quality capital to meet the 9% core capital to liabilities ratios stipulated in October.
But that's worrisome for European Central Bank president Mario Draghi, who says leaders must ensure that banks don't raise that capital level by simply deciding not to lend anymore.
When the first round of stress tests came out in July, we weren't so sure we could trust the EBA's tests or fundraising recommendations. So we conducted our own round of stress tests by comparing total bank exposure in a specific country to common equity.
Our guesses for which banks were under the most stress appear to have been right on the mark, with the failure of Dexia and now the weakness of Commerzbank.
This set of tests provided less information than the last – in July we chose to compare total exposure rather than simply sovereign debt exposure – but we've nonetheless repeated our tests, comparing total holdings of PIIGS sovereign debt to common equity in 40 of the largest European banks.
#Open journalism No news is bad news Support The Journal

Your contributions will help us continue to deliver the stories that are important to you

Support us now
With EU leaders dithering over adequate short- and long-term solutions to the crisis, these are the banks praying that their sovereign debt does not suddenly become worthless.
#20 Barclays (U.K.)
PIIGS sovereign debt exposure: €13.13 billion ($17.56 billion)
Common Equity: €46.83 billion ($62.62 billion)
Market Cap: $36.56 billion
Sovereign Debt Exposure as % of Common Equity: 28.04%
Business Insider Total Exposure Ranking: #18
#19 Societe Generale (France)
PIIGS sovereign debt exposure: €30.97 billion ($41.42 billion)
Common Equity: €30.97 billion ($41.42 billion)
Market Cap: $19.91 billion
Sovereign Debt Exposure as % of Common Equity: 41.58%
Business Insider Total Exposure Ranking: #21
#18 SNS Bank (Netherlands)
PIIGS sovereign debt exposure: €1.63 billion ($2.17 billion)
Common Equity: €10.30 billion ($13.78 billion)
Market Cap: $675.90 million
Sovereign Debt Exposure as % of Common Equity: 43.75%
Business Insider Total Exposure Ranking: #44
#17 Allied Irish Banks (Ireland)
PIIGS sovereign debt exposure: €5.44 billion ($15.76 billion)
Common Equity: €11.79 billion ($15.76 billion)
Market Cap: $50.84 billion
Sovereign Debt Exposure as % of Common Equity: 46.13%
Business Insider Total Exposure Ranking: #1
#16 KBC Bank (Belgium)
PIIGS sovereign debt exposure: €4.95 billion ($6.62 billion)
Common Equity: €10.26 billion ($13.72 billion)
Market Cap: $5.07 billion
Sovereign Debt Exposure as % of Common Equity: 48.22%
Business Insider Total Exposure Ranking: #15
#15 BNP Paribas (France)
PIIGS sovereign debt exposure: €33.92 billion ($45.37 billion)
Common Equity: €57.21 billion ($75.51 billion)
Market Cap: €38.73 billion ($51.77 billion)
Sovereign Debt Exposure as % of Common Equity: 59.30%
Business Insider Total Exposure Ranking: #12
#14 Landesbank Baden-Wurttemberg (Germany)
PIIGS sovereign debt exposure: €6.52 billion ($8.72 billion)
Common Equity: €10.30 billion ($13.78 billion)
Sovereign Debt Exposure as % of Common Equity: 63.26%
Business Insider Total Exposure Ranking: #17
#13 Bank of Ireland (Ireland)
PIIGS sovereign debt exposure: €5.01 billion ($6.70 billion)
Common Equity: €7.36 billion ($9.84 billion)
Market Cap: $371.38 billion
Sovereign Debt Exposure as % of Common Equity: 68.07%
Business Insider Total Exposure Ranking: #7
#12 Commerzbank (Germany)
PIIGS sovereign debt exposure: €16.26 billion ($21.74 billion)
Common Equity: €20.75 billion ($27.75 billion)
Market Cap: $9.20 billion
Sovereign Debt Exposure as % of Common Equity: 78.35%
Business Insider Total Exposure Ranking: #11
#11 DZ Bank (Germany)
PIIGS sovereign debt exposure: €7.65 billion ($10.22 billion)
Common Equity: €9.01 billion ($12.05 billion)
Sovereign Debt Exposure as % of Common Equity: 84.83%
Business Insider Total Exposure Ranking: #16
#10 UBI Banca (Italy)
PIIGS sovereign debt exposure: €8.2 billion ($10.97 billion)
Common Equity: €7.91 billion ($10.58 billion)
Market Cap: €2.98 billion ($3.98 billion)
Sovereign Debt Exposure as % of Common Equity: 103.64%
#9 Banco Santander (Spain)
PIIGS sovereign debt exposure: €51.88 billion ($69.37 billion)
Common Equity: €36.68 billion ($49.05 billion)
Market Cap: $66.76 billion
Sovereign Debt Exposure as % of Common Equity: 133.04%
Business Insider Total Exposure Ranking: #9
#8 UniCredit (Italy)
PIIGS sovereign debt exposure: €52.61 billion ($70.36 billion)
Common Equity: €36.38 billion ($49.05 billion)
Market Cap: €15.44 billion ($20.64 billion)
Sovereign Debt Exposure as % of Common Equity: 143.42%
Business Insider Total Exposure Ranking: #8
#7 Banco Popular Espanol (Spain)
PIIGS sovereign debt exposure: €10.95 billion ($14.65 billion)
Common Equity: €6.42 billion ($8.58 billion)
Market Cap: $5.97 billion
Sovereign Debt Exposure as % of Common Equity: 170.67%
Business Insider Total Exposure Ranking: #3
#6 Intesa Sanpaolo Group (Italy)
PIIGS sovereign debt exposure: €59.11 billion ($79.04 billion)
Common Equity: €32,83 billion ($43.90 billion)
Market Cap: €20.99 billion ($28.06 billion)
Sovereign Debt Exposure as % of Common Equity: 180.06%
Business Insider Total Exposure Ranking: #4
#5 Banca Popolare (Italy)
PIIGS sovereign debt exposure: €11.05 billion ($14.78 billion)
Common Equity: €6.04 billion ($8.58 billion)
Market Cap: $2.98 billion
Sovereign Debt Exposure as % of Common Equity: 183.07%
#4 Banco Comercial Portugues (Portugal)
PIIGS sovereign debt exposure: €8.90 billion ($11.90 billion)
Common Equity: €4.22 billion ($5.64 billion)
Market Cap: €895 million ($1.20 billion)
Sovereign Debt Exposure as % of Common Equity: 210.76%
#3 Dexia (Belgium)
PIIGS sovereign debt exposure: €22.74 billion ($30.14 billion)
Common Equity: €9.70 billion ($12.97 billion)
Market Cap: €647 million ($865 million)
Sovereign Debt Exposure as % of Common Equity: 234.43%
Business Insider Total Exposure Ranking: #10
#2 BBVA (Spain)
PIIGS sovereign debt exposure: €60.91 billion ($81.46 billion)
Common Equity: €60.91 billion ($81.46 billion)
Market Cap: $41.22 billion
Sovereign Debt Exposure as % of Common Equity: 234.50%
Business Insider Total Exposure Ranking: #6
#1 Banca MPS (Italy)
PIIGS sovereign debt exposure: €30.78 billion ($41.17 billion)
Common Equity: €8.05 billion ($10.77 billion)
Market Cap: €3.28 billion ($4.38 billion)
Sovereign Debt Exposure as % of Common Equity: 382.21%
Business Insider Total Exposure Ranking: #2