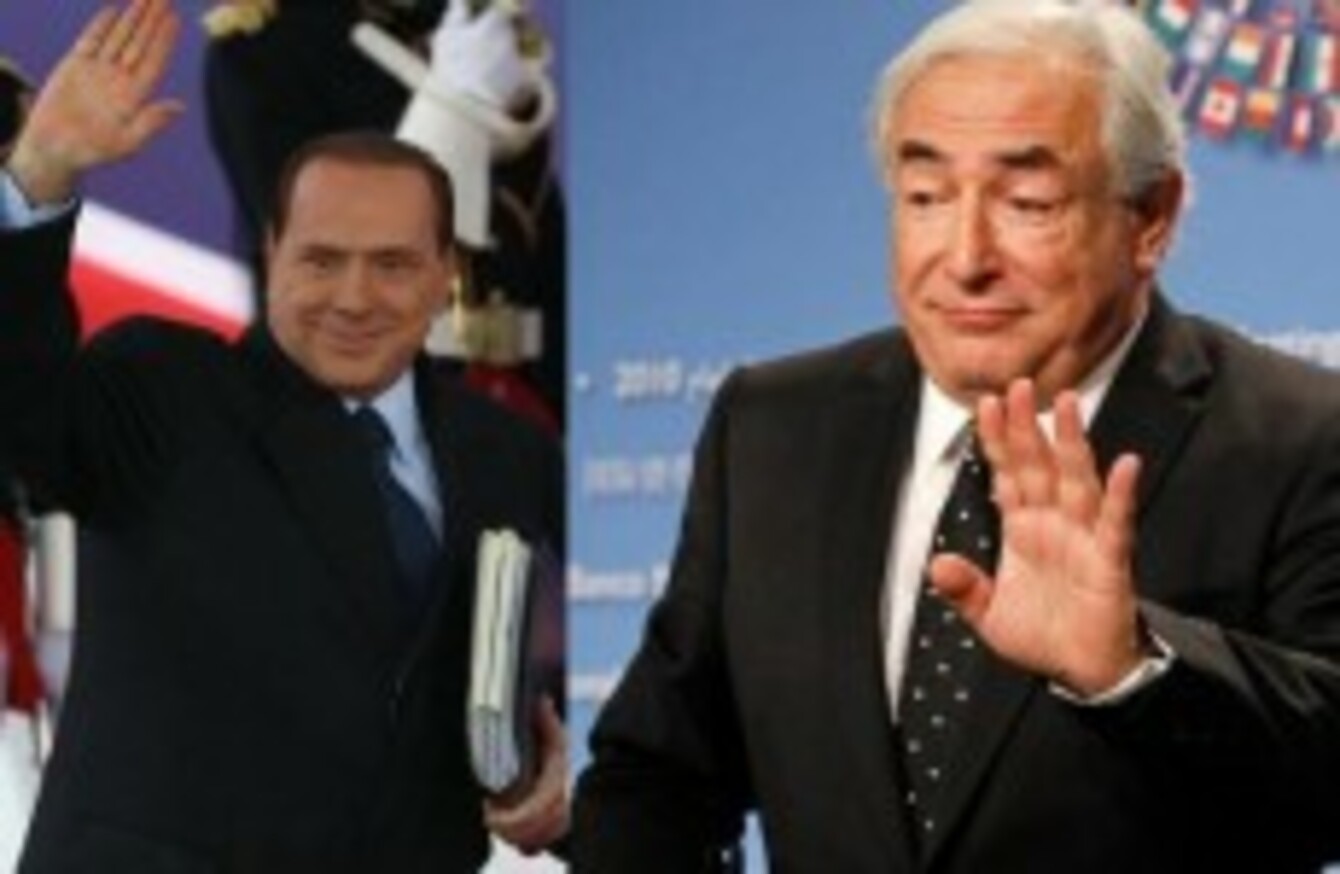 Both Silvio Berlusconi and Dominique Strauss-Kahn saw their decades-long political careers wiped out during 2011.
Image: PA Wire/Press Association Images
Both Silvio Berlusconi and Dominique Strauss-Kahn saw their decades-long political careers wiped out during 2011.
Image: PA Wire/Press Association Images
FROM ARAB SPRING oustings to sex scandal fallouts, 2011 certainly was a year of high profile resignations.
Political leaders, media names and banking personnel were all doomed, putting their own heads on the chopping block over the global economic crisis and various controversies.
Others, sadly were undone because of health reasons, natural disasters and national tragedies.
Arab Oustings
The resignation and flight of Tunisia's president Zine El Abidine Ben Ali on 14 January after mass protests kicked off the greatest period of civilian unrest ever seen in the Middle East and North Africa.
Egypt's Hosni Mubarak was the second leader ousted during the Arab Spring. The beleaguered president eventually admitted defeat on 11 February after 18 days of intense protests.
A party at Tahrir Square ensued:
(Uploaded by AlJazeeraEnglish)
From March, a host of high-ranking Libyan officials defected and fled to neighbouring countries as Muammar Gaddafi lost his once-firm grip on his people. The defections eventually led to the disintegration of the strongman's power and the end of his regime.
Economic woes
As the Fianna Fáil-led coalition Government came under fire for its handling of the economic crisis and IMF/EU bailout, An Taoiseach Brian Cowen was lambasted for trying to appoint a new members to Cabinet after six ministerial resignations.
Mary Harney, Noel Dempsey, Dermot Ahern, Tony Killeen, Batt O'Keeffe all tendered their resignations in the third week of January as none of them intended to run for office again. Micheál Martin stepped down as Minister for Foreign Affairs after Fianna Fáil voted to retain Cowen as leader on 18 January.
The pressure eventually became too much for Brian Cowen and he stepped down as the leader of Fianna Fáil on 22 January. However, he remained in office as Taoiseach. He said he was leaving the post so the party could contest the General Election "free from internal distraction".
Here is that announcement in full:
He survived sex scandals, corruption allegations and political gaffes but Silvio Berlusconi eventually succumbed to the economic crisis. On 12 November the media mogul stepped down as Prime Minister of Italy over fears that he could not steer the country from the brink of a bailout.
Celebrations – and a chorus of Hallelujah – were heard outside the Presidential Palace as thousands of Italians took to the streets following the announcement.
Gregorio Borgia/AP/Press Association Images
After weeks of wrangling with the Opposition, Greek Prime Minister George Papandreou resigned from his post on 7 November after leaders agreed on a national unity government to guide the country through its second bailout.
Jürgen Stark, one of the top officials at the European Central Bank, quit his post on 10 September "for personal reasons". Analysts suggested that his departure was linked to policy disagreements as the announcement came amid controversy over a risky programme to buy government bonds in the open market.
Portugal's embattled Prime Minister Jose Socrates resigned on 24 March after the Opposition overwhelmingly defeated his last-ditch austerity budget. Just two weeks later, the country's finance minister admitted that emergency financial aid would be needed.
Hacked Off
Rebekah Brooks, former editor of the now-defunct News of the World, resigned from her post as chief executive of News International on 15 July over the phone-hacking scandal which engulfed the 168- year-old newspaper, the Metropolitan Police and the British political establishment.
CEO of Dow Jones (which publishes the Wall Street Journal) and Rupert Murdoch's right-hand man Les Hinton followed with his resignation on 16 July. The 67-year-old oversaw News Corp's British newspapers between 1995 and 2007 – the time of the alleged hacking.
The snowballing scandal also saw the resignation of two high-profile police commissioners. Sir Paul Stephenson, the commissioner of the Metropolitan Police, stepped down on 17 July after allegations of inappropriate "cosiness" between London's police force and the media.
Just 24 hours later, assistant commissioner John Yates became the controversy's next scalp as it emerged that he had checked the credentials of Neil Wallis, a former News International executive editor who was hired by the Met Police in 2009 and was later arrested in connection with phone hacking.
Sex Scandals
He was never a household name outside of Queens, New York but congressman Anthony Weiner shot to notoriety this year when he accidentally posted images of his genitals to his Twitter account. It eventually emerged that he had engaged in several inappropriate and explicit conversations with women over social networking sites.
In a shocking (and tearful) press conference he said he was not resigning but eventually he succumbed to the pressure on 16 June, ending any ambitions of becoming the next Mayor of New York City.
Dominique Strauss-Kahn's ambitions to become the next President of France were also wiped out this year as he was forced to resign as the managing director of the International Monetary Fund on 19 May amid allegations of sexual assault and attempted rape. Although the charges were completely dropped by the NYPD, more details of the French politician's sexual past emerged in the aftermath of the scandal.
Political fallout
Dean of St Pauls Graeme Knowles resigned on 31 October over Occupy LSX protests that spilled across the historic church's grounds in London. He said his position was "untenable" as criticism of the cathedral mounted. Two other clergy members resigned as they disagreed with how the protests were handled by the church.
Brazil's president Dilma Rousseff has lost six ministers this year with at least five facing allegations of corruption. As the country is hosting the football World Cup in 2014 and the Olympic Games in 2016, the most notable exit was that of Sports Minister Orlando Silva on 27 October.
Norwegian Justice Minister Knut Storberget resigned on 11 November over the police force's handling of the massacre of 69 people on the lake island of Utoya earlier in the year. Emergency services faced criticism for their slow response time on 24 July.
Labour TD Willie Penrose resigned as Minister of State for Housing and Planning on 15 November over the closure of a military barracks in his constituency. He said he could not stand over a decision that was not backed up by facts and figures.
#Open journalism No news is bad news Support The Journal

Your contributions will help us continue to deliver the stories that are important to you

Support us now
In our poll, 53 per  cent of readers who voted believed the Midlands politician was wrong to resign.
Japan's Prime Minister Naoto Kan stepped down on 26 August after his approval ratings plummeted over the government's handling of the tsunami disaster and nuclear crisis. His 15-month tenure did not end on purely sour note, with his staff presenting him with a bouquet of flowers before he left office:
Irreconcilable differences
Eamon Dunphy quit his presenting job on Newstalk radio on the 29 October, stating the atmosphere at the station was "inhospitable" for journalists. The manner of his resignation kicked off an ongoing spat between himself and media magnate Denis O'Brien.
Here are Dunphy's last words on press freedom and Sam Smyth's sacking from TodayFM ahead of his own resignation:
(Uploaded by NattyNatful)
Russia's Finance Minister Alexei Kudrin resigned on 26 September after the country's president Dmitry Medvedev told him to. The order came after the pair had a public disagreement on economic policy.
Fall guy
In some necessary political manoeuvring Bini Smaghi left his post on the board of the European Central Bank on 24 June to ensure his fellow countryman Mario Draghi could take over as president.
UBS chief executive Oswald Gruebel fell on his sword on 24 September over an "unauthorised trading incident" by rogue trader Kweku Adoboli which could cost the Swiss bank up to US$2.3 billion.
Following the Green Party's dismal performance in this year's General Election, John Gormley resigned as leader on 20 March.
Business and media

On 20 January, Google announced a reshuffle which would see Eric Schmidt stand down as CEO to become executive chairman and co-founder Larry Page take over as chief executive.
A major change at the Irish Times saw Geraldine Kennedy stepping down from the top job on 24 June.
Health Reasons

On 25 August, Steve Jobs officially resigned as CEO of Apple. Battling cancer, the ingenious tech leader had been on a leave of absence since January.
In a statement published online, Jobs said:
I have always said if there ever came a day when I could no longer meet my duties and expectations as Apple's CEO, I would be the first to let you know. Unfortunately, that day has come."
The Bishop of Derry Dr Séamus Hegarty tendered his resignation given to the Vatican on 7 November, citing health reasons. In a statement he said he was recently diagnosed with a "irreversible and progressive" condition.