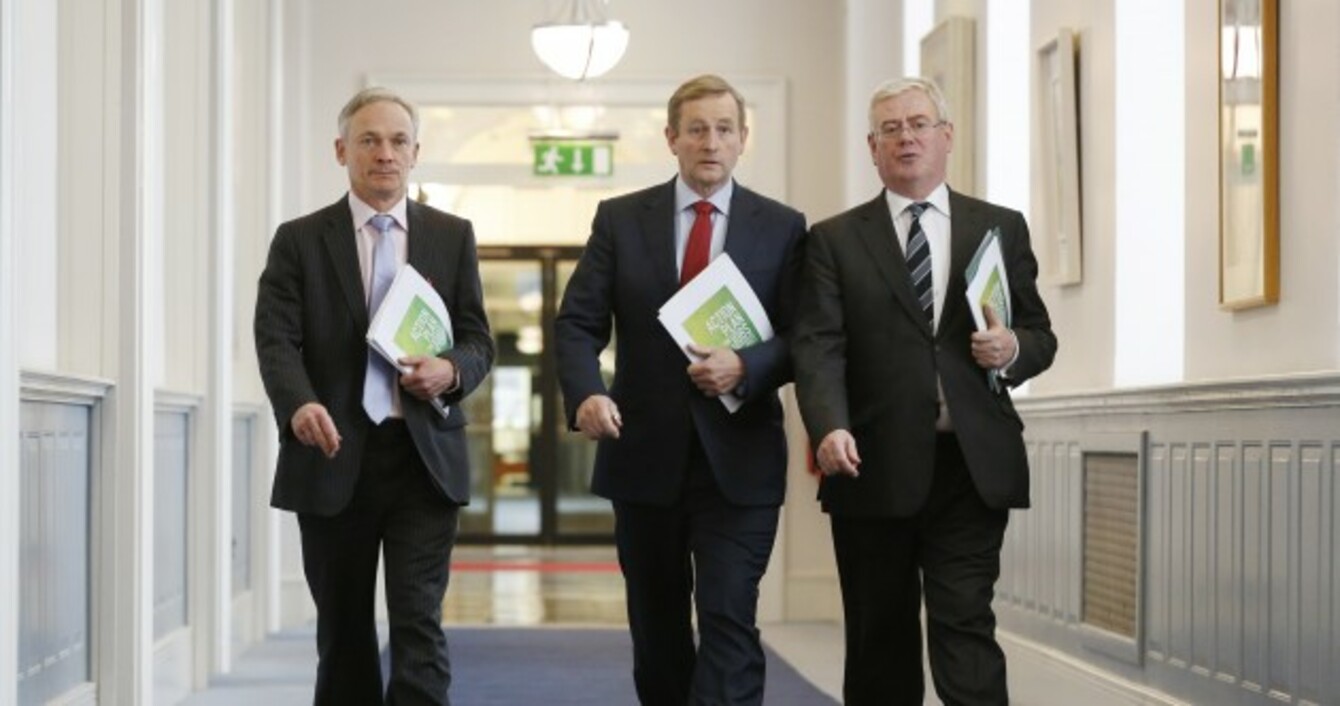 Will Richard, Enda and Eamon be walking into more good economic news in 2014?
Image: Sasko Lazarov/Photocall Ireland
Will Richard, Enda and Eamon be walking into more good economic news in 2014?
Image: Sasko Lazarov/Photocall Ireland
THEY PROBABLY NEVER got Harold Wilson to write political previews after he famously noted that "a week is a long time in politics".
Fortunately for the former British prime minister it is left to others to try and predict what might happen in the year ahead with the words (though they are disputed) of his predecessor Harold Macmillan about "events, dear boy, events" no doubt ringing in their years.
Our point – and we'll stop referencing Britain's former premiers now – is that it's near impossible to say what's going to happen politically over the next 12 months.
To give just one example, who would have thought that the Savita Halappanavar case in late 2012 would prompt a national debate on abortion that dominated the first seven months of 2013 and lead to abortion legislation, 20 years after it was first called for.
So with that in mind, instead of predictions we've posed a few questions, some of which will be answered for sure, some of which we hope will be answered, and some which will probably lead to more questions…
1. Will our 'clean' bailout exit work out?
The government has taken a gamble – albeit a calculated one – on Ireland being okay on its own with the EU/IMF programme ended and no precautionary credit line in place.
It's all about bond yields staying low, the economy continuing to grow and the eurozone remaining relatively calm in the year ahead. If all that happens then it's all good, but those three things are big 'ifs'.
2. Will Labour maintain its recovery and avoid electoral disaster?
Labour spent much of 2013 in meltdown, but in the last few weeks there has been a recovery of sorts. While nearly ten per cent of the party's councillors have jumped ship, those who have remained loyal will hope the upturn in the polls will translate into less of an electoral bloodbath than had been feared.
Labour does stand to lose seats and could realistically return no MEPs in May, but if overall economic recovery continues and the polls stabilise in their rating in the low teens then things could go better than many would have expected midway through last year.
3. Will Fianna Fáil recover at the ballot box?
Having hit historic lows in 2011, 2014 provides the first test of whether or not the public has forgiven, or is at least not as angry at Fianna Fáil as it was. The party will hope to boost its proportionate number of councillors and regain some ground in Dublin where it has no TDs.
A real test of the party's recovery will be in the capital. If it takes one of three European Parliament seats then it's a sure bet that it has recovered substantially from its meltdown three years ago.
4. Will there be a new party?
Opinion polls show a large number of undecided voters, which some falsely interpret as meaning there is a need for a new party that all of these undecideds will coalesce around. In reality, that's simply not the case.
But it is fair to say that a new party would attract significant interest – that's 'interest' as opposed to actual 'voters'. The question is whether or not it's going to happen and will it be on the right – involving the Reform Alliance – or the left – with Roisin Shortall, John Halligan, Thomas Pringle and the like?
The belief is that if it is to happen then it will be after the local and European elections. No one wants to do a Libertas and win nothing as happened with Declan Ganley in 2009, so it will be all about building a movement that looks towards 2016. Watch out for this in late 2014 and keep a close eye on Lucinda Creighton.
5. Will James Reilly hold on at health?
A Cabinet reshuffle or "movement" as Enda Kenny referred to it will happen in late 2014, and the big question in all of that will be what happens to the Health Minister. The bigger question is what happens to the health service, but that will ultimately impact on Reilly's future.
If health plunders from one mess to another, as seems to be happening right now with its budget and the medical card issues, then it will be a huge surprise if Reilly remains in place.
6. Who will Ireland's next European Commissioner be?
Reilly, Phil Hogan and Ruairí Quinn are the names most often mentioned when it comes to succeeding Marie Geoghegan-Quinn as Ireland's European Commissioner. The decision is at the discretion of Enda Kenny but Eamon Gilmore can push for it if he wants to give it to one of his lot (or indeed himself as some have wildly speculated).
In the past, the Commissioner role has been used either to send some undesirable out of the country (see Charlie McCreevy) or, in select circumstances and more so in other countries, for the best candidate. If it's Reilly or Hogan then it's probably going to be for the first reason, if it's Quinn it's probably a bit more for the second reason. Of course it may well be none of these three.
#Open journalism No news is bad news Support The Journal

Your contributions will help us continue to deliver the stories that are important to you

Support us now
7. Will Gerry Adams survive as Sinn Féin leader? (And what about Micheál Martin?)
The past continues to cause problems for Adams and as a result Sinn Féin. Though he is firmly committed to leading his party into the 2016 general election, a question mark now hangs over whether that will be the case.
Truth is, an opposition leader's position is never safe. There was talk about Micheál Martin's future in 2013, while it's less than four years since Enda Kenny survived an attempted heave.
But there could well be a perfect storm of more allegations about the past and a worse than expected result in the local and European elections which may lead to Adams's departure. The same could apply to Martin in the form of the banking inquiry (i.e. the past) and the local and European elections.
8. Will there be a banking inquiry, and what will we find out?
The Anglo Tapes last summer reminded us of the need to find out just what went on in the run-up to the bank guarantee and with the relevant legislation passed, the government is expected to launch an Oireachtas inquiry into the banking crisis this year.
With pending criminal trials, the scope of any inquiry will not be as vast as one would hope and it is difficult to determine what, if any, new and substantive information we will learn. But the idea of Brian Cowen and other former ministers being quizzed by TDs in full public view is intriguing and will be box office if it happens.
9. Will our banks need more money, and will we get a bank debt deal?
Banking stress tests will take place in the latter half of 2014 and will be a crucial indicator of whether Irish banks are appropriately capitalised. Some commentators maintain that they aren't and their huge mortgage books are going to cause problems, but the government says it's all rosy in the garden.
Perhaps crucial to the overall capitalisation of our banks is whether the historic 29 June 2012 agreement to break the link between banks and the sovereign is actually applied retroactively to Ireland's banking sector and we get some form of relief on our huge bank debt. The government, we are told, is pushing for this but there was zero progress in 2013 and discouraging words from the likes of Jose Manuel Barroso.