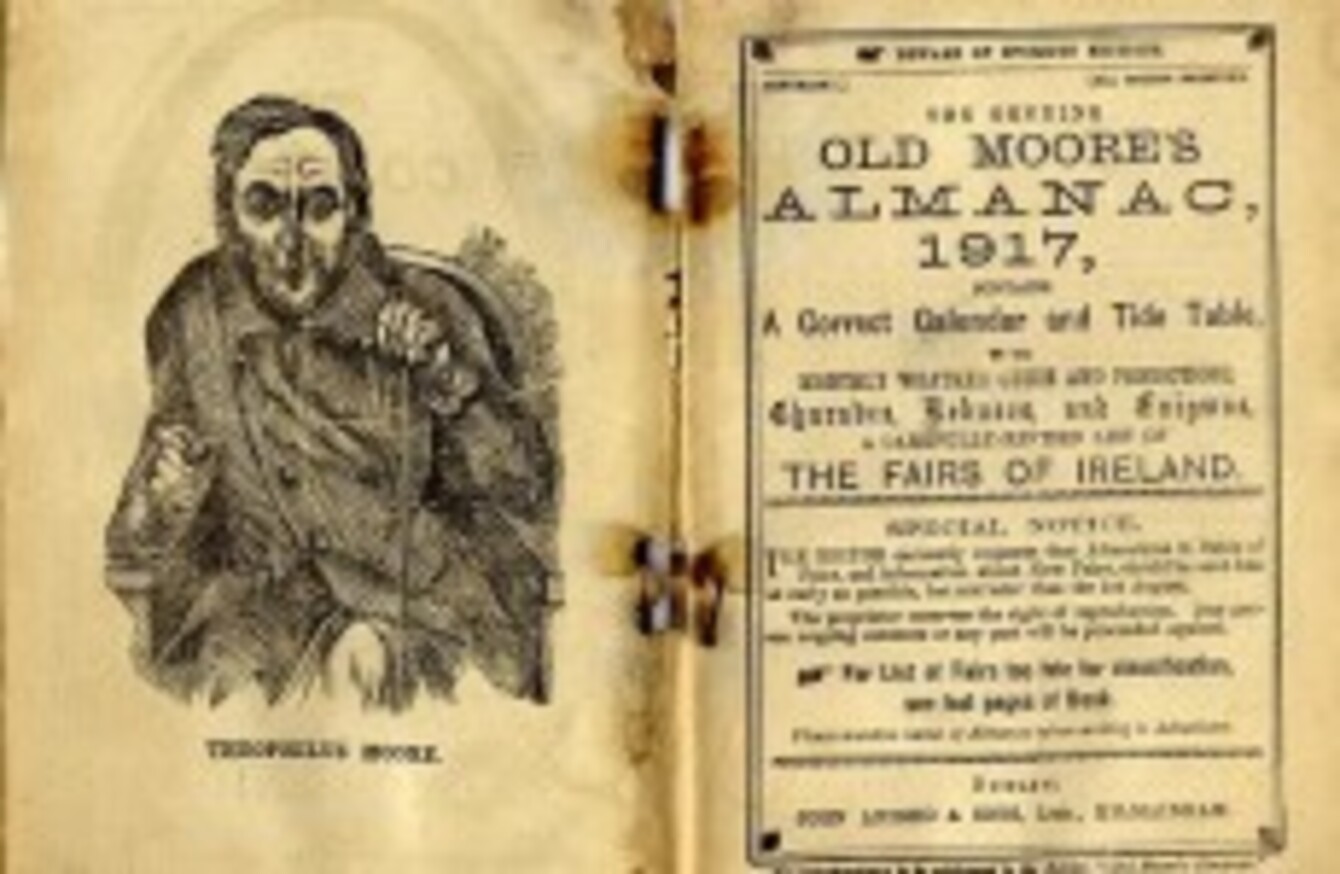 WONDERING WHAT THE new year has in store?
Well, good news, because the Old Moore's Almanac - which dates back almost 250 years – is back with its predictions for 2015.
The magazine has previously managed to successfully foresee events in Ireland and internationally – including the 2011 Royal Wedding, the price of gold and Amy Huberman and Brian O'Driscoll having a baby.
While the predictions can at times be a bit vague at times ("The Irish property saga continues its soap opera with plenty of ups and downs"), the predictions contains quite a bit of info worth keeping in mind as January comes upon us.
Here are ten predictions that might be worth keeping an eye on…
1. Ann Hathaway baby. Paris Hilton or Nicky Hilton or both have a baby. A pregnancy for Nicole Scherzinger. Pregnancy for Rosanna Davison.
It seems that the first rule of predicting future events is casting your net as widely as possible. Somebody is going to have a baby in 2015. The Old Moore's Almanac is sure of it. Who though – only time can tell.
2. Michael O'Leary in the news, he's getting even nicer!
Well this seems like good news. The Ryanair boss previously had a longstanding reputation for not particularly caring about his customers' feelings. Maybe the upturn in profits that his customer friendly profile seems to be bringing could be a factor in this.
3. A wing-suit accident
Now, without going into the science of it, wing-suits are probably quite dangerous. Somebody having an accident with one is definitely foreseeable.
4. Grape shortages put wines in danger
Here's the prediction that'll make the public at large sit up and take notice. Old Moore's Almanac can expect a glut of concerned readers getting in contact demanding the publication disclose exactly how they've come up with this information.
5. Putin has a tantrum
Putin's always having tantrums.
6. Obama tempted by a pretty lady. Obama's daughter has a naughty boyfriend
This one is interesting. Obama's daughter have recently shown signs of adolescent apathy – whose to say Obama's biggest problem next year won't be fending off an unwanted suitor?
7. Snakes in Ireland!
This is a brave assertion from the magazine. As we know, there's been a dearth of snakes over here since St Patrick sorted it out. They're betting on this changing in 2015.
8. Brangelina marriage in jeopardy—another child likely though.
Brad and Angelina seem to have a lot of children. Another one seems like a reasonable bet. Whether their marriage falls into jeopardy is another matter. We'll have to wait and see on that one.
9. Many food outlets will give you the ability via apps to pre-order and have your item ready to pick up, like Starbucks. No more waiting in line!
Credit to the Old Moore's Almanac. Even if this doesn't come true in 2015, it should.
10. More crazy news from North Korea.
Come on lads! What else? Is it safe to say we can look forward to more blue skies and green grass in 2015?