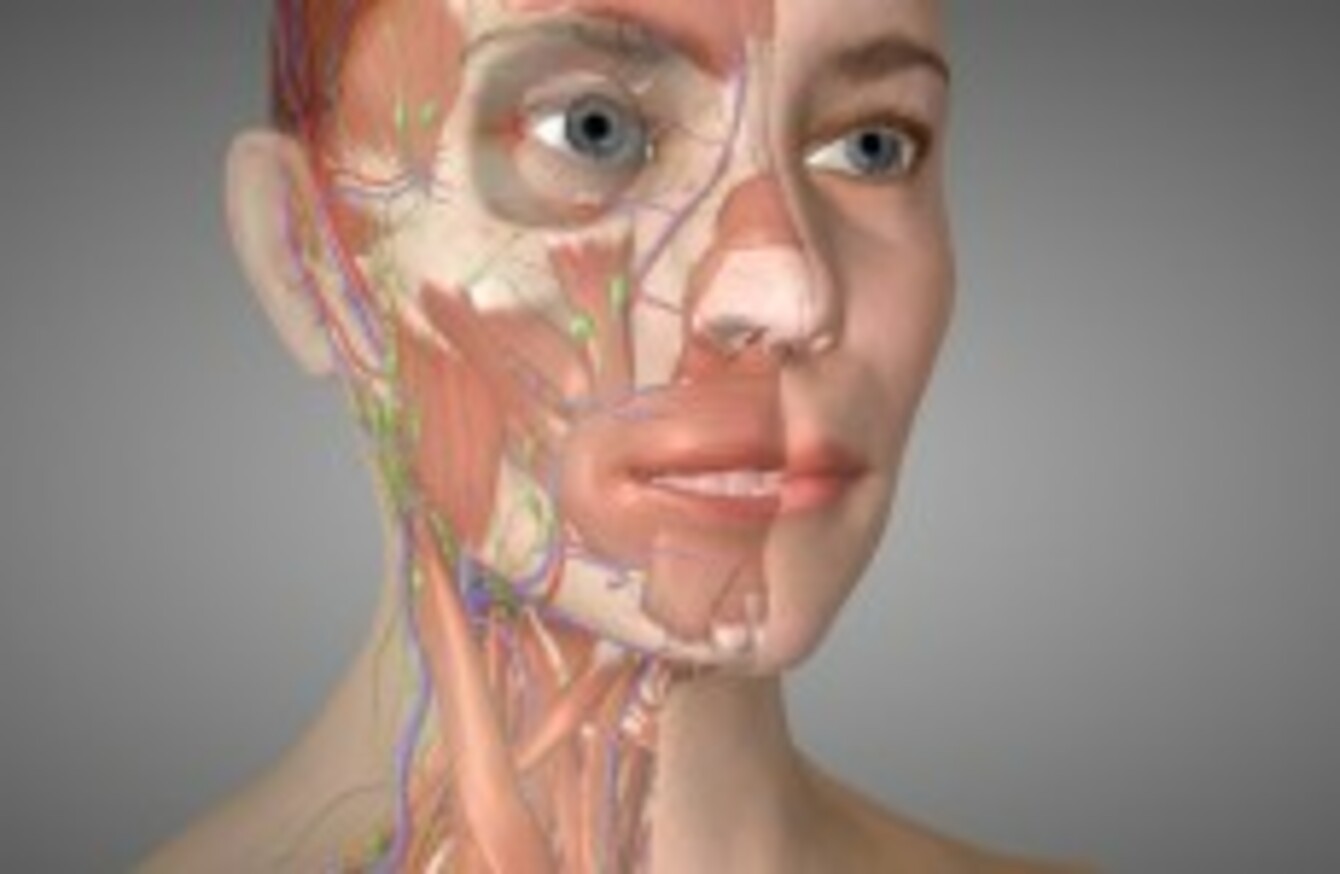 One of the models from Essential Anatomy 5, one of 3D4Medical's most successful apps.
One of the models from Essential Anatomy 5, one of 3D4Medical's most successful apps.
AT ONE OF the biggest tech events in the world earlier this year, where Apple unveiled its new iPhones and the iPad Pro, an Irish company joined Adobe and Microsoft in showcasing its software to the world.
3D4Medical might not be a household name, but in the medical world, it's one of the top tools out there. Designed for medical students and professionals, its flagship app Essential Anatomy displays male and female models with 11 systems and over 9,000 anatomical structures.
Yet its rise wasn't exactly straightforward. If anything, it was a little unconventional. Originally starting out life as a stock image company, it then moved towards apps instead when sales began to decline, and a change in direction was urgently needed.
"Our sales began to go down in the images industry in 2008/09 [and] we had to reinvent ourselves", said its CEO and co-founder John Moore. "We actually had no choice… we had these 3D assets we spent five to six years making medically accurate so we knew we had something".
Source: 3D4Medical/YouTube
Its release coincided with a major shift in personal technology, that is the release of the iPhone and the opening of the App Store to developers which happened a year later.
The timing wasn't the only factor that worked in its favour. The fact it focused on a specific area, was a cheaper alternative to traditional university books based on anatomy, and simplified the process due to the limited screen and buttons – the iPhone's screen was originally 3.5-inches so making sure the screen wasn't cluttered was a concern – helped matters.
"We've been lucky for several reasons. The phenomenon of the App Store, it allowed us to have a window to hundreds of millions of people", explained Moore. "We had very little money to do anything and we didn't have our own sales force".
We stuck to the formula and did the best we could on the technology side [in the hope] we would be recognised sooner or later and we were lucky… We did start to build up a following and we were self-profitable, we didn't need any funding. Anytime we needed money, we would be promoted or something would happen.
That relationship with Apple certainly helped. It featured in a number of ads for the tech giant and has appeared on stage at two of its keynotes events, the most recent being its September event where its head of design, Irene Walsh, showed off its products during an iPad Pro demo.
In the latest version, the app has some new features including virtual operations where users can cut parts and model the effects of certain conditions like arthritis.
Source: McLeonida/YouTube
The initial success came from word of mouth. While the medical section of the App Store wasn't exactly packed – there was roughly a hundred apps that fell into that category – it was one of the more expensive apps to feature on the store but it went straight to number one because of what it offered.
"When we did produce it, it went straight to number one very simply just by pricing it right and because of the graphical nature, you could show your friend", explained Moore. But that spread because people who were in medicine or learning medicine would bring iPhones to class and they'd be able to work things out on it. The people beside them would be able to see it and they'd go and buy it and it spread".
And it gathered a large following among the medical community in the US and Europe. The team receive thousands of emails a day about its apps, according to Moore, which he says is invaluable in developing its products.
Moore says the first month of a new release brings with it more feedback and normally there are several updates within that period to deal with any errors or problems that may occur.
"Normally when we do a major release, we would get feedback really quickly", says Moore. "There might be a mistake… somebody calling you to say that an artery should be one millimetre to the left [and] we have to correct that. We usually do several updates in the first month after a major release and then we leave it then for a while."
We've a lot of medical professionals using this and if you don't get it right, you get slammed, you really get slammed… If something's wrong, they'll let the world know.
This year has been an eventful one for 3D4Medical. Alongside Apple's keynote event, it took its first funding round earlier this year with life sciences company Malin investing $16.4 million ("We never got any funding in the eleven years. I mortgaged my house but that was the only funding we had".) and recently opened up an office in Poland.
Its Polish office will focus on 3D design and will complement its other offices in Dublin, Russia, Ukraine, and San Diego.
While the main focus is on 3D models, the company is looking at moving into another area, that of record keeping. Since the app is already digital, it's easier for doctors to show the patient what's wrong and then save it to your medical records.
Moore says that a number of partnerships are already in place for this to happen and hopes that it will open up new avenues for the company.