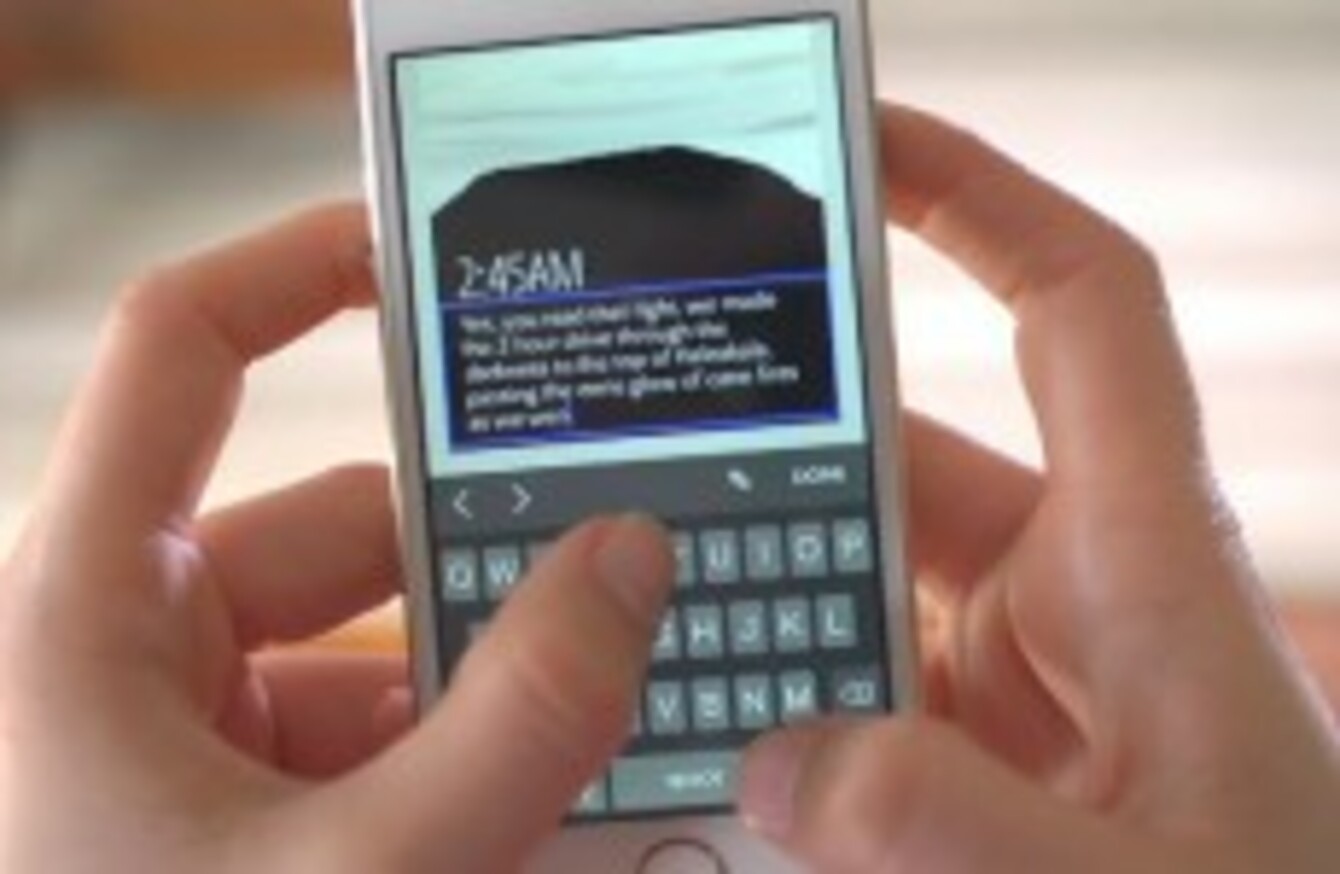 Image: Stellar/Vimeo
Image: Stellar/Vimeo
EACH WEEK, WE highlight five apps that are worth downloading for your smartphone and tablet. There are a lot of apps released on a daily basis, but not all of them are worth paying attention to.
This week includes a new way to tell stories, a photo app that focuses solely on mood and a different way of reading classic novels.
BookTrack
For: Android
Cost: Free
- Booktrack has an interesting idea at the heart of its app: what if you gave classic literature relevant soundtracks while you read?
- The reality works better than you would expect. All of the ebooks featured included have been given their own sounds and music to immerse yourself further and they fit in well.
- The soundtracks extend to ambient noises too as crowds, rivers, dramatic music, romantic scenes are all included.
- The only problem is because adding soundtracks to books takes time, it's a small collection and a lot of the books are titles you wouldn't have heard of before. Although you're not paying anything for them so there's that.
- It may take a while to develop before it becomes essential, but if you're open-minded about what you read, it's worth a look.
(Video: BookTrack/YouTube)
Prism
For: iOS
Cost: €2.69
- Before you ask: No, it's has nothing to do with the NSA's PRISM program.
- Now that we've got that joke out of the way, Prism is not exactly a photo-editing app, but one which helps you adjust its mood by changing its colouring. Think of it as an advanced version of the temperature tool you find on photo-editing apps.
- The interface is incredibly simple, using a wheel lets you cycle through your photos and colours. It's more diverse than you would initially expect.
- It's surprising how quickly you can go from selecting a photo to posting an edited version. It complements whatever app you use to edit your photos, be it Snapseed or something else.
- It may take a bit of getting used to, but those looking for something different to the traditional filter settings will find this useful.
(Image: Prism/App Store)
Inspire Launcher
For: Android
Cost: Free (€3.65 for full features)
- We covered different home launcher before like Cover, but they were more skins instead of replacing your home screen. What if you wanted to rejig your home screens entirely?
- Inspire Launcher replaces your current home screen with a more app-centric display. You can still place widgets on your home page, but the flat, colourful apps will stand out.
- The recent apps and genius bar is very useful, it reminds you a little of iOS, but it's far more than that.
- The level of customisation is quite impressive, you can set gestures, side-menus, animations and interface can be changed and adjusted. The free version alone will take you a while to get your head around.
- Apart from one or two small bugs (it is a brand new app by the way), it's a great replacement for whatever version of Android you're using.
(Image: Inspire Launcher/Google Play)
CloudSix Dropbox
For: Windows Phone
Cost: Free
- We know Windows Phone users already have OneDrive to avail of, and in fairness it's pretty good, but what about those who are using Dropbox?
- CloudSix is the best solution you're going to get until Dropbox officially release its own WP app.
- All the usual features you would associate with Dropbox are here. Sharing, linking, multiple accounts and so on.
- Also, the usual 'upload while charging' option is here too as well as pin-code protection.
- A good third-party option for those who aren't committed to one Dropbox app.
#Open journalism No news is bad news Support The Journal

Your contributions will help us continue to deliver the stories that are important to you

Support us now
Steller
For: iOS
Cost: Free
- Steller is a new way of telling stories on your phone, use photos, video, text, music, anything to get the message across.
- The emphasis on design complements the focus on storytelling. It's a gorgeous app and the storybook presentation gives it a nice feel.
- You might spend a  minute or two trying to figure out how to create a story (it's in the side menu for those wondering), but putting one together is very easy.
-The level of creativity that's on show already is impressive. Guides to locations, guessing games and traditional stories are some of the entries you'll find. Even the tutorials alone are nice to look at.
- An app that very much lives up to its name.
(Video: Steller/Vimeo)
(Image: CloudSix for Dropbox/Windows Phone)