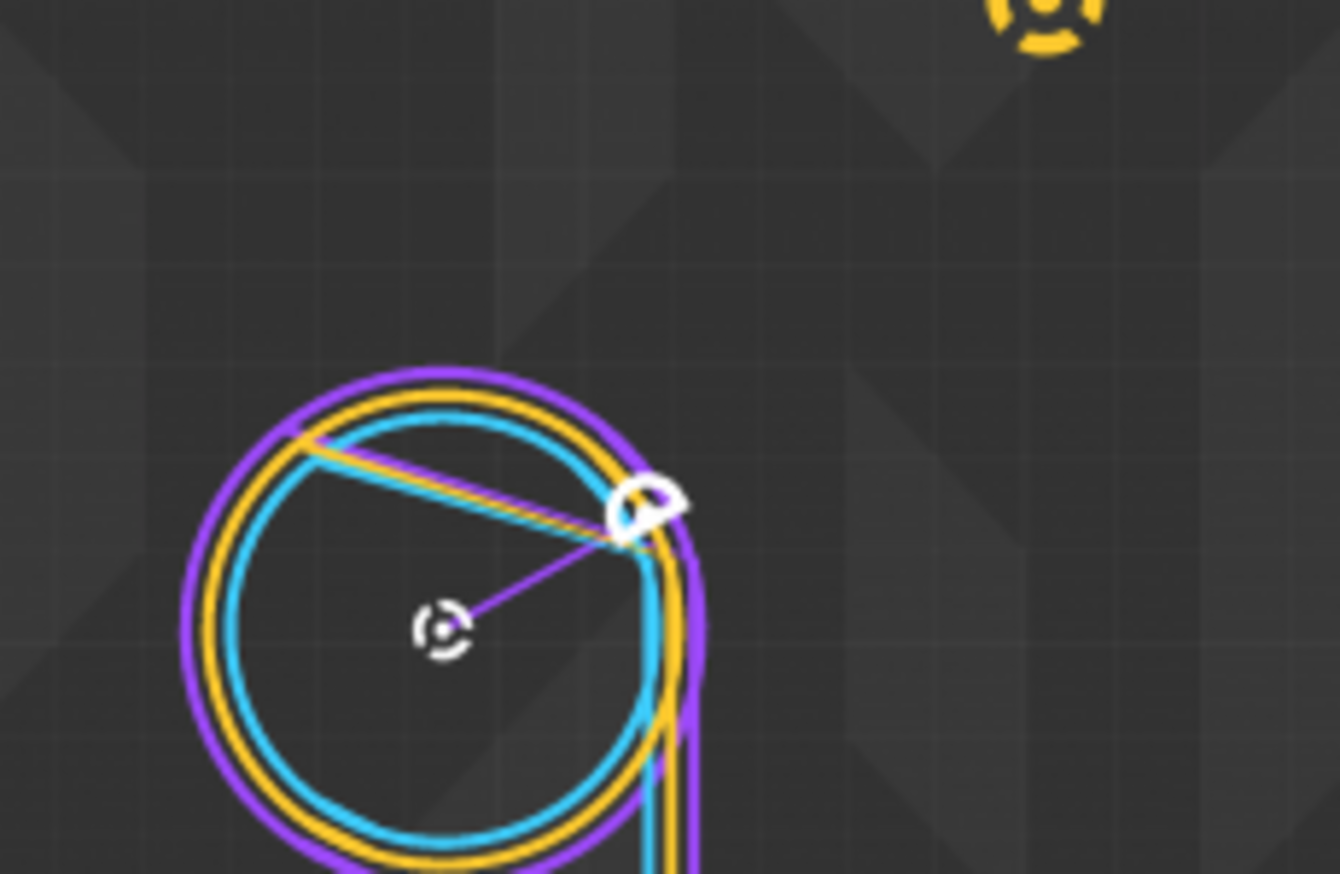 Image: One More Line/Android
Image: One More Line/Android
EACH WEEK, WE highlight five apps that are worth downloading for your smartphone and tablet. There are a lot of apps released on a daily basis, but not all of them are worth paying attention to.
This week includes a brutally tough techno game, a way to send doodles via iMessage and a service that's takes inspiration from Tinder to help those travelling.
One More Line
For: iOS, Android,
Cost: Free (Includes In-App Purchases)
- There seems to be a surge in games that make you die within five seconds of starting. Once Flappy Bird came out, the market has been awash with them.
- One More Line separates itself with a simple but vibrant style where you control a stylised D and a techno soundtrack.
- The goal is to get as far as possible by grappling to points and avoiding collision as you move up. Grabbing one spins you round in a circle and you have to time your release correctly to keep going.
- You slowly get better at it though as you learn little hints like trajectory and the fact you can go outside the barrier provided you're grappling onto a point. But it's still very brutal.
- You're going to lose a lot of time playing this (and subsequently dying), mark our words.
Source: SMG Studio/YouTube
DrawType Keyboard
For: iOS
Cost: €0.89
- We all know that typing is overrated so why not draw your messages instead.
- That's the purpose of DrawType Keyboard, which replaces your keyboard with a blank canvas for you to draw doodles on.
- All drawings are sent as MMS so it can be applied to almost any instant messaging service.
- How useful you find it will depend on your artistic ability, but if you're regularly drawing on Snapchat or other similar apps, then you'll have a lot of fun here.
- If you want your iMessages to have a little more variety, it's a fun little add-on to have.
YouTube Music Key
For: iOS, Android
Cost: Free (€7.99 per month after 6mth trial)
- Technically this isn't a new app, this is effectively a music player function added onto it, but it's still worth mentioning for what it brings to the table.
- Terrible name aside, YouTube Music Key is effectively a way for you to play music from the site without having to be in the app, and you don't get ads with it either.
- The service also allows offline playback, and includes access to Google Play Music, so you have a collection of music there to listen to.
- The first six months of it are free since it's still in beta, making it a handy one for those who regularly listen to music on the site.
- If you're not committed to Spotify or any other music app, it's definitely worth playing around with.
Source: YouTube Music Key/YouTube
Tripr
For: iOS
Cost: Free
#Open journalism No news is bad news Support The Journal

Your contributions will help us continue to deliver the stories that are important to you

Support us now
- This is an interesting idea. Tripr tries to connect those who are travelling to different places before you get there.
- The basic premise is you enter in what days you're going to be in a city or place, and put in your preferences.
- You can choose what demographics you want to meet (locals, friends, friends of friends, etc.) before you set off
- Approving people is done in a similar manner to Tinder. Once you say ok, you can chat and arrange to meet somewhere.
- If you're travelling on your own anywhere, this could made things a little easier for you.
Truedialer
For: Android, Windows Phone
Cost: Free
- There isn't much you can do with the traditional phone or contacts app, or at least that's what most of us believe, but there are apps that are trying to change this.
- Truedialer tries to make your phone book more relevant by adding real-time caller ID features and making things more seamless.
- It finds contacts through their numbers instead of having to type them down and has a database of numbers so you know who's calling, even if they're landline, mobile or elsewhere.
- It also quickly blocks spammers as well, so you're not wasting your time dealing with people trying to find bugs in your Windows computer.
- If you want an alternative for your default phone app, then this is the one for you.