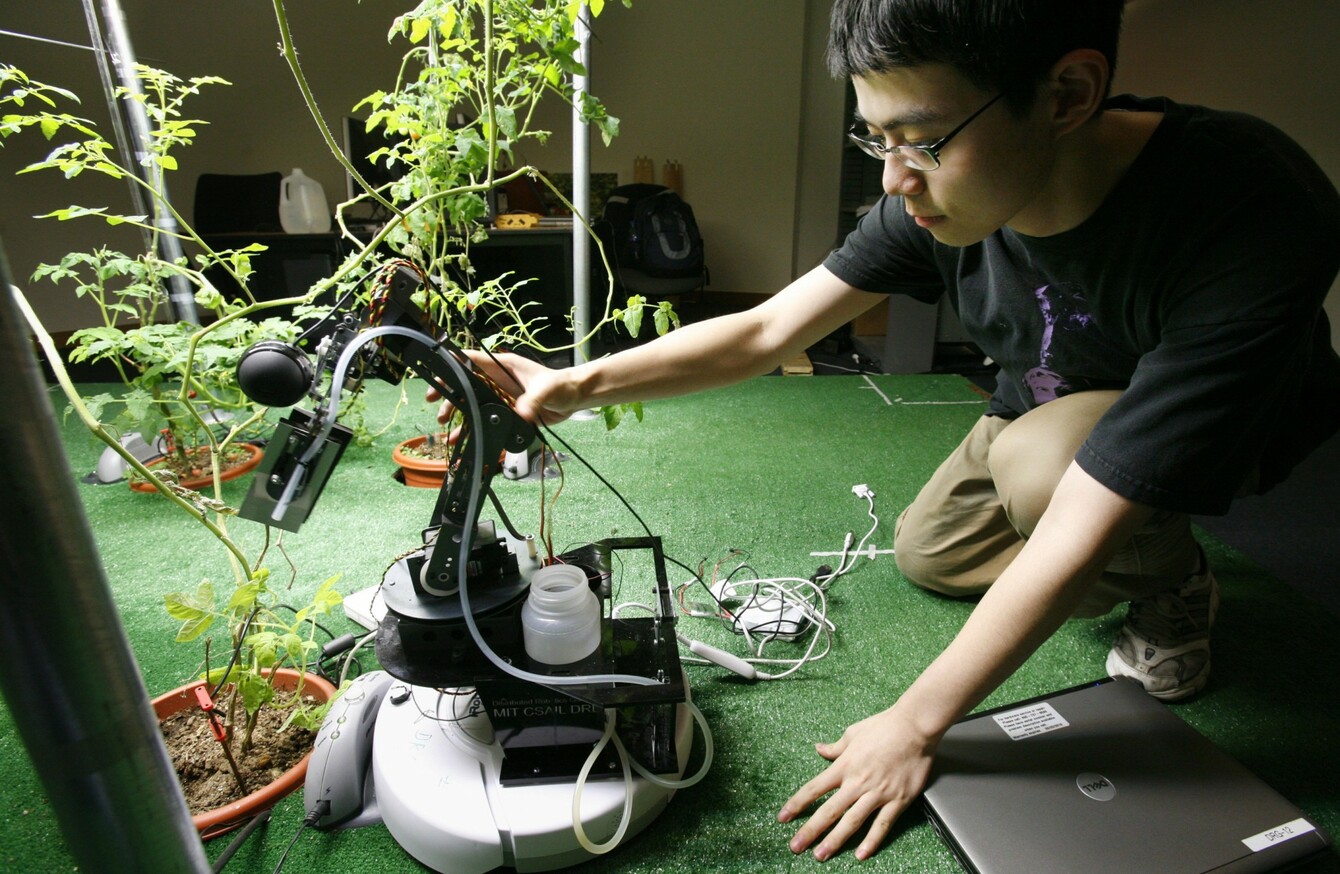 A student works with a robot gardener in MIT's Artificial Intelligence Lab
Image: AP/Press Association Images
A student works with a robot gardener in MIT's Artificial Intelligence Lab
Image: AP/Press Association Images
WE'RE OFFICIALLY LIVING in the future.
Imagine even 10 years ago, telling people that we'd all be walking around with mini super-computer smartphones in our back pockets, capable of taking amazing quality photos, sorting out our finances, blasting music and playing Candy Crush all at the same time.
Yep, we've made it. Artificial intelligence is the next frontier. So what's going on with these robots then?
1. Risky business
2016 marks the year that the EU published a draft report that focused on artificial intelligence – and not only that, but how AI might pose a risk to jobs, security and even "human dignity" and "the survival of the species". Strong words, eh?
2. Go right ahead
In March of last year, a robot beat the world champion (a human being, to clarify) at the game Go – which is about 10 years ahead of when boffins had predicted this would happen. The computer was designed by Google-owned DeepMind, and it thrashed world champ Lee Sedol 4-1. Go is far more complex than chess and involves very intense maths, but cannot be won with sheer calculations alone – it requires what is discussed as more like … human intuition. Shiver.
Source: DeepMind/YouTube
3. Helping hand
Google-owned robotics company Schaft this year unveiled a new bipedal robot. It was announced as a tool to "help society" by carrying heavy loads over uneven terrains. Since being bought by Google, Schaft have withdrawn from any public-facing contracts, shut down their website and generally keep their developments hush-hush. God knows what advancement will come next from these guys.
Source: mehdi_san/YouTube
4. Testing testing, 123
Yet another AI-related fact linked to Google… Sensing a pattern yet? Ray Kurzweil is Google's chief futurist, an eccentric man who for decades has been predicting the rise of the world wide web and society-shaping technologies. He's a proponent of the singularity theory – that moment when man and machines will converge. He's of the opinion that a robot will pass the Turing Test in the next 15 years. (The Turing Test was developed by Alan Turing in 1950, and basically boils down to AI being able to perfectly mimic human behaviour to the extent that a human would mistake it for a real person.)
5. But is it art?
It's not just tech and business that artificial intelligence is creeping into, of course. Get this: a computer programme has been developed to imitate the style of one of the greatest painters of all time, Rembrandt. The Next Rembrandt, as the project is called, analysed Rembrandt's entire body of work for data on colour, dress, topic, composition, etc, synthesised and then 3D printed a piece in his style, not just a replica. This is data used as we've never seen before.
Source: The Next Rembrandt/YouTube
6. Partnership on AI
What issue could possibly have united tech uber-giants like Facebook, Amazon, Google, IBM and Microsoft except AI? This year, the five companies put aside their various differences and banded together to form the Partnership on AI. The group's mission is to conduct research and promote best practice in the field, with regular meetings to discuss advancements in artificial intelligence.
Does artificial intelligence push all the right buttons for you? Then perhaps you should take a look at the Higher Diploma in Computing from NCI. The course will teach you the computing fundamentals, complemented with detailed knowledge, problem-solving and specialised technical skills required for designing, developing and deploying software. Find out more and apply here.