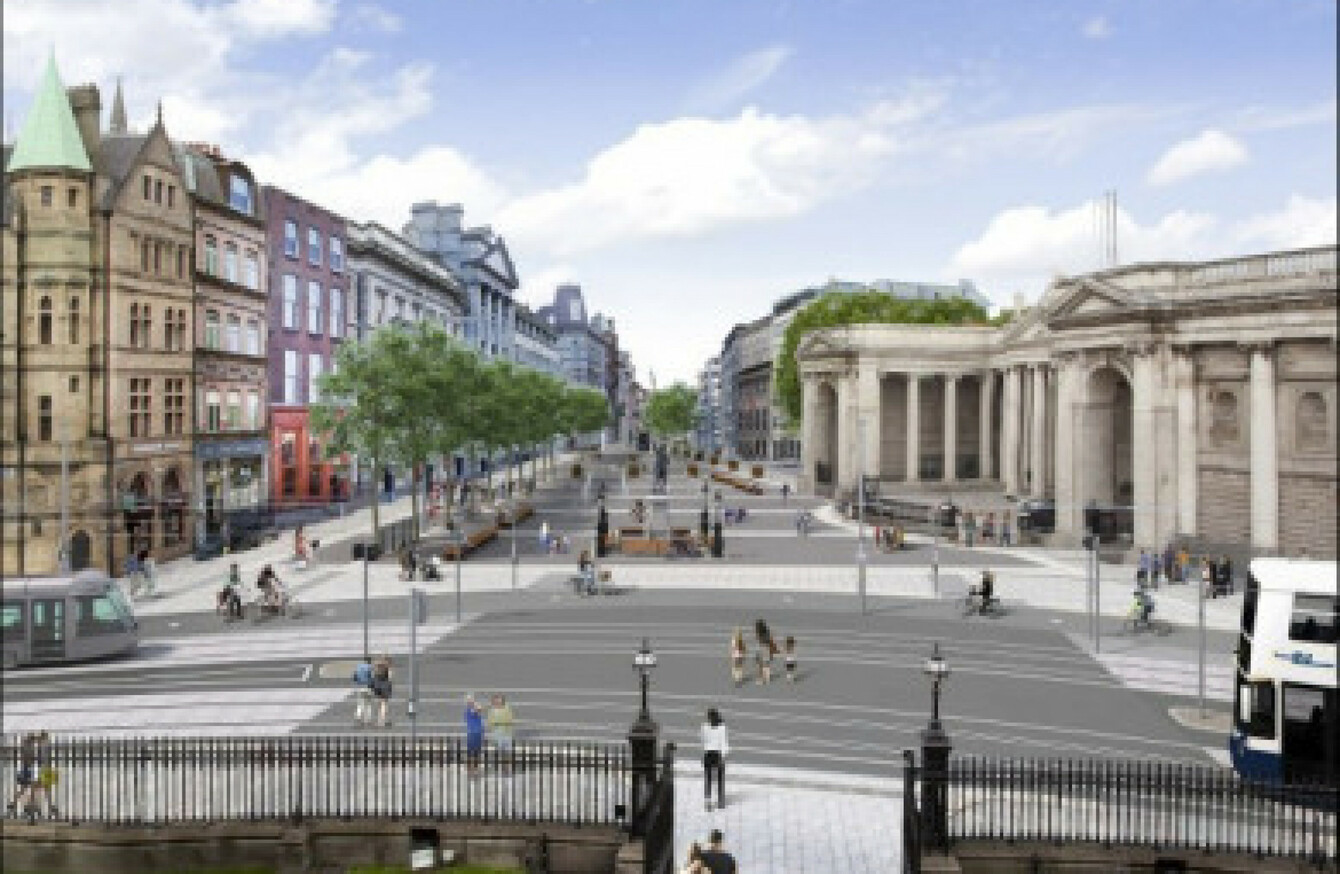 The rejected College Green Plaza
Image: Dublin City Council
The rejected College Green Plaza
Image: Dublin City Council
SIXTY PERCENT OF people think that College Green in Dublin city centre should be pedestrianised and turned into a public plaza. 
In a study carried out by Amarách Research for RTÉ's Claire Byrne Live and TheJournal.ie, the majority of the 1,000 people surveyed said that the area in front of the Bank of Ireland should be traffic-free. 
Of those surveyed, just 22% said that College Green should not be pedestrianised.
Eighteen percent responded that they did not know whether College Green – an area where, until recently, Dublin City Council planned to build a public plaza – should be pedestrianised. 
In October, An Bord Pleanála rejected the council's plan for a European-style plaza at College Green, citing concerns about the knock-on effect it would have on traffic in general and on busses in particular.
Under the planned pedestrian and cycle plaza – on which the council spent €1.5 million – all traffic would be banned from entering Dame Street via College Green. 
North-south traffic would have remained and buses and taxis would still run along the same line as the Luas between Nassau Street and Westmoreland Street.
'All is not lost' 
Speaking to TheJournal.ie last month, the council's chief executive Owen Keegan said that the council was still determined to see College Green traffic-free in the future. 
The council has yet to make a decision on whether or not to challenge the board's decision, however. 
Green Party councillor Ciarán Cuffe has urged the fast-tracking of a revised proposal to An Bord Pleanála. 
Cuffe has argued that the council and the National Transport Authority "must up their game in order to deliver the projects".
Part of the challenge is political. Achieving buy-in to these game-changing transport initiatives can be fickle.
The council's Keegan has said, however, that regardless of a new plaza submission, "I think you can anticipate a series of traffic management changes gradually being implemented that will keep traffic moving north-south."
"In time it will have the effect of creating a completely traffic-free area in front of the Bank of Ireland."
The Claire Byrne Live / Amarách Research Panel consists of over 1,000 Irish adults, all aged 18+ who own smartphones. The poll was conducted on Monday 26 November.