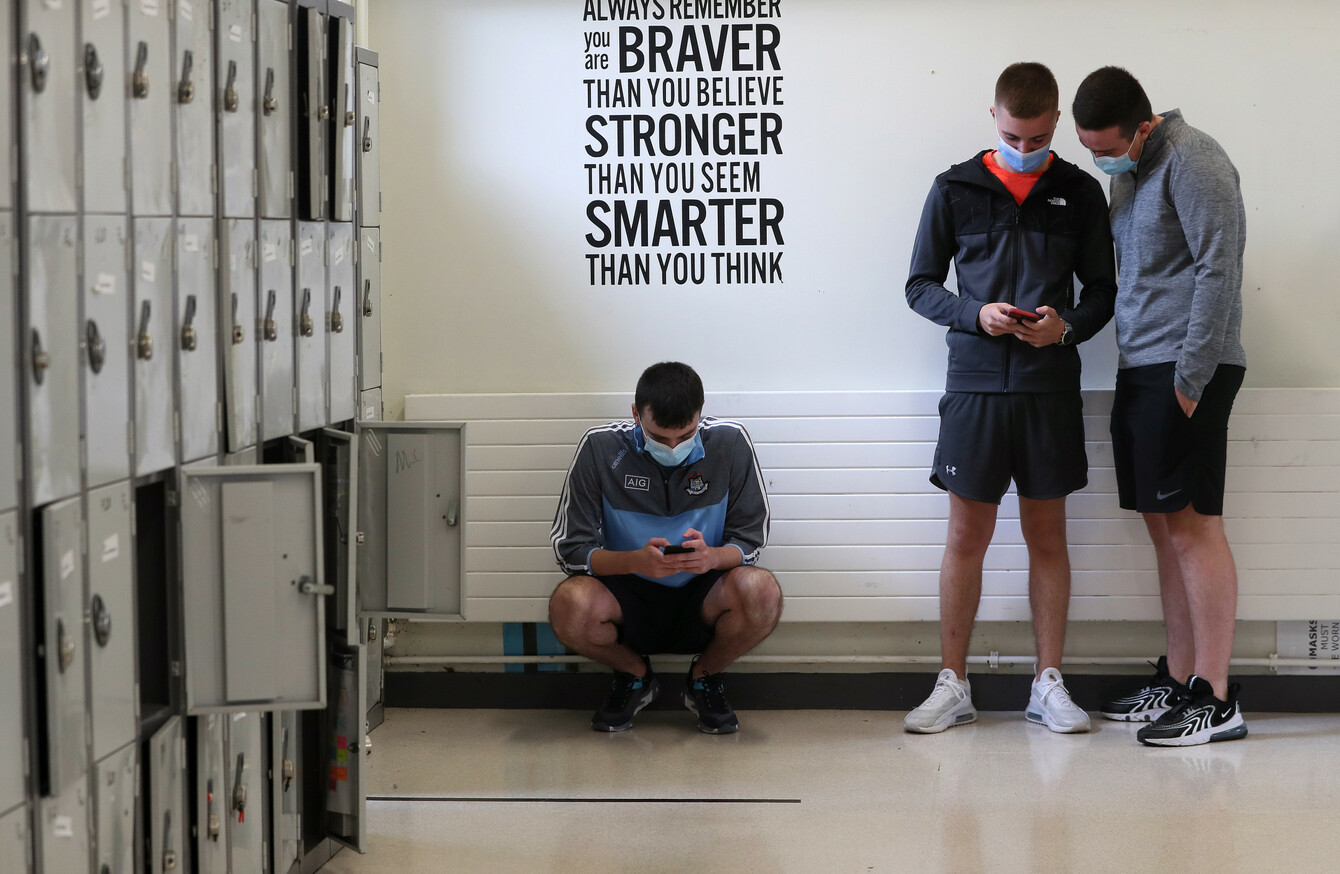 Past pupils of Beneavin De La Salle College, Finglas, checking their results at the school today.
Image: PA
Past pupils of Beneavin De La Salle College, Finglas, checking their results at the school today.
Image: PA
GRADES AWARDED TO this year's Leaving Cert class are significantly higher compared to 2020. 
It is set to fuel an increase in CAO points required for college courses as over 61,000 students get their results this morning. 
A grades breakdown shows that overall results are 2.6% ahead of 2020's which were 4.4% ahead of the 2019 exams.
The largest jumps can be seen in the results for higher level subjects, including Irish, Maths and English.
Results have been available to students on the candidate portal since 10am, while schools will also be posted a report of the results.
Maths has seen among the highest increases compared to 2020, with the proportion of students securing a H1 grade jumping from 8.6% last year to 15.1% this year.
In higher level English, this proportion went from 4.4% to 7.6% while in Irish, it jumped from 9.1% last year to 11.9% this year. 
Higher level History also saw a significant increase, moving from 11% last year to 18.2% this year.
Similarly, higher level Physics went from 16.1% to 20.1% for this year's results.
In order to calculate Leaving Certificate grades this year, students were given the option of sitting the exams or receiving accredited grades. 
Over 90% of students chose to do both, they will receive the better of the two results.
The State Exams Commission said the choice allowed to students on whether to opt for written exams, or teachers' assessments, or both, was an "unprecedented response" to managing the interruptions posed by Covid-19.  
Making students "rely entirely" on the exams as the sole means of assessment for their Leaving Certificate this year would have been unfair, it said.
Students and schools will not know today if the provisional result given was obtained through an exam or if it is an accredited grade.
However, this information will be made available to them on Tuesday 7 September at 5pm, the same day CAO offers will be released.
Minister for Education Norma Foley paid tribute to the resilience of students over the course of the pandemic. "I would like to congratulate each and every one of the students who will receive their results today."
"Today is the reward for all your efforts throughout the past number of years."
#Open journalism No news is bad news Support The Journal

Your contributions will help us continue to deliver the stories that are important to you

Support us now
Appeals
The appeals process is tightly monitored this year, with little time provided to students to apply to see their exam scripts and submit their applications for appeals.
The timeline for applying to view scripts this year will be from 5pm on Tuesday 7 September until 8pm the following day. Students will then be able to see their exam scripts on Saturday 11 September. Schools also have the chance to offer an additional session for students to view exam scripts in the morning on Sunday 12 September.
Students who availed of both the exams and the accredited grades process can appeal grades in either process. While students who sat either only exams or received only accredited grades can only apply for an appeal through their respective method of grading.
Students can apply to appeal their results from 9am Saturday 11 September until 12pm Monday 13 September.
The Department of Further and Higher Education revealed earlier this year that there will be an additional 1,250 places made available on high-demand courses in third level institutions. This does not include the 1,415 additional places announced through the Human Capital Initiative.
SOLAS, the Further Education Training Authority, has encouraged school leavers receiving their results today to consider their options.
Senator Aisling Dolan, Fine Gael Spokesperson on Education also urged students to consider options such as apprenticeships.
"Now more than ever before students can take heart that there is a wide range of routes to the career you want," she said.
"There are currently 60 Apprenticeship programmes leading to valuable qualifications in areas such as finance, accountancy, laboratory technicians, engineering, heavy vehicle mechanics and healthcare," she added.