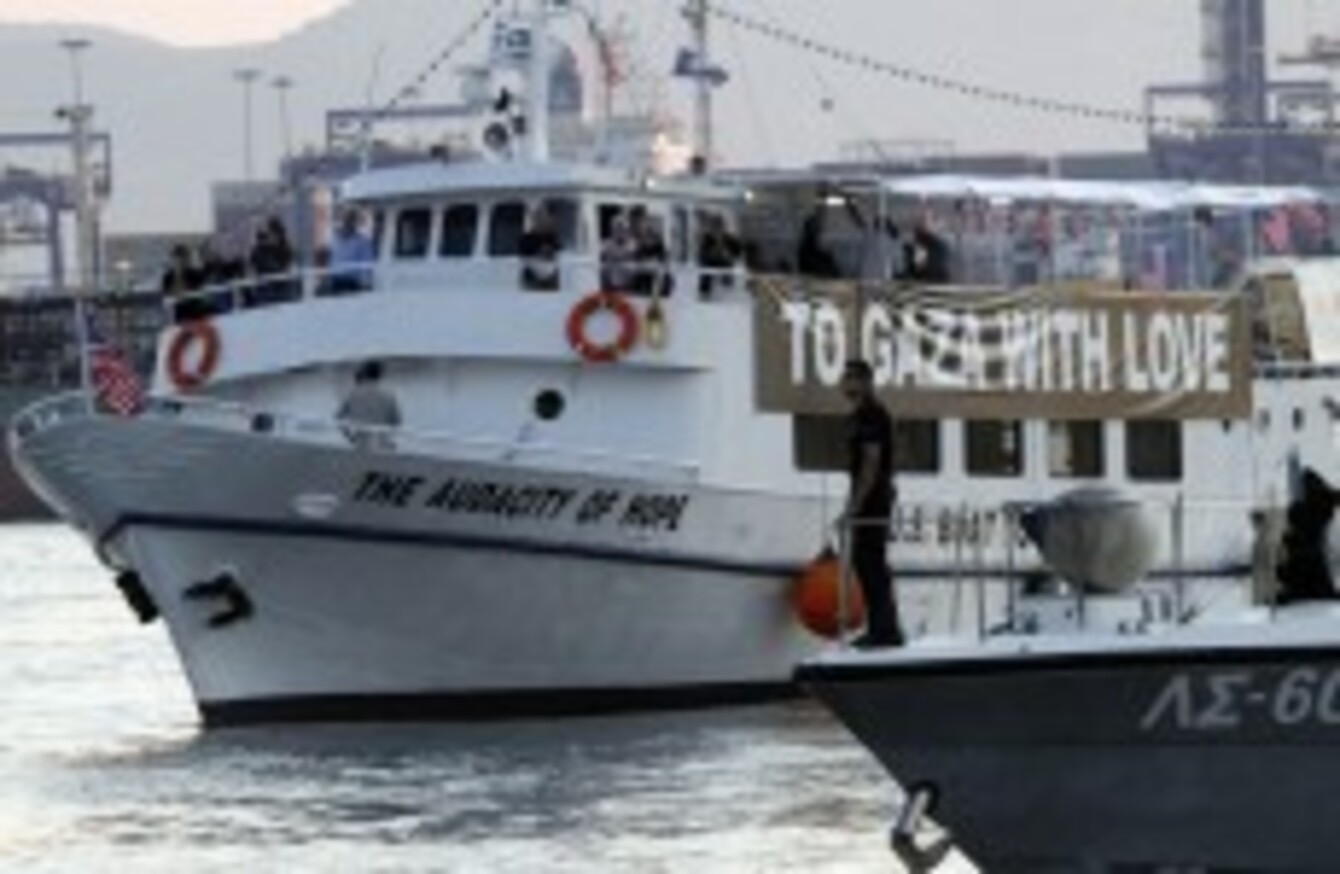 File photo of activists boat "Audacity of Hope" in July 2011 near Athens
Image: Darko Bandic/AP/Press Association Images
File photo of activists boat "Audacity of Hope" in July 2011 near Athens
Image: Darko Bandic/AP/Press Association Images
SOME 79 IRISH politicians have signed a statement supporting the SV Estelle, a ship now on its way to break Israel's blockade of Gaza and call for immediate end to the siege.
Gaza Action Ireland said more than 80 per cent of people in Gaza are aid dependent as a result of the widely condemned blockade and more than 40 per cent are unemployed with the local economy "in tatters".
Politicians who signed the statement of support include TDs, MEPs, Senators, MLAs and MPs from both the north and south of Ireland. A number of government Ministers in Northern Ireland, including Deputy First Minister Martin McGuinness, have put their names to the statement.
Gaza Action Ireland said there has never before been such a large number of Irish parliamentarians coming together to insist on an immediate end to the siege of Gaza.
The statement signed by politicians says the blockage is "illegal inhumane and – from Israel's point of view – counter-productive; it neither stops weapons from being smuggled into the Strip or missiles from being fired, nor has it put Hamas out of power".
The blockade makes it impossible to properly rebuild the hospitals, homes and water treatment plants that were destroyed in the massive bombing of Gaza in the winter of 2008-2009. The export ban prevents Gaza's residents from earning a living and is an important factor behind the almost total dependency on aid. The "tunnel economy", which is one of the consequences of the blockade, nurtures criminality and undermines any legitimate economy.
A spokesperson for the organisation said it is an important statement in that political figures from across Ireland have "united to say that enough is enough and the blockade of Gaza must end now".
"It is also a recognition that, unfortunately, little has changed since Gaza became a huge international issue – the Israeli blockade has been condemned by many governments, and deemed illegal by the UN, but nothing concrete has been done to end the suffering," he said. "Men, women and children continue to subsist in the largest open-air prison in the world."
"This statement is an expression of human empathy with the people of Gaza and a declaration to Israel that the Palestinian people will not be forgotten. Palestinians and Israelis are equally entitled to have their political and human rights respected. What Israel is doing to Gaza is indefensible and must end now."
The Estelle sailed several weeks ago from Sweden, before stopping twice along the coast of Spain. It is now in Corsica and will head soon for Italy before sailing directly for the port of Gaza where it expected to arrive in early to mid October. On board the aid ship are reconstruction materials and other humanitarian goods that are banned or heavily restricted by Israel.