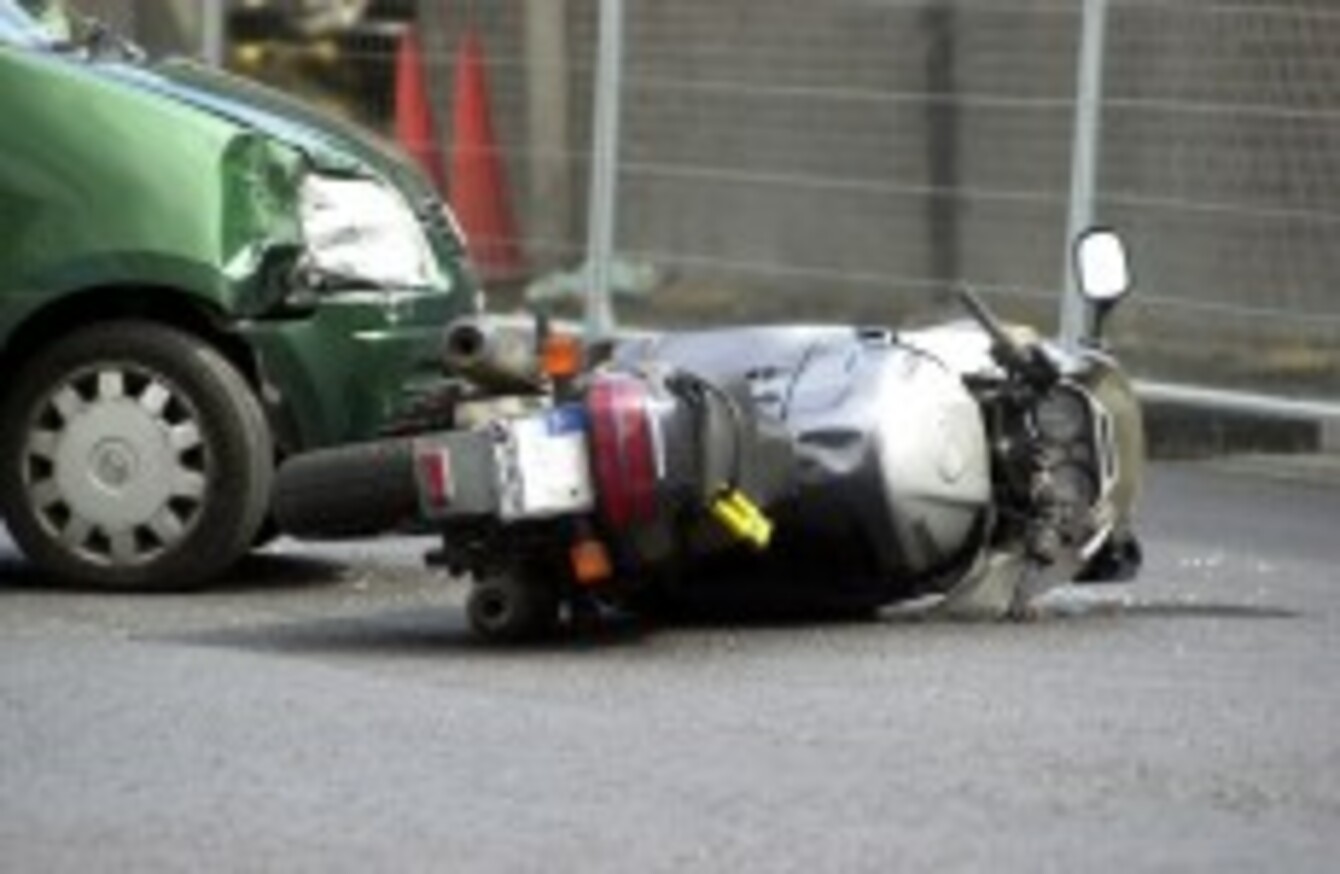 Image: Leon Farrell/Photocall Ireland
Image: Leon Farrell/Photocall Ireland
SO FAR THIS year, 13 motorcyclists have died on Irish roads.
This compares with eight motorcyclists and two pillion passengers up to the same date last year and since 2011, 96 per cent of the 46 motorcyclists killed were male.
Today, both the Road Safety Authority and gardaí urged those riding motorcycles, scooters and mopeds to be aware of their vulnerability on the roads.
Motorcyclists account for almost 14 per cent of road deaths so far this year, despite making up less than two per cent of the total vehicle fleet and research shows that they are three times more likely to be killed on Irish roads than in any other EU country.
Gardaí said today that a provisional analysis of motorcycle collisions since 2011 shows that almost 4 out of 5 involved another vehicle, with 50 riders and pillion passengers losing their lives since then.
The four most common types of collision involving motorcyclists and other vehicles were:
A motorcyclist overtaking another vehicle turning right, resulting in the motorcyclist colliding head on into the side of the turning vehicle. 6 out of 13 motorcycle fatalities were involved in this type of collision this year.
A motorcyclist colliding head on with an oncoming vehicle while the motorcycle was overtaking a vehicle
A motorcyclist losing control while taking a corner and crossing into the path of an oncoming vehicle resulting in a head on collision.
Another vehicle turning or driving through a junction / joining a main road from a minor road and colliding with a motorcyclist.
Two age groups in particular feature in motorcycle fatalities – 26 to 30 at 32 per cent and 40-50 at 18 per cent.
More than half of the fatal collisions involving a motorcyclist occurred on a Saturday or Sunday afternoon, typically from midday to 6pm.
Speaking today, Assistant Garda Commissioner Gerard Philips urged all drivers to check their mirrors carefully and watch out for bikers, particularly at junctions and when making right turns.
During the summer, there are more bikers, scooter and moped users on the roads so please be extra cautious when using the roads. For riders though, please ensure that you ride your bike with the same caution and restraint as you may drive any other vehicle. For some the thrill of getting that overtake in, or negotiating that bend makes them throw all caution to the wind and puts themselves and others at great risk.
Today, the RSA issued these safety tips for motorcyclists, scooter and moped users:
You don't have the protection of a car so investing in proper Personal Protection Equipment (PPE) is a must.
Helmets must be worn at all times and must be securely fastened. Clean your visor gently with warm soapy water. Replace it if it is scratched.
Jackets and trousers should offer adequate protection against impact and abrasion.
Body armour on exposed areas such as the back, knees, elbows, shoulders, hips and shins should be adjustable so it fits snugly and does not move in a crash.
A good reflective jacket is a must and will make you more visible on the road, increasing your profile.
Always wear protective gloves and footwear that at least comes over the ankle. Use ear protection on long journeys.
Always service your bike regularly and maintain it in good condition especially tyres, brakes, etc.