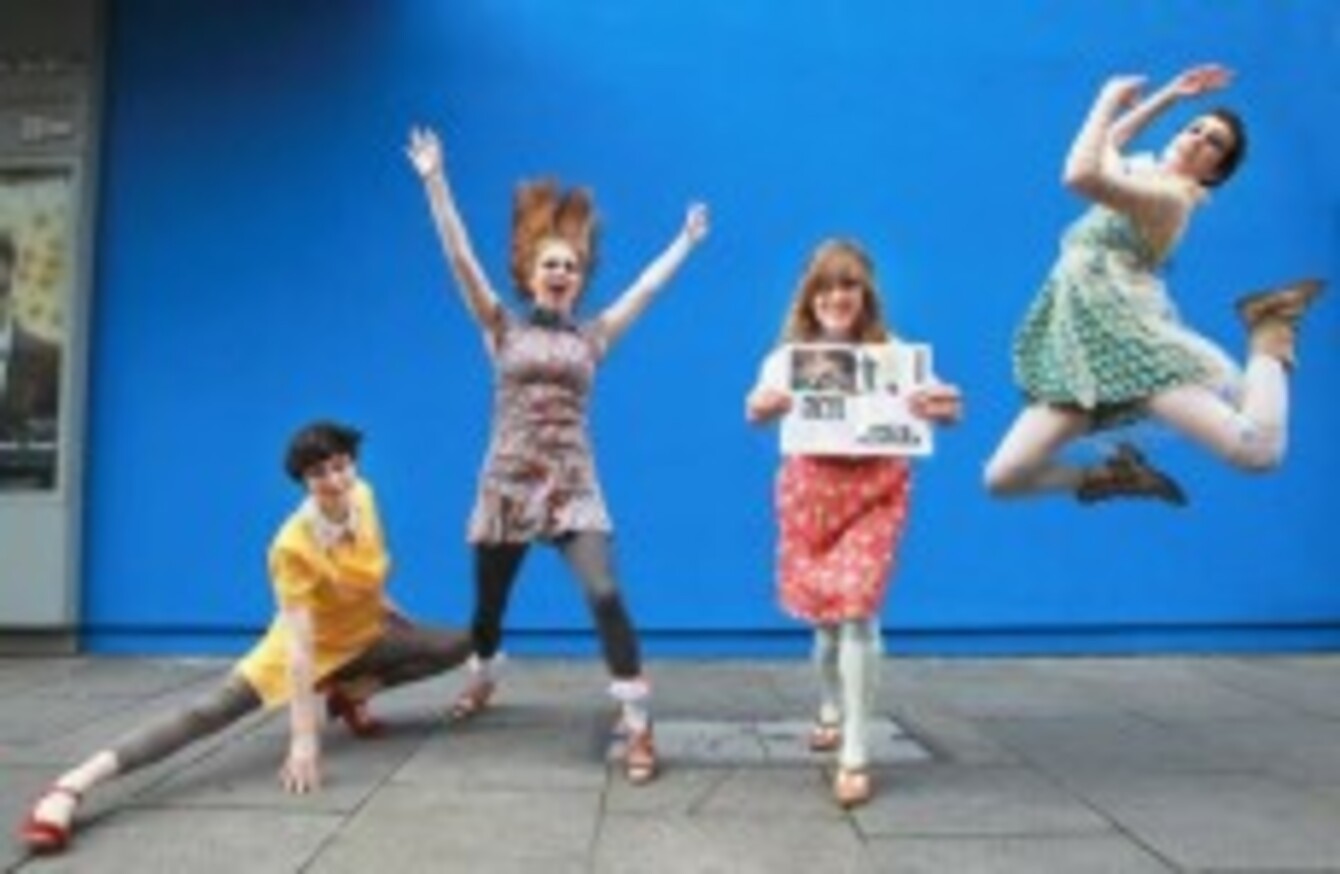 PaperDolls performance company announce the details of the 2011 programme for Absolut Fringe.
Image: Leon Farrell/Photocall Ireland
PaperDolls performance company announce the details of the 2011 programme for Absolut Fringe.
Image: Leon Farrell/Photocall Ireland
THINK THAT ART just imitates life? Not according to the Dublin Absolut Fringe Festival 2011, which promises to reflect life in contemporary Ireland – but also to challenge it.
Speaking at the launch of Absolut Fringe today, the festival's Director Roise Goan said that this year's event – running from 10-25 September – would be called 'Brave New World'. She said that the 86 shows in the programme would "ask difficult questions, entertain, but not be afraid of the world we live in and challenge us to be brave". She told TheJournal.ie:
We asked artists not to shy away from the difficulties in our society, to think about how we would find a way through, how we would imagine a new Ireland. An interesting theme that kept coming back to us was this theme of endurance.
Arts Minister Jimmy Deenihan that the theme 'Brave New World' "conjures up a picture of what we are all facing up to at this time". He acknowledged the Fringe as "art that connects":
It certainly sets the tone for what the country is facing at the moment. And I'm not being at all political here in respect of who is guiding the country, but we will have to look at new ways, radical ways, we will have to be prepared to sacrifice ourselves for our country like Una Carmody did for the past 11 years.
That reference was to outgoing Fringe Festival chairperson Una Carmody, who has led the event since 2000 and who both Deenihan and Goan paid tribute to for her inspiration and hard work.
So that's what they had to say about the Fringe – but what should you book tickets for as the site goes live this evening?
Director Roise Goan, Arts Minister Jimmy Deenihan and Absolut Fringe board member Jen Coppinger give us their picks:
Jimmy Deenihan:
Fergal McCarthy's No Man's Land - "I was very taken by the Monopoly houses I saw floating in the Liffey last year. I notice that artists Fergal McCarthy has another great idea this year (he is going to live on a desert island on the Liffey for 10 days, connected to the public by social media) – I wouldn't mind spending a night there myself!. It certainly catches the imagination."
Macnas - "They had a fierce beauty and are always on the edge of things."
Melanie Wilson's Autobiographer – (The unravelling mind of central character Flora is voiced by multiple performers.) "It seems very interesting."
Talking Shop Ensemble and Shaun Dunne's Do You Read Me - "I picked up on the description of this; We walked away from the Church, we still don't trust the Dáil, we are hiding our money under the mattress; true… there is a real message there so I must try to get to that.
Roise Goan:
THEATREclub's Twenty Ten – "Crowdsourced from 80 anonymous contributors who wrote about what they had learned every day in 2010, performed in six episodes and one marathon box-set edition at Project Arts Centre.
Frisky and Mannish's Pop Centre Plus - "Part cabaret, part lesson in pop-music history, Frisky and Mannish have taken Edinburgh by storm over the past three years with their incredibly smart, laugh-out-loud-funny comedy/music mash up. Think Charlie Brooker meets Heat Magazine meets Top of The Pops meets Nialler9."
List Operators - "The very best of a new breed of Australian comedy which has taken audiences by storm at festivals worldwide.  If you like your comedy stupid and smart at the same time, put them on your must-see list."
The Corn Exchange's Man of Valour – "This is not like any one man show you will ever have seen before. It's a one-man action movie, performed by Paul Reid (star of RTE's RAW)."
Chunky Move's I Like This – "Fast-paced, visually arresting  and utterly of the moment, this is the kind of dance show that everyone will enjoy, from one of Australia's most prestigious dance theatre companies."
Jen Coppinger:
HotForTheatre's Eternal Rising of the Sun – "This author's first play sold out on word of mouth – expect something powerful."
Louise White & Kate Nic Chonaonaigh's All Things Considered It's A Nice Place to Start – "The creators wrote 300 thank you cards to strangers across Ireland – this is what happened when they got back some replies."
ThisIsPopBaby's The Year of Magical Wanking - "Neil Watkins's brilliant warts and all self-portrait."
Rough Magic's Seeds – "This is a project to mentor productions and is a wonderful opportunity for young artists."
Irish Theatre Institute's Information Toolbox - "Declaration of interest – this one is mine – but I think it really develops the relationship between young artists and the wider cultural community". This is the Institute's 6th annual networking event, specifically for new and emerging theatre and dance companies.
The full Absolut Fringe festival programme and booking is now live (from 7pm today) here>
#Open journalism No news is bad news Support The Journal

Your contributions will help us continue to deliver the stories that are important to you

Support us now
TheJournal.ie is online media partner of the Dublin Absolut Fringe Festival 2011.