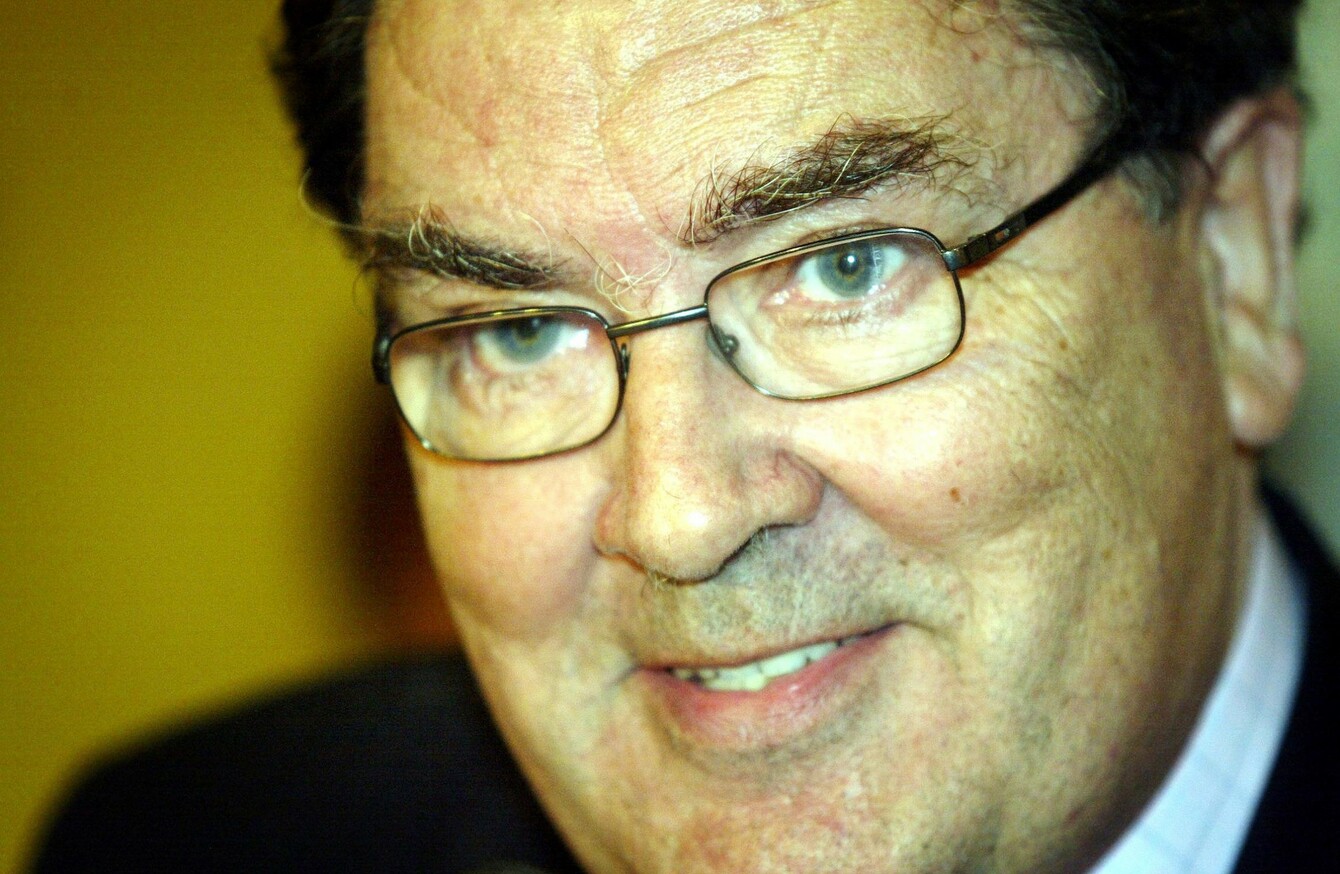 Image: PA Images
Image: PA Images
Updated Aug 3rd 2020, 3:40 PM
TRIBUTES HAVE BEEN paid to former SDLP leader and Nobel Peace Prize winner John Hume who has died aged 83.
Hume was one of the primary architects of the Good Friday Agreement and was awarded the Nobel Peace Prize for his efforts in 1998. His death was confirmed by his family in a statement this morning. 
Paying tribute, President Michael D. Higgins said that "through his words, his astute diplomacy and willingness to listen…[John Hume] transformed and remodelled politics in Ireland".
"John's deep commitment to these values and his practical demonstration of tolerance and social justice, oftentimes in the face of strong opposition and tangible threats to his person and his family, asserted the fundamental principles of democracy," said Higgins.
"He and those others who helped usher in a discourse that enabled a new era of civil rights and responsive government that few would have thought possible, have placed generations in their debt, have been a source of hope."
The President spoke of "how deeply grateful we all should be that we had such a person as John Hume to create a light of hope in the most difficult of times". 
"Whatever the loss to all on this island, to his family his loss is greatest," said Higgins.
"To his wife Pat, his children, and all those who loved him, Sabina and I send our deepest sympathy."
Former US President Bill Clinton and former First Lady Hillary Clinton released a statement to say they were "deeply saddened by the passing of our friend John Hume, who fought his long war for peace in Northern Ireland".
His chosen weapons: an unshakable commitment to nonviolence, persistence, kindness and love. With his enduring sense of honour, he kept marching on against all odds towards a brighter future for all the children of Northern Ireland.
Through his faith in principled compromise, and his ability to see his adversaries as human beings, John helped forge the peace that has held to this day.
"I'll never forget our night in Derry in 1995, with the town square and blocks around full of hopeful faces, walking with him across the Peace Bridge nearly 20 years later, and all of the moments we shared in between.
"His legacy will live on in every generation of Northern Ireland's young people who make John's choice, to live free of the hatred and horror of sectarian violence. And it will endure in the hearts of those of us who loved him and will be shaped by his example to the end of our days.
"Our love and prayers are with Pat, their children and grandchildren. May he rest in peace, never losing the twinkle in his eye or the sly smile that lighted our lives."
Taoiseach Micheál Martin, meanwhile, described Hume as "a great hero and a true peace maker". 
"Throughout his long life he exhibited not just courage, but also fortitude, creativity and an utter conviction that democracy and human rights must define any modern society," the Taoiseach said. 
"For over four decades, he was a passionate advocate for a generous, outward-looking and all-encompassing concept of nationalism and republicanism. For him the purpose of politics was to bring people together, not split them apart.
During the darkest days of paramilitary terrorism and sectarian strife, he kept hope alive. And with patience, resilience and unswerving commitment, he triumphed and delivered a victory for peace.
"While the 1998 Good Friday Agreement was the product of many people's work, can anyone really claim that it would have happened without John Hume?," said Martin. 
"He didn't just talk about peace, he worked unstintingly for peace, at times in the face of the most virulent criticism and risk to his life. He knew that to be a peace maker on this island meant being a risk taker.
"John Hume's life was one of towering achievement," said Martin.
"His vision was realised and while illness took away his voice, his presence remains all around us on this island in the form of political stability and he has left us a powerful legacy of peace and reconciliation.
"Such achievement of course meant much sacrifice – a sacrifice shared by his wife Pat and his family but they knew it was for the greater good.
"I extend my sympathies to his wife Pat and his five children Aine, Therese, John jnr, Aidan, and Mo.  Their grief will be great but they can take pride in the knowledge that they have shared their life with one of the greatest Irish people that ever lived. All people on this island will give thanks for his life."
Tanáiste Leo Varadkar paid tribute this morning saying: "Any attempt to summarise John Hume's contribution to the people of the island of Ireland is sure to fall short.
"He was a once in a generation leader whose vision for peace was only surpassed by his hard work in making that vision a reality.
"What started on the streets of Derry extended to the highest levels of Government in Belfast, Dublin, London, Brussels and Washington DC," the Tanáiste said. 
"His unique ability to bring people together, to embrace and respect each other's differences without being consumed by them, made him one of the most transformational figures to ever live north or south of the border.
"He leaves behind a legendary legacy of peace, progress and stability. His hard work and sacrifice will never be forgotten.
UK Prime Minister Boris Johnson said: "John Hume was quite simply a political giant."
He stood proudly in the tradition that was totally opposed to violence and committed to pursuing his objectives by exclusively peaceful and democratic means.
With his passing we have lost a great man who did so much to help bring an end to the Troubles and build a better future for all. 
"His vision paved the way for the stability, positivity and dynamism of the Northern Ireland of today and his passing is a powerful reminder of how far Northern Ireland has come," he said.
Paying tribute this morning, Former British Prime Minister Tony Blair described Hume as "a political titan" and a "visionary who refused to believe the future had to be the same as the past."
"His contribution to peace in Northern Ireland was epic and he will rightly be remembered for it. He was insistent it was possible, tireless in pursuit of it and endlessly creative in seeking ways of making it happen," said Blair. 
"Beyond that he was a remarkable combination of an open mind to the world and practical politics. In any place, in any party, anywhere, he would have stood tall. It was good fortune that he was born on the island of Ireland."
#Open journalism No news is bad news Support The Journal

Your contributions will help us continue to deliver the stories that are important to you

Support us now
Former Sinn Féin President Gerry Adams has expressed his "deep sense of personal loss" at the death of Hume.
"When others were stuck in the ritual politics of condemnation, John Hume had the courage to take real risks for peace. His decision to meet with me in September 1986, following an invitation from Fr Alex Reid, was a breakthrough moment in Irish politics.
John's agreement to examine the potential of building an alternative to conflict was the mark of a political leader genuinely prepared to look at the bigger picture and to put the wider interests of society above narrow party politics.
"It took even greater courage to stick with it after we made our first Hume-Adams joint statement in April 1993. For daring to break the establishment consensus of talking to me, John was the target of a vitriolic and deeply hurtful and personalised campaign, much of it driven by sections of the southern media.
"Despite all this, John stayed with our process of dialogue. We continued to work together throughout it all. For that he deserves great credit," he said.
Minister for Foreign Affairs Simon Coveney, meanwhile, said Hume was "an extraordinary man" and that Ireland "should bow our heads in respect and thanks". 
Sinn Féin leader Mary Lou McDonald said Hume "was a towering figure in Irish politics, who took decisions that were not popular in his own ranks in the pursuit of peace.
"His actions helped to shape the peace process and he was central to the negotiation of the Good Friday Agreement.
"John leaves a lasting legacy and the international and national esteem in which he is held is immense. There is no better example of that than his receipt of the 1998 Nobel Peace Prize," she said. 
The leader of the Labour party in the UK, Keir Starmer, said that "It is deeply saddening to hear of the death of John Hume.
Life across the island of Ireland is peaceful and more prosperous today because of his courage, vision and determination. He guided away from violence and towards justice, tolerance and democracy.
John Hume takes his rightful place in the pantheon of leaders whose legacy is of creating a better world for the next generation.
Hume, who was born in Derry in 1937, was the preeminent voice of nationalism in the north in the years before the agreement and saw his party join the first power-sharing government after it.
His work in advocating for fairness saw him lead the Civil Rights Movement in Derry in the 1960s and continued as he led the SDLP from 1979 until 2001.
Hume retreated from public life in the mid 2000s with his wife of 58 years Pat speaking about his struggle with dementia.
"For a man who travelled the world non-stop, he doesn't like being away from home now. He loves Derry," Pat told RTE's Miriam O'Callaghan in 2015.
As well as his wife Pat, Hume is survived by five children.