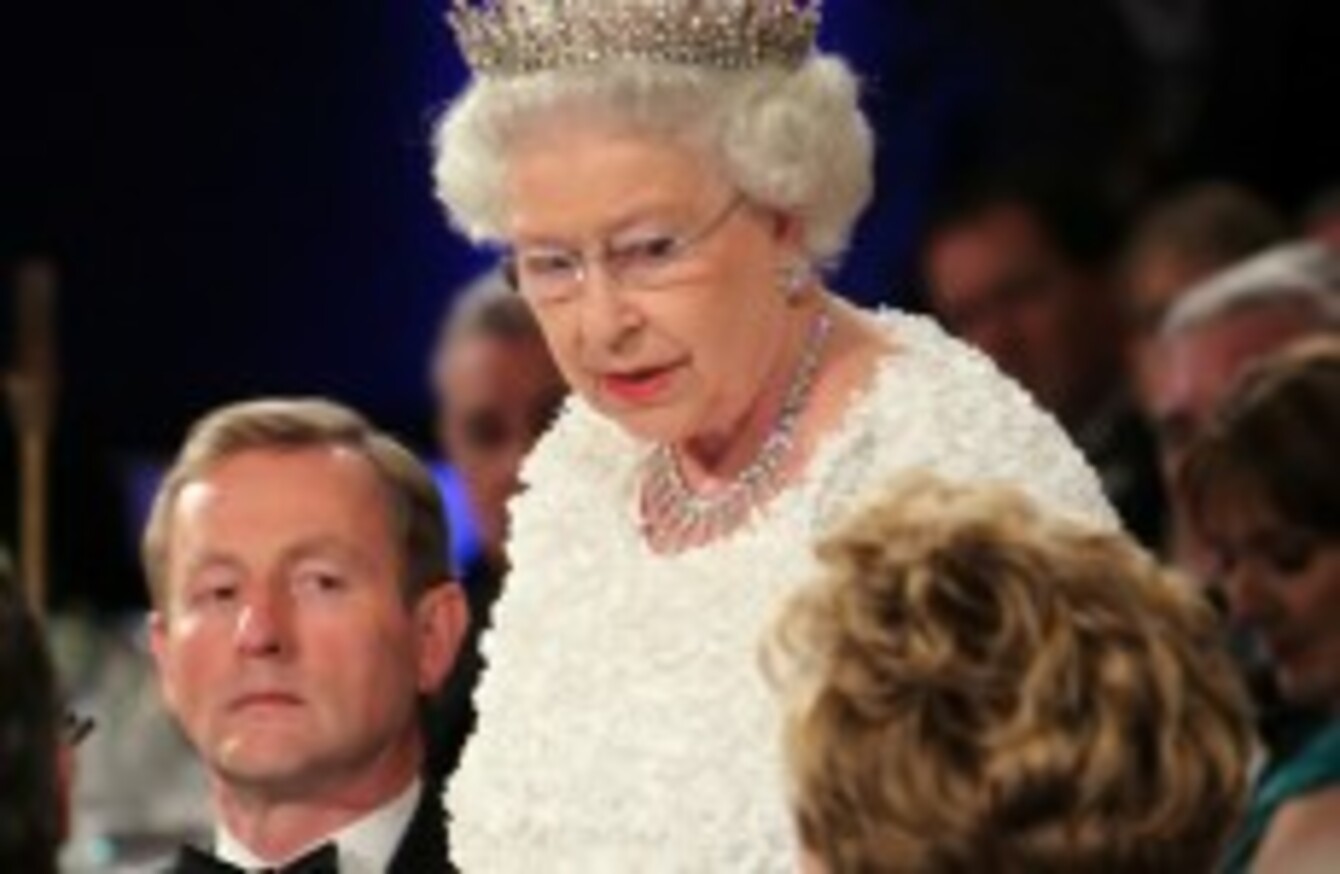 Queen Elizabeth speaks in Dublin Castle this evening, watched by Taoiseach Enda Kenny (left) and President Mary McAleese (right).
Image: Maxwells Photography
Queen Elizabeth speaks in Dublin Castle this evening, watched by Taoiseach Enda Kenny (left) and President Mary McAleese (right).
Image: Maxwells Photography
BRITAIN'S QUEEN ELIZABETH has extended her "thoughts and sincere sympathy" to those who lost loved ones in centuries of conflict between Britain and Ireland, at this evening's State Dinner in her honour at Dublin Castle.
Speaking in the former seat of British colonial power in Ireland, to a room of assembled dignitaries, the Queen said Britain and Ireland together had "much to celebrate" as she visited the Republic of Ireland for the first time in her 59-year reign.
"The ties between our people, our shared values, the economic and business links… make us so much more than just neighours – that make us firm friends and equal partners," the Queen said.
The two nations together were now in a position where they were able to "bow to the past, but not be bound by it" – and acknowledged that the relationship between the countries had not always "been entirely benign".
"Our islands have experienced more than their fair share of heartache, turbulence and loss," Her Majesty said. "With the benefit of historical hindsight… we can all see things we wish could have been done differently, or not at all."
The Queen opened her remarks with a few words of Irish, greeting the room: "A Uachtaráin agus a chairde", a remark met with spontaneous applause by the crowd of 172.
Her Majesty's remarks followed those of the President, Mary McAleese, who acknowledged that Ireland and Britain had "shaped and altered each other" over the centuries, in a relationship that was "long, complex, [and] has often been turbulent".
"Inevitably, where there are colonisers and colonised, the past is the source of bitter division. Losses cannot be altered, nor grief erased."
While the relationship between the nations was still a "work in progress, it happily has become a work of progress," the President said, remarking that the flow of people between the islands had gone on for centuries.
"This very room is dedicated to the name of St Patrick," the President noted – a man whose name has become synonymous with Ireland, "yet he is reputed to have been born in Britain."
#Open journalism No news is bad news Support The Journal

Your contributions will help us continue to deliver the stories that are important to you

Support us now
Sporting ties were also mentioned – with the President joking that one of the UK's gifts to Ireland was an "obsession with Premiership football", though few would have anticipated that Ireland would also become so prominent at cricket and rugby – two sports in which Irish teams have enjoyed memorable victories over England so far this year.
"It is imperative that we work fluently together," the President said. "Ireland and Britain are neighbours: equals, colleagues, friends.
"We have chosen to build a solid bridge of friendship between us, and to cross it to a new and brighter future. It is in that future… that I offer you the traditional warm Irish welcome: céad míle fáilte, a hundred thousand welcomes."
Both heads of state paid tribute to the progress achieved by the political parties of Northern Ireland in reaching the Good Friday Agreement and progressing from there to ensure a viable future for the citizens of the North.
Both, too, ended their speeches with toasts to their counterparts: the President offering a toast to "the health and happiness" of the Royal guests and to the "friendship and kinship" between the people of Ireland and Britain, while the Queen toasted "the President and the people of Ireland."