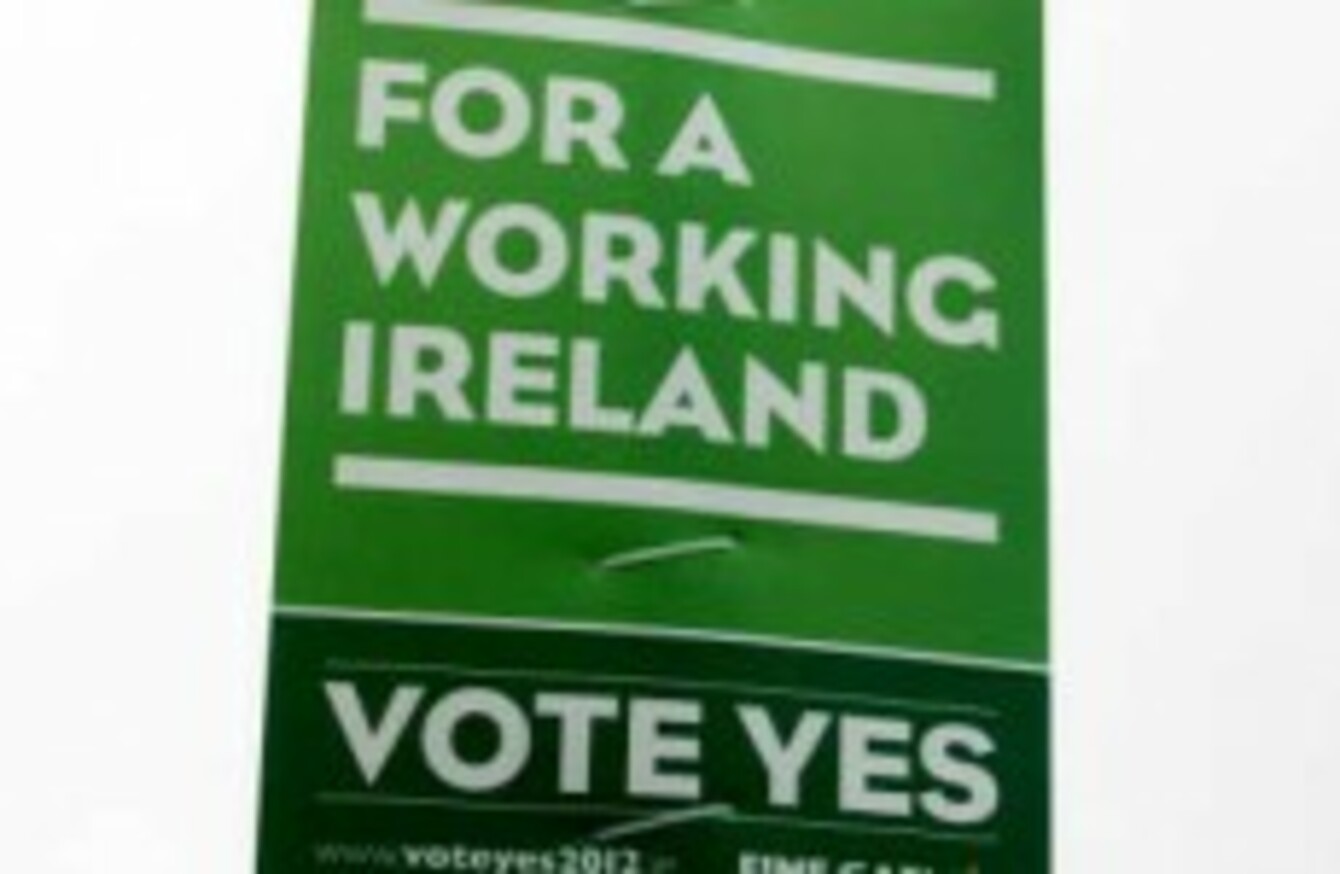 Image: (Sam Boal/Photocall Ireland)
Image: (Sam Boal/Photocall Ireland)
A SURVEY BY the Small Firms Association (SFA) indicates that the majority of its members believe a 'Yes' vote is likely in the forthcoming referendum.
Results from the survey, which was conducted last week, shows that 83 per cent agree that a 'Yes' vote is likely, with 8 per cent saying a 'No' vote will prevail and 8 per cent answering they didn't know.
From a sample of 2,500 SFA members, 872 responded to the survey.
The survey also questioned its members on whether they thought that a 'Yes' vote was important to the future stability and financing of the state.
According to the SFA, the survey showed that 97 per cent of those surveyed believe that a yes vote is important for the certainty it provides about the future financing of the state, with 96 per cent of SFA members saying that it will require future governments to behave responsibly in fiscal planning.
The survey revealed that 95 per cent agreed that it will give confidence to invest and create jobs and that it will help to stabilise the EU and the euro currency.
However 99 per cent of those surveyed said that it was important that the EU includes a growth agenda alongside the Fiscal Stability Treaty.
The Director of the Small Firms Association, Patricia Callan, said that access to the European Stability Mechanism (ESM) emergency fund is absolutely essential to market confidence and thus to Ireland's re-entry into those markets.
"It is an important insurance policy for Ireland, and protects us from harsh austerity adjustments which would be necessary if we were unable to borrow internationally to pay for our public services," she said.
Speaking to TheJournal.ie, Callan added that the SFA has been making the case for "stronger growth policies both in Ireland and across the EU" for some time.  She said:
We are currently compiling a submission to Government on the practical policy actions which will deliver growth.  The spectrum of growth measures need to range from enhancing funding instruments to finance business growth, investing in physical and human capital, ensuring that tax and fiscal policy support investment and jobs.