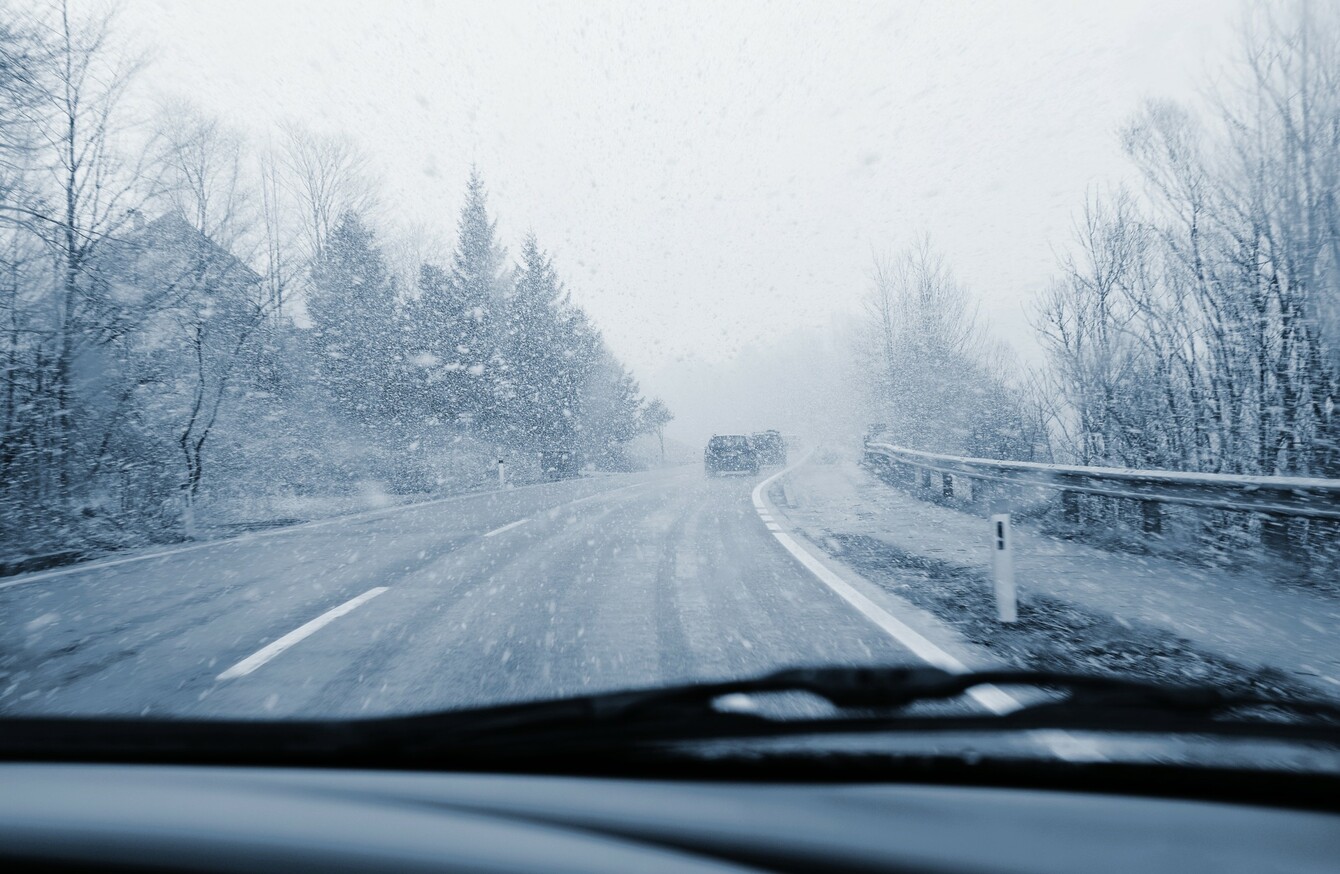 Image: Shutterstock/Montypeter
Image: Shutterstock/Montypeter
AA RESCUE IS warning of a surge in car breakdowns in the coming weeks as winter arrives.
It says an increase in hazardous weather conditions, a lot less daylight, and a higher risk of car breakdowns are certain for the months ahead.
Battery faults are common in winter because of the way that low temperatures affect them and because of increased demands on a car's electrics.
Wet or icy roads with more hours of darkness mean that worn or damaged tyres can be lethal in an emergency.
Research carried out by the Road Safety Authority found that defective tyres are a contributory factor in 9% of fatal road traffic incidents.
Director of Consumer Affairs Conor Faughnan said, "A quarter of all breakdowns are electrical and batteries cause more AA call outs than anything else.
But tyres are even more important and unfortunately in Ireland we tend to neglect them. We would urge all drivers to take a few minutes to check that the tyres have a good amount of tread left on them, with no cuts or damage, and are properly inflated. Worn tyres should be replaced.
Save you in the long run
In its 2016 Annual Cost of Motoring report the AA calculated the annual cost of oil, tyres, repairs, replacements and servicing of a family car at over €1,000 per year.
It says unplanned breakdowns or unexpected repairs invariably cost more and are often more time consuming than a regular service. Faughan said:
"We gear up for this in AA Rescue because we know that the breakdowns are coming. We will have extra resources out and we'll have stocks of batteries but if your car is due a service then now is the time to get it done."
The AA is also warning of the dangers posed by the large number of cars with defective lights. It warned that cars with one defective headlight can appear like a motorbike to oncoming traffic, while cars with one functioning headlight can be more dangerous than cars with no lighting at all.
"This is very common in Ireland an in fact the worse a counties roads the more likely they are to have defective headlights, according to research we have done in the past."
Banging and shaking over potholes can cause bulbs to fail over time but these must be fixed straight away.
These are the AA's top tips to ensure your car is winter-ready:
Change your battery: Batteries generally should be replaced every five years – ensuring these are replaced before it reaches its life expectancy could save a great deal of inconvenience and time at the side of the road. If your car is struggling to start it's usually a sign that the battery is weak. That will certainly catch you out when weather is colder as batteries have to work harder in low temperatures
Check your tyres: While the minimum legal requirement for tyre thread depth is 1.6mm in Ireland, AA Rescue recommends replacing your tyre when the thread depth falls below 3mm. It also advises drivers to pay particular attention to their tyre pressure as cold weather can cause it to drop.
Check your lights: See and be seen, keep your indicators and headlamps clean and working.
Replace your wiper blades: The average set of wipers blades should last about a year, so if yours is due an upgrade, now is a good time to have them replaced.
Clean your windscreen: The glow of winter's low sun can be dazzling and dangerous to drive in when your windscreen is smeared and dirty. So make sure to give your windscreen a good clean inside and out. It's also good to use proper washer fluid rather than just water as it won't freeze when temperatures drop.
Prepare an in-car safety kit: This should include a de-icer and scraper, shovel, demisting cloth, jump leads, torch, necessary medication, warning triangle and salt or other traction aid.