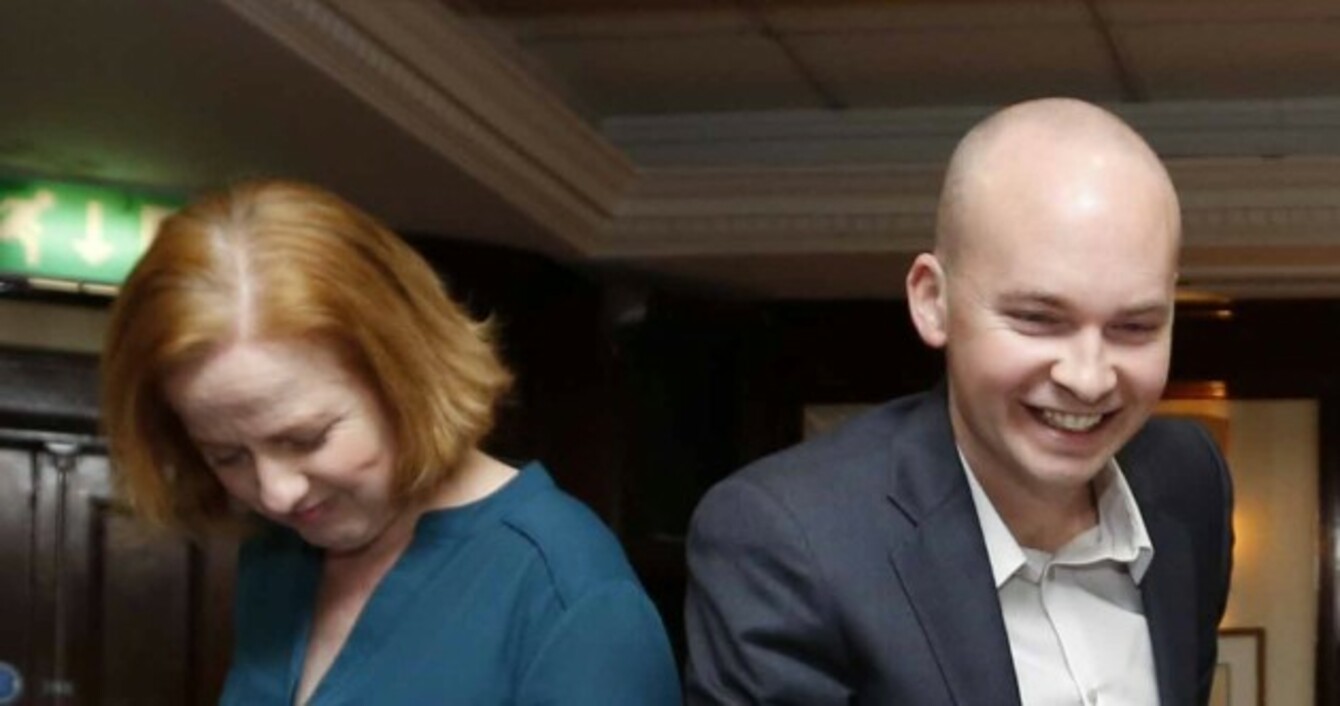 Ruth Coppinger and Paul Murphy at the launch today.
Image: Sasko Lazarov
Ruth Coppinger and Paul Murphy at the launch today.
Image: Sasko Lazarov
AN ALLIANCE OF two left-wing political parties is proposing to abolish Universal Social Charge but increase income tax on high-earners and put the rate of corporation tax up from 12.5% to 15%.
The Anti-Austerity Alliance-People Before Profit (AAA-PBP) alliance published a common principles document today. It is a registered political party, running 31 candidates in the 40 Dáíl constituencies, and targeting around eight Dáil seats in the forthcoming election, most of which are in Dublin.
Though it is running as one party, the AAA and PBP still remain two separate political parties and will publish separate manifestos in the run-up to the election.
The alliance is ruling out government with Fianna Fáil, Fine Gael or Labour, but is open to post-election talks with Sinn Féin. However, AAA said it will not be encouraging its supporters to transfer to Sinn Féin, PBP said it will encourage its supporters to transfer to Sinn Féin.
PBP TD Richard Boyd-Barrett described the alliance as "the biggest electoral intervention by the socialist left in the history of the State".
Asked who leads the alliance and who would it be its hypothetical tánaiste in a government, Boyd-Barrett said "we're all leaders". AAA TD Paul Murphy said "it's not a serious question" and that members would have to discuss the issue after the election.
http://vine.co/v/ii15hnjmUMv
Among AAA-PBP policies are:
An increase in the minimum wage to a living wage of at least €11.50
The abolition of water charges and property tax 
The abolition of USC 
An increase in income tax on people earning over €100,000, raising €922 million. 
The introduction of a millionaires' tax which it claims could raise €1 billion. 
A reversal of all of the cuts introduced over the last eight years, including the telephone allowance and child benefit.
A referendum to repeal the 8th Amendment and legislation for abortion that gives women the right to choose.
People Before Profit TD Richard Boyd-Barrett said that around 100,000 people in the high income bracket would be impacted by an increase in taxes.
"[It] would be to the benefit of the overwhelming majority of working people," he said at the launch today.
The vast majority of low and middle income earners would see a substantial reduction in their USC tax burden, but we would pay for that with those at the higher end making an extra tax contribution. We think that is entirely fair.
Boyd-Barrett also said that companies are currently paying an effective corporation tax rate of 6.5%. He said that after ensuring they are paying the actual rate of 12.5%, the AAA-PBP would seek to increase corporation tax to "at least 15%" saying the current rate is "not sacrosanct".
The Dún Laoghaire TD insisted this would not lead to a flight of capital as the rate would still be well below the European average, and would raise €4 billion extra for the exchequer.
"The government's claims of success and stability are preposterous in the extreme," Boyd-Barrett claimed.
He said the government had generated the largest housing crisis in living memory and that Irish Water is "a shambles and a scandal".
Despite a willingness to speak to Sinn Féin after the election, representatives from both parties said Gerry Adams's party would need to provide specifics in relation to its reversal of austerity measures.
AAA TD Ruth Coppinger said: "What we've said is we would talk with Sinn Féin about are they serious about this, are they going to reverse the austerity measures of the last six years etcetera?"
Boyd-Barrett said: "We are willing to talk to anyone who is willing to clearly stick with progressive anti-austerity policies so obviously Sinn Féin are talking about those things.
But we would need to see precisely what they are proposing in the aftermath of an election.
PBP councillor John Lyons, who is running in Dublin Bay North, was critical of the Social Democrats, who launched their manifesto last Friday, saying that the new party would be "marginalised" if it went into government with Fine Gael after the election.