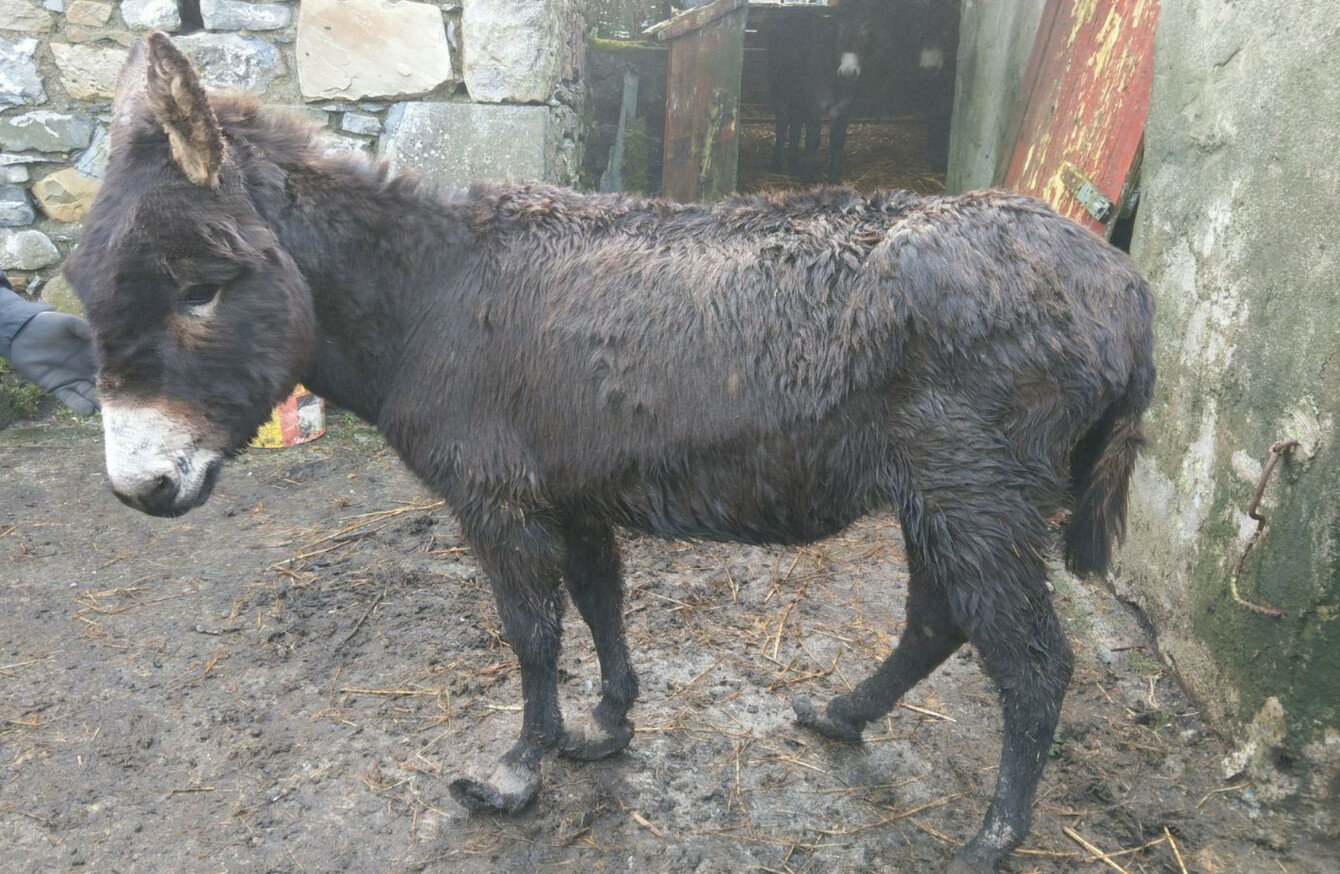 One of the 16 abandoned donkeys
Image: The Donkey Sanctuary
One of the 16 abandoned donkeys
Image: The Donkey Sanctuary
Warning: Graphic image below 
THE DEPARTMENT OF Agriculture has seized 16 donkeys in Mayo after they were found abandoned in a water-logged field, neglected with no food or water.
One donkey was already dead when the department arrived at the scene.
All of the donkeys found were severely underweight and suffering from malnutrition. Their coats were matted and dirty, and the majority had overgrown hooves.
Speaking to Patricia Messinger C106′s Cork Today Show, Noel Carton, Head of Operations at The Donkey Sanctuary in Cork, said that the donkeys were so malnourished that they resorted to eating leaves and bark.
He explained the dangers of leaving donkeys with their hooves unmaintained.
"The donkey hooves are actually quite soft… Donkeys hooves are spongy so they soak up the damp atmosphere in Ireland, which means they bend rather than break, so they continue to grow and go up in a sort of curved shape. This means the donkey effectively ends up walking on its heels," Carton said.
"Donkeys don't naturally show pain because that means that the predators would know they're injured.
Often you would see donkeys with long hooves and they look fine plodding along, but when we get to them we can feel were their limbs are almost red hot from the pain.
[image alt="Warning Graphic Content. Deceased Donkey" src="http://cdn.thejournal.ie/media/2018/01/warning-graphic-content-deceased-donkey-296x166.jpg" width="296" height="166" credit-source="The%20Donkey%20Sanctuary" caption="One%20donkey%20had%20unfortunately%20passed%20away%20before%20the%20Department%20of%20Agriculture%20attended%20the%20scene%20" class="alignnone" /end]
Carton said that if the donkeys had have been left in the field for another few days, more of them would have passed away. He described the situation as "absolutely horrendous".
The Donkey Sanctuary in Liscarroll, near Mallow, has taken the 16 surviving donkeys into care for rehabilitation.
The donkeys will be fully assessed and monitored by a veterinary team. Their hooves will be trimmed and their teeth will be checked by an equine dental technician.
#Open journalism No news is bad news Support The Journal

Your contributions will help us continue to deliver the stories that are important to you

Support us now
"We're confident that we can turn these [donkeys] around… We got them just in the nick of time," Carton said.
The Donkey Sanctuary in Cork currently cares for around 1,800 donkeys. Carton appealed for people to come forward to donate to the Sanctuary and, if possible, to adopt one.
"Donkeys really do well living in homes with people and bonding with people like pets, almost like dogs and cats," Carton said.
"We really do strongly rely on our support, people who send us donations and people who come here to our events. We would be delighted if anyone can support us in that way, it's what we need to keep the operation going."