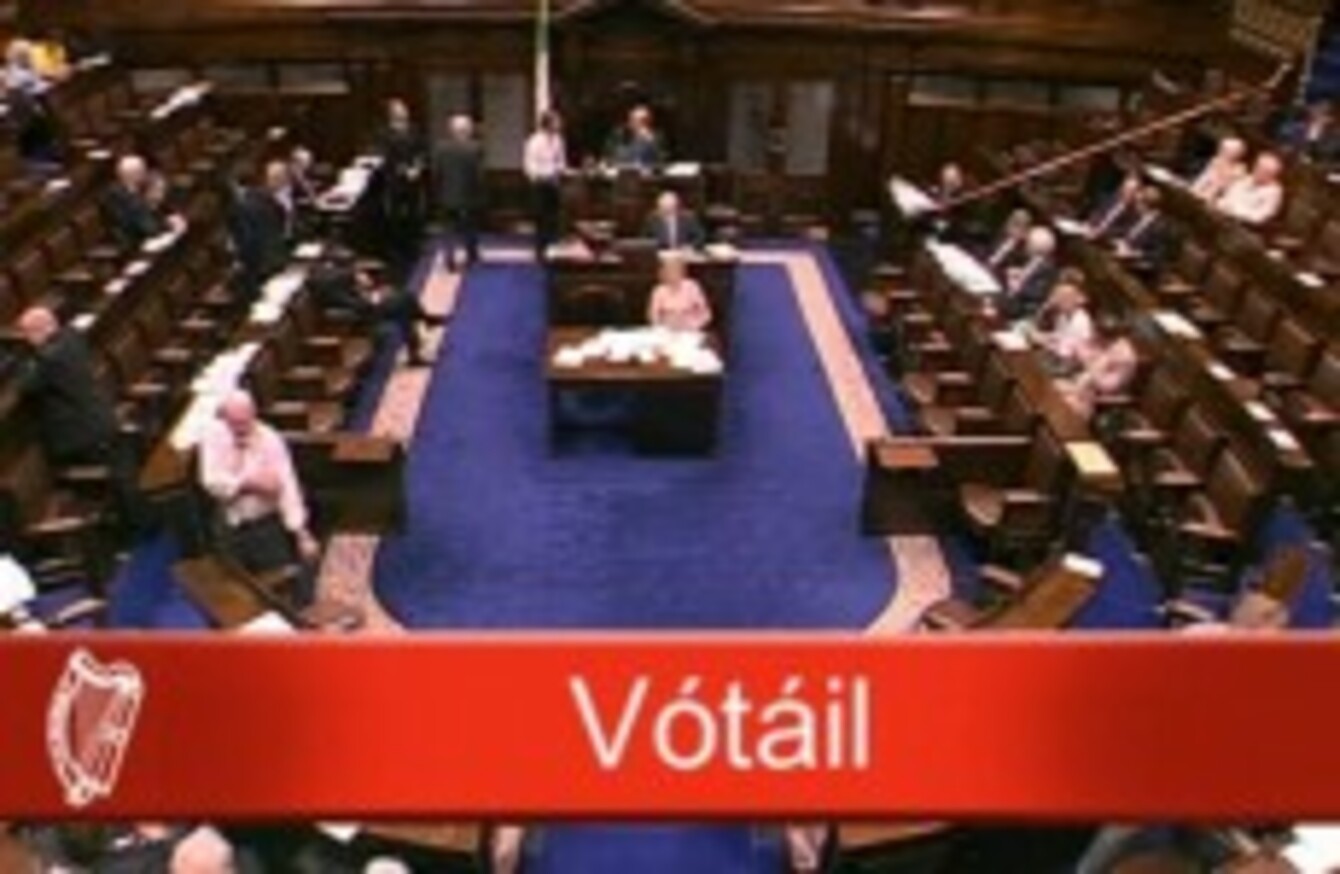 AN AMENDMENT TO have the criminalisation of abortion removed from the Protection of Life During Pregnancy Bill 2013 has been defeated in the Dáil tonight. The final vote saw the amendment lose 13 votes to 110.
The amendment was sponsored by independent TDs Joan Collins and Clare Daly. Speaking in the Dáil this evening, Daly called the proposed 14-year-sentence in the bill for a woman procuring an illegal abortion or for a person assisting a woman to do so was "ludicrous".
"You are maintaining a chilling effect that is not indicative of a modern society, it is indicative of a hypocrisy," she said.
She also said women are "exposing themselves to not being protected in terms of aftercare" because hospitals won't ask them questions about pills they may have taken or procured over the internet.
Colm Keaveney, who is expected to vote against the bill in its entirety, said the idea of a 14-year sentence "hanging over a woman in a distressed or vulnerable situation is appalling".
Fianna Fáil TD Billy Kelleher also expressed his opposition to the sentence:
I don't think that the sanction of 14 years will deter a 14-year-old girl who is pregnant from procuring tablets over the internet. What it could deter is her from accessing medical care if there are complications.
Lucinda Creighton, who voted against the government on an amendment earlier today, instantly lost the Fine Gale party whip, had put forward her own amendment seeking a reduction in the sentence to just five years. She said it was an "extremely harsh sentence for somebody who we would imagine being in a very difficult and delicate situation".
Responding to criticisms, Health Minister James Reilly said that currently a woman can be persecuted and sentenced to life and that this does not crease a new offence and it simply "brings the penalty for this offence in line with current parameters".
He also said that it will be up to the DPP, using their discretion to refer a case and "if it does go to court, there is the discretion and the wisdom of the courts themselves".
In the final vote, a large proportion of the opposition abstained.