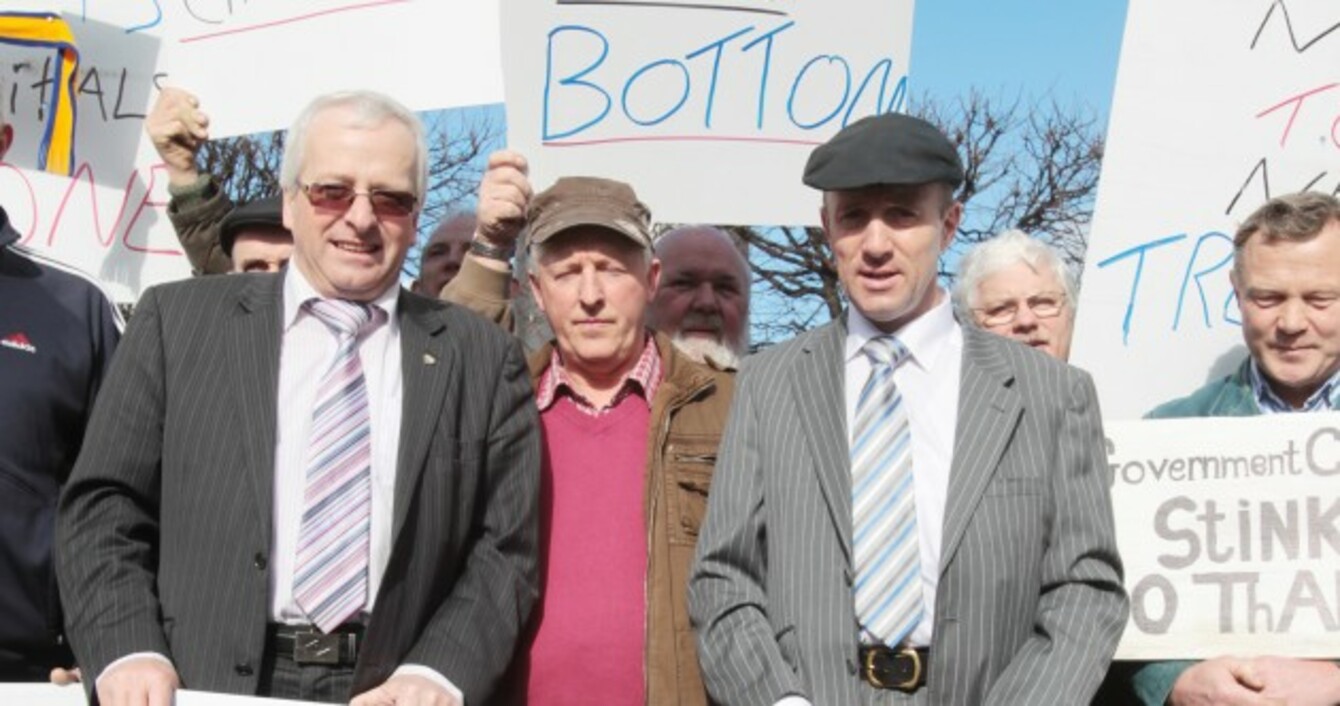 Mattie McGrath (left) and Michael Healy-Rae (right) say they will vote against the proposed abortion legislation
Image: Leon Farrell/Photocall Ireland
Mattie McGrath (left) and Michael Healy-Rae (right) say they will vote against the proposed abortion legislation
Image: Leon Farrell/Photocall Ireland
THREE INDEPENDENT TDs have confirmed they will vote against proposals to legislate for abortion in Ireland in line with the Supreme Court verdict in the X Case.
The three independent TDs - Michael Healy-Rae, Noel Grealish, and Mattie McGrath – confirmed they would not be supporting the Protection of Life During Pregnancy Bill when it is brought before the Dáil later in the summer.
In response to queries from TheJournal.ie this week, seven independent TDs have confirmed they intend to support the legislation, although some expressed reservations about aspects of the proposals, while five said they were currently undecided. Four did not respond to queries.
Kerry South TD Healy-Rae said he would "absolutely not" be supporting the legislation because he did not agree with it and claimed that the implications of it would make it "more dangerous" than abortion legislation introduced in the UK in 1967.
"In my book, it goes too far," he said. "I wouldn't support it in its present form. What I will do is I will participate in all the debates, all committee meetings, engage fully on the subject but as it being presented, I will not support it."
Grealish said he would not vote for any legislation that includes the risk of suicide as constituting a threat to life in it and said he would be voting against the draft bill while McGrath said it was "fraught with dangers and inaccuracies".
Support
Tipperary South TD Séamus Healy said he supported the legislation and would be voting for it as he had done with previous private members' bills that proposed legislating for the X Case.
Wicklow TD Stephen Donnelly, Kildare North deputy Catherine Murphy, Donegal South West TD Thomas Pringle and Dublin South TD Shane Ross all confirmed they would support the legislation, the latter calling for a free vote on what he said was "matter of conscience".
Waterford TD John Halligan said the legislation is a "step forward" but said it did not go far enough in dealing with women who become pregnant as a result of rape or incest or who have pregnancies involving a fatal foetal abnormality.
John Halligan (left) and Richard Boyd Barrett (right). Photo: Sam Boal/Photocall Ireland
"I think I wouldn't like to vote against it," he told TheJournal.ie, while stressing that he would seek to amend the legislation to include provisions for "abortion on demand in Ireland if you come impregnated through violation of a woman's body" or foetal abnormalities.
Dublin North-Central TD Finian McGrath said he would likely support the bill but said he had "strong reservations" adding that he was "very annoyed" about there is no provision for abortion in cases of rape or incest.
"I will probably be voting for legislation but with strong reservations," he said.
Undecided
Independent TD for Dublin Central, Maureen O'Sullivan indicated she would not be making a definitive statement on the draft bill until she had time to read it properly.
People Before Profit TD Richard Boyd-Barrett said he was undecided, taking issue with the "ludicrous and outrageous" stipulation that a woman seeking a termination as a result of suicidal ideation could have to be assessed by as many as six doctors.
"This is a fudge bill aimed at assuaging the backbenchers of Fine Gael," he said this week, adding that he would not block the bill going to committee stage but saying that he would have to "seriously consider" whether or not to support it.
His former United Left Alliance colleagues, Joan Collins and Clare Daly, are of a similar position while the Socialist Party TD Joe Higgins said "the provision which criminalises a woman with 14 years in prison in event of a termination of pregnancy illegally is something that's just draconian and incredible".
He said he would have to discuss the matter within the Socialist Party before the party takes a position and decides which way to vote.
Luke Ming Flanagan, Tom Fleming, Michael Lowry and Mick Wallace did not respond.