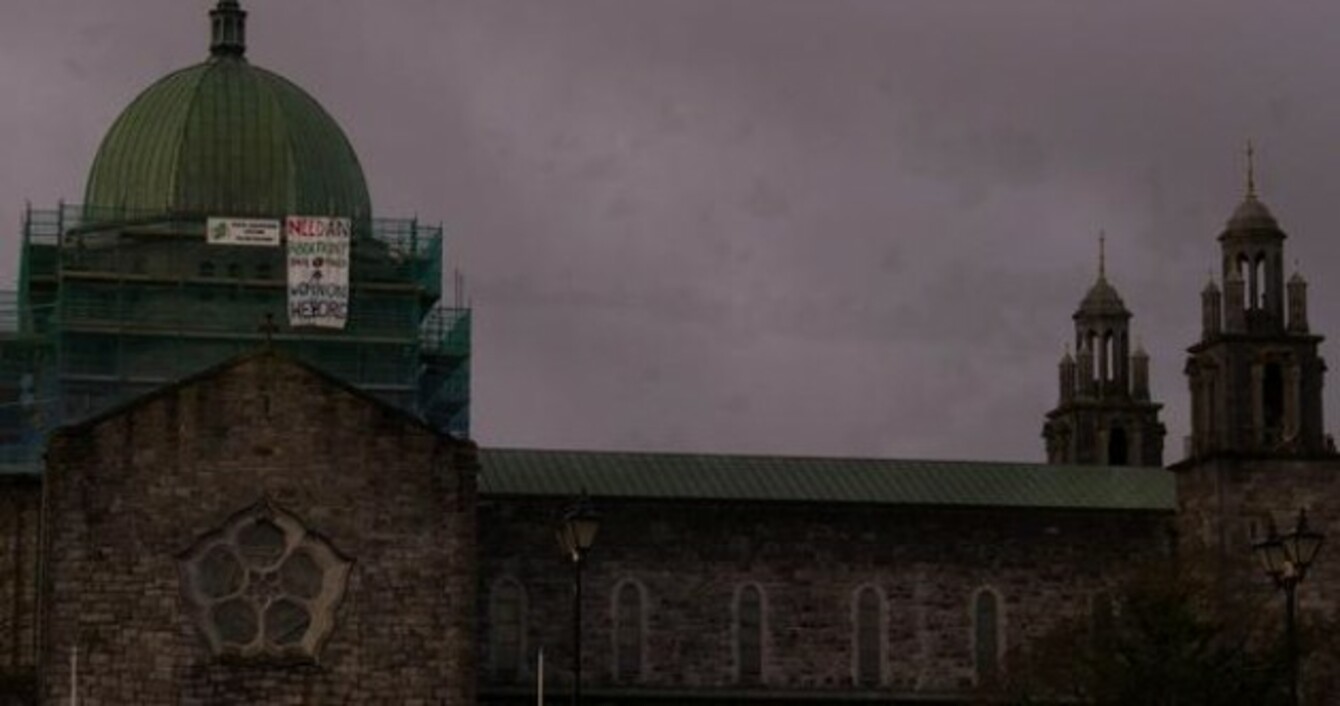 A GROUP OF pro-choice campaigners placed a banner advertising abortion pills on Galway Cathedral yesterday morning.
The recently-formed Díobháil group placed the banner, which advises women on where they can procure pills which induce miscarriages, on the cathedral yesterday at 7am.
It remained there until after 11am.
A spokesperson for the group today told TheJournal.ie that they are aiming to spread the word on the pills.
"The main aim was to spread the message of Women on Web. They are a really good women's organisation that help women in countries with oppressive abortion laws.
"Otherwise, women are forced to travel abroad. Some women can't afford that, some are asylum seekers.
"We're interested in sex education and reproductive justice, as well as the role of the church in Irish laws.
"When we look at these issues, we see that they're all connected."
Crucially, the group says that the pills are safe, if taken before nine weeks into the pregnancy.
"They are very, very safe used up to nine weeks. We advise people to go to hospital if there is any complications.
"There is no difference between the pills and a miscarriage."
Reckless
Wendy Grace of the Pro Life Campaign, however, accused the group of a publicity stunt.
"These types of initiatives appear to be more concerned with garnering publicity for the pro-choice cause rather than a genuine regard for women's health and wellbeing.
"The groups involved have no regard for the humanity of the unborn child and no interest in drawing attention to the fact that abortion has significant negative health consequences for many women.
"It's no surprise that none of those advocating these dangerous pills, mention abortion pills even when used under supervision can be dangerous, for example In 2011 Jessie Barlow a 19 year old from Surrey died following an abortion using abortion pills. She died five weeks after her abortion and just five days before Christmas."