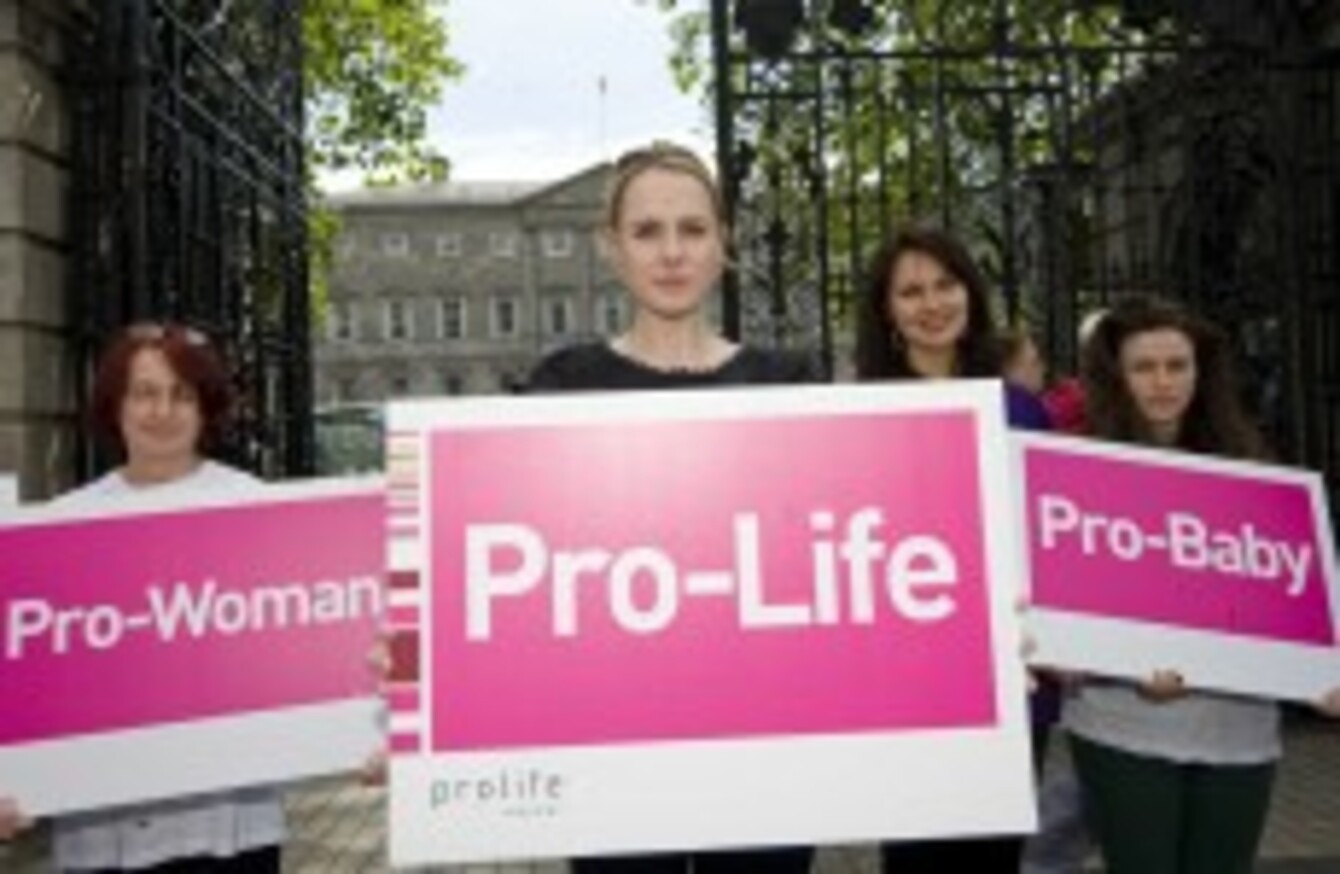 Members of the pro-life campaign outside Leinster House
Image: Laura Hutton/Photocall Ireland
Members of the pro-life campaign outside Leinster House
Image: Laura Hutton/Photocall Ireland
A PRO LIFE Campaign poll has asked people their thoughts on whether they would support abortion as a response to a suicide threat, on certain grounds.
The Amárach opinion poll put a number of questions to 984 people last month, and was commissioned by the Pro Life Campaign.
It asked respondents to scale their support or opposition to abortion:
if it were clearly shown that abortion is not a suitable treatment for a pregnant woman with suicidal feelings.
Of the respondents, 60 per cent said they would be 'very unlikely' or 'unlikely' to support abortion on such grounds. Meanwhile, 40 per cent of respondents said they would be 'very likely' or 'likely' to support abortion in those cases.
Pro Life Campaign spokesperson Caroline Simons said that "the key issue is public information".
She said that legislating for abortion on the ground of threatened suicide "shows complete disregard for the lives of women as well as for the unborn".
Free vote
When asked about "constitutional protection for the unborn that prohibits abortion but allows the existing practice of intervention to save a mother's life in accordance with Irish medical ethics," 69 per cent were in favour with 31 per cent opposed.
Simons said that taken together, these polls "undermine claims that a broad consensus in favour of the Government's abortion legislation actually exists".
The poll also reveals 78 per cent support a free vote on the abortion legislation versus 13 per cent who said politicians should be required to vote with their parties.
Simons said that many Fine Gael TDs were "very anxious to get a free vote" but were "coming under extreme pressure from senior members of Government".
"Several Fine Gael TDs we have spoken to in recent days are very upset and even distressed at the way they are being pressured to vote for the bill," she alleged. "And their frustration is with the Government, not us."
There are up to eight hours of debate on the proposed Protection of Life During Pregnancy Bill 2013 being heard in the Dáil today.