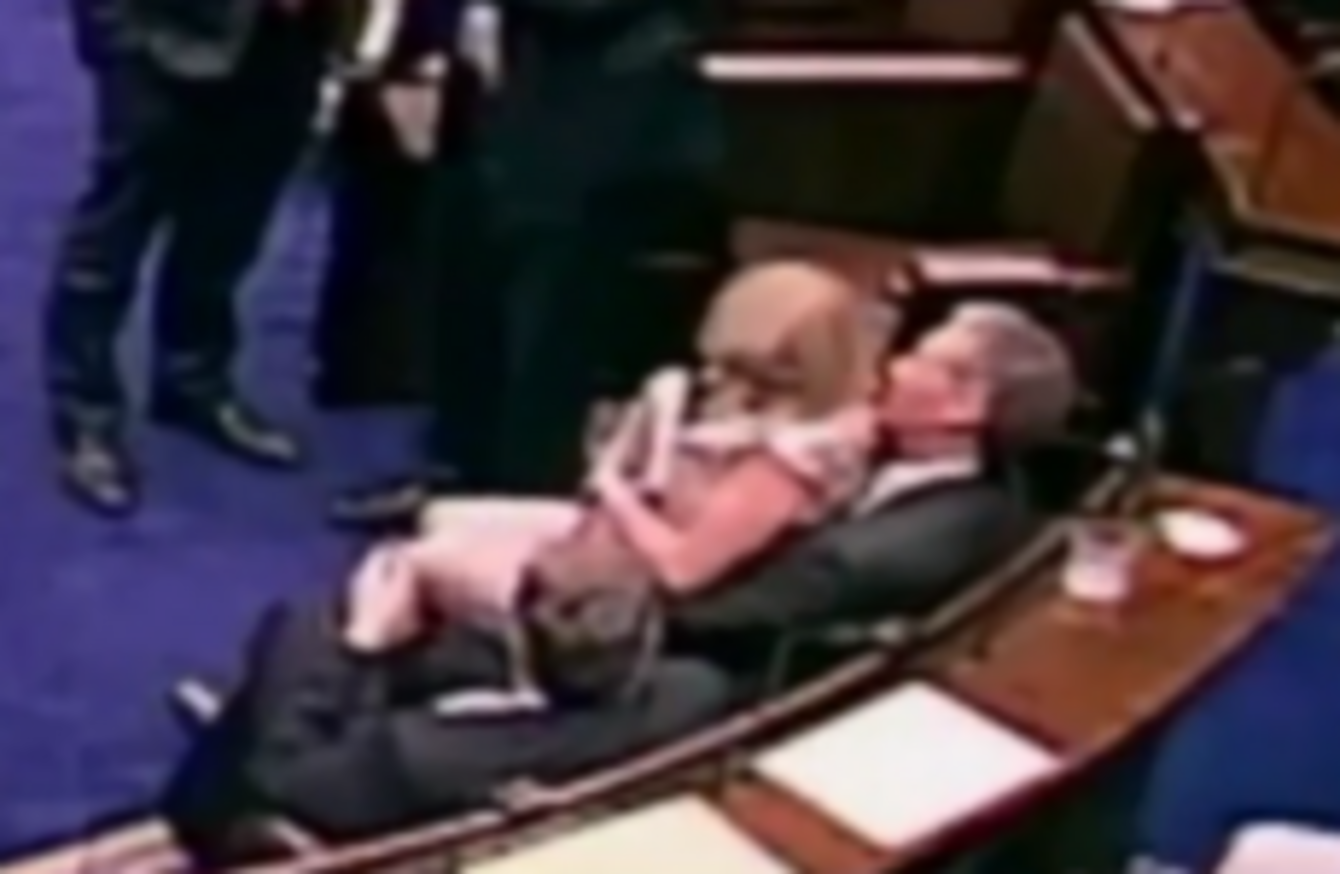 The infamous 'lapgate' incident involving Fine Gael TDs Tom Barry and Aine Collins
The infamous 'lapgate' incident involving Fine Gael TDs Tom Barry and Aine Collins
GOVERNMENT CHIEF WHIP Paul Kehoe has said he has no regrets about the Dáil sitting until 5am in the morning to debate the abortion bill and has revealed that Fine Gael realistically faced losing 10 TDs over the issue.
In an interview with TheJournal.ie this week Kehoe said that the debate over the abortion bill late last year and for most of this year was the most stressful time he has ever had as a whip. His role gives him responsibility for the organisation and timetabling of debates.
"I breathed a sigh of relief when the Dáil broke up on the 18 July because it was absolutely, the most stressful time for me in the Dáil ever, either as an opposition whip or government whip," he said.
The Fine Gael deputy also said that the party realistically could have lost 10 TDs over the abortion vote – it lost five who voted against the government as well as two senators – but dismissed suggestions that as many as 25 could have been lost.
He said: "We could have lost 10, yeah. I don't think we could have lost 15 but this is about sitting down, talking them through it and – I don't want to use the word 'convincing' them – but explaining the legislation."
Lapgate
Kehoe insisted that the legislation was not rushed through and rejected criticism over debate on the bill lasting until 5am on 10/11 July.
Events were overshadowed by the Dáil bar being open until 5am and the infamous 'lapgate' incident involving two Fine Gael TDs.
"I know I was criticised for sitting until 5 o'clock in the morning, everything like that… It wasn't a mistake.
"Members wanted to, I won't say get rid of it, I don't want to use that word, but members wanted to get debate concluded and give people plenty of opportunity to debate it as well."
He said there was an "awful lot of repeat debate" during the report and final stages of the legislation with TDs making the same points as they had made previously.
"There was a huge amount of repetition in the Dáil chamber and that's one thing that kind of annoyed me during the [Protection of] Life during Pregnancy Bill, the repetition of debate in the chamber," he said.
Like politics? Then why not 'Like' TheJournal.ie Politics on Facebook to keep up to date with all that's happening in and outside of Leinster House.