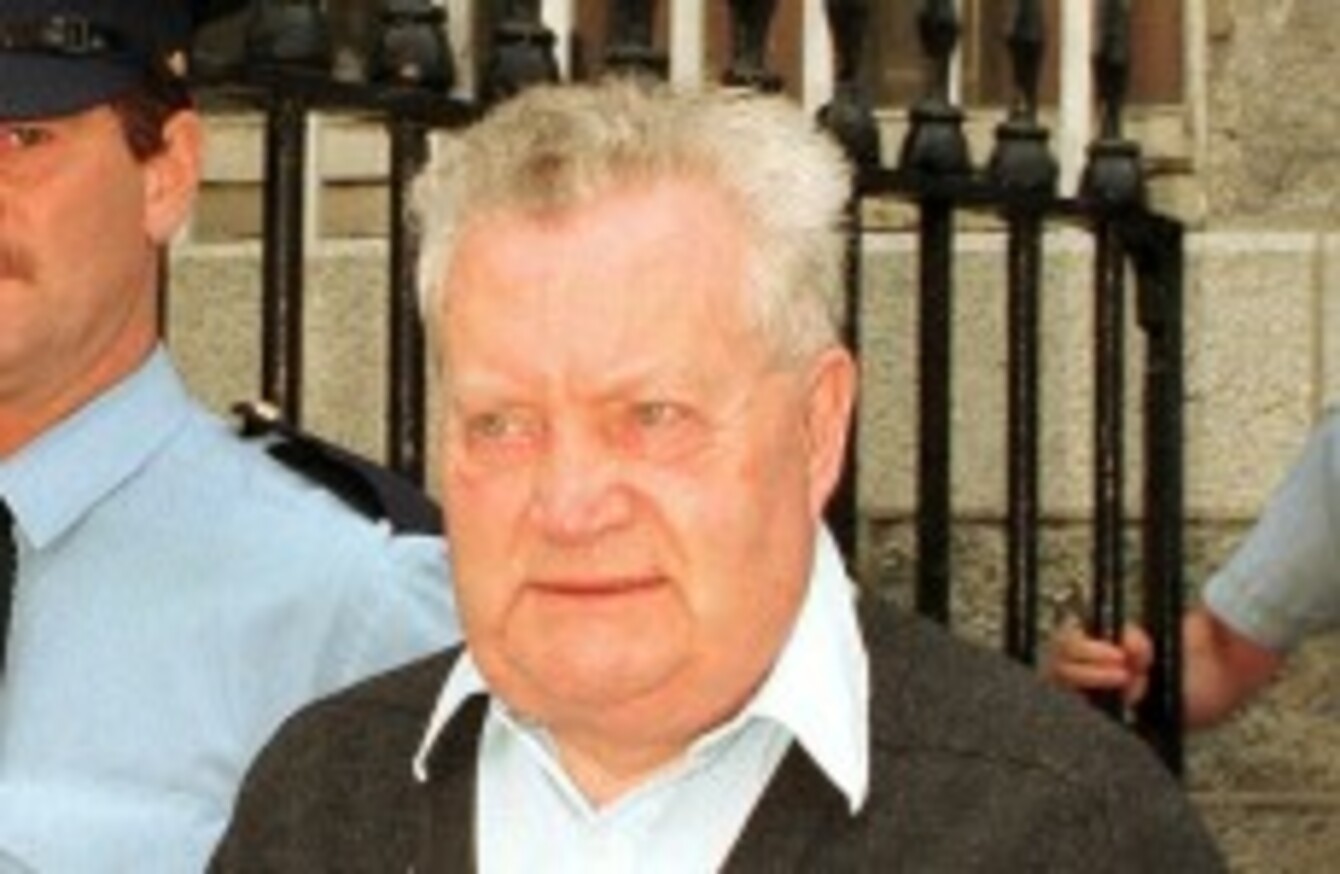 Fr Brendan Smyth in 1997
Fr Brendan Smyth in 1997
THE CRIMES OF Fr Brendan Smyth, one of the first Catholic priests to be outed as a paedophile in the early 1990s, are being focused upon this week by Northern Ireland's Historical Institutional Abuse Inquiry (HIA).
In a statement read before the inquiry this morning by Junior Counsel Joseph Aiken in Banbridge, Co. Down, Fr William Fitzgerald, of the Norbertine Order to which Smyth belonged, said that the notorious abuser "ought never to have been ordained".
Fitzgerald confirmed that "warning signs had surfaced" as to Smyth's nature prior to his ordination.
This pattern of behaviour to maintain his freedom to do as he chose was already apparent while in formation.
Fitzgerald maintained that from his knowledge Smyth was "a very intelligent man".
On reflection it is clear that he used that intelligence and naked cunning to engineer circumstances in which to abuse children, and also to intimidate and oppose the efforts of those who sought to confront him and restrict his activities
I am of the view that, while he never held any significant position within the church, he had a significant presence and influence with which he silenced and ridiculed those who would oppose him.
The inquiry also heard this morning that Smyth told a doctor in 1994 that "it could be that I've sexually abused between 50 and 100 children".
Speaking for the arch-diocese of Armagh, a Fr Toner said in a statement, again read by Junior Counsel Aiken, that the "greatest single failure" of a 1975 inquiry into allegations of abuse against Smyth was that the diocese failed "to report these matters to the civil authorities in both Northern Ireland and the Republic of Ireland".
The diocese would accept that the failure of Bishop (Francis) McKiernan to report these matters to the civil authorities was a significant failing on his part.
Given that it is now known that Brendan Smyth was a compulsive paedophile, it is clear that the matter should have been reported to the civil authorities in the jurisdictions where the children he abused lived also.
The inquiry will concentrate on an examination of what opportunities existed to prevent Smyth carrying out the abuse of children, and whether or not the failure of the Church's hierarchy to prevent that abuse constitute systemic failings.
This current phase of the inquiry (the sixth following the inquiry's establishment in 2013) is expected to last a week.
It is being chaired by retired British High Court judge Sir Anthony Hart.
Fr Brendan Smyth Timeline:
1945 – Smyth, born 1927 in Belfast, is ordained in the Norbertine Order
Late 1940s onwards – Smyth is known to have abused children in Ireland, Scotland and Wales
1965 – Smyth is sent to East Greenwhich, Rhode Island. By 1968 complaints from parents in the American parish see him sent back to Ireland for treatment in a mental hospital
Early 1970s – complaints are made to Bishop of Kilmore, Francis McKiernan, about Smyth
1974 – The Vatican is put on notice regarding Smyth's abuses
1975 – A canonical tribunal hearing is held into the allegations against Smyth. The notary is former archbishop of Armagh Seán Brady
1991 – Smyth is arrested in Northern Ireland. He flees to the south and remains on the run for three years
1994 – Smyth is convicted of 141 counts of child molestation in Northern Ireland and the Republic. He is sentenced to 12 years imprisonment.
1997 – Smyth dies of a heart attack in prison at the Curragh in Co Kildare
#Open journalism No news is bad news Support The Journal

Your contributions will help us continue to deliver the stories that are important to you

Support us now
Connect is available this week to provide free telephone-based counselling to anyone impacted by the focus of the HIA inquiry in Northern Ireland on Brendan Smyth.
Connect provides professional telephone based counselling and support to survivors of abuse at freephone 1800 477 477 from the Republic of Ireland and 00800 477 477 77 from Northern Ireland and the UK.
Further information at www.connectcounselling.ie 
Connect is funded by the HSE.