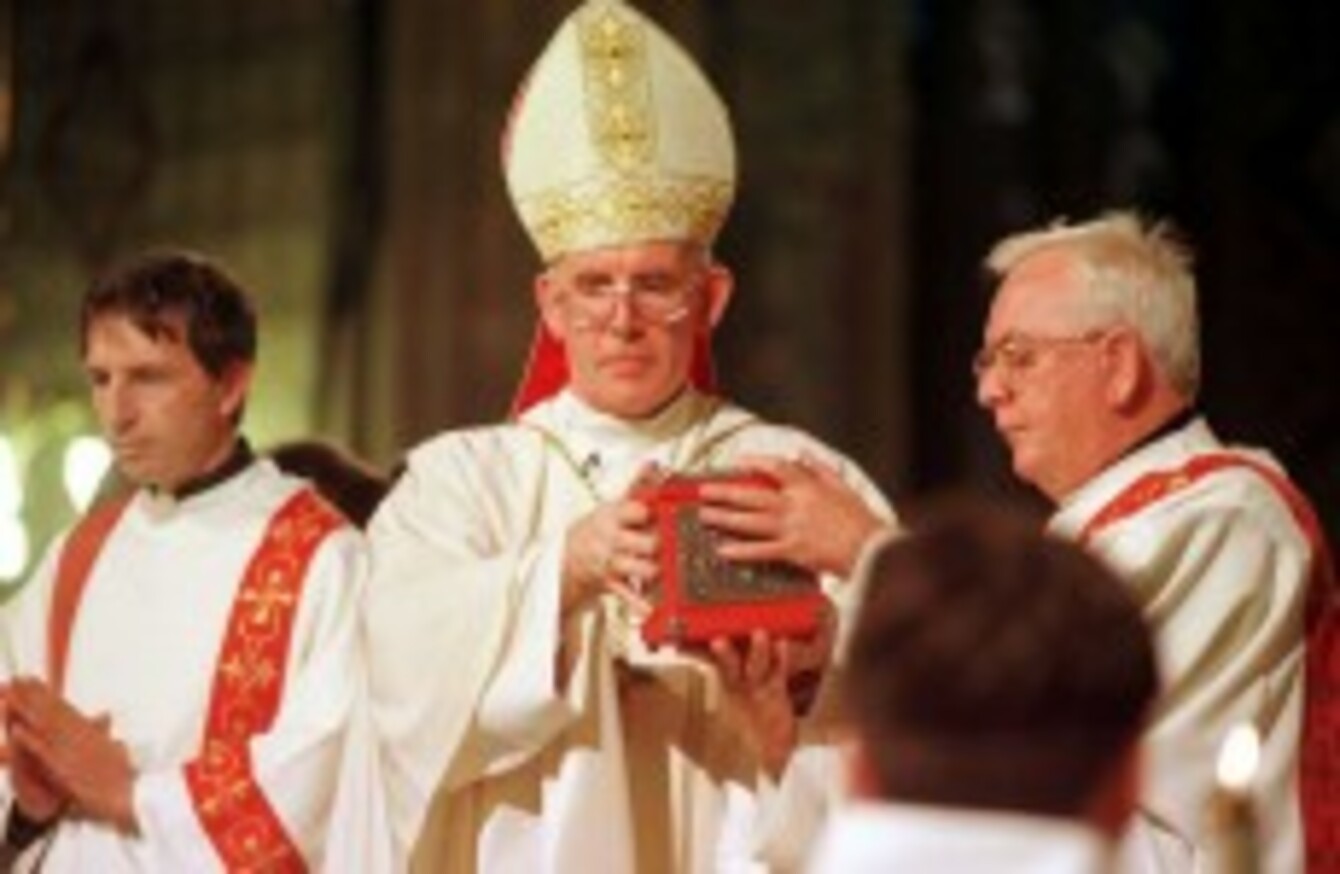 Cardinal Seán Brady
Image: Photocall Ireland!
Cardinal Seán Brady
Image: Photocall Ireland!
"I OFTEN WORRY that people get sick of hearing about this issue. We've been talking about it for twenty years but today I was as angry, outraged and upset as I've ever been."
That was the initial reaction of one abuse survivor to Cardinal Seán Brady and the Vatican's response to fresh allegations relating to the abuse of children by paedophile priest Brendan Smyth.
Colm O'Gorman told TheJournal.ie that his emotional response was not so much about what was revealed last night (he said he knew most of that already) but came after hearing from Cardinal Seán Brady and the hierarchy of the Church. He was particularly vexed by the words of the Vatican's chief prosecutor.
"It was extraordinary to hear Monsignor Charles Scicluna – someone with global prosecutory responsibility in this area – to discharge Brady from all moral culpability and say that he proved that lessons were learned within the Irish church."
Speaking to Morning Ireland yesterday, Scicluna said the priest "did what was expected of him by Canon Law and procedures that were acceptable at the time". He also believes that the Catholic Church needs Cardinal Brady as he has "learned the hard way" and is now determined in his protection of children.
According to O'Gorman, who founded the One in Four support group after launching a case against the Church over his experiences of abuse when he was a teenager, "it is incredible that the Monsignor has not been able to spot the perversity of that statement".
Now an executive director of Amnesty International Ireland, O'Gorman was not satisfied with the similar but weak defence offered by Scicluna and Brady yesterday that back in 1975 Brady was only a 'notary' in the interviews.
"Authority is not needed to walk into a Garda station to report the abuse and rape of children. It takes courage and a sense of moral decency," he said, adding that it was important to remember that Brady was a highly-educated and qualified Canon lawyer at the time. He was also 35-years-old.
At 14-years-old Brendan Boland had the courage, integrity and insight to report his concerns for other people. Brady had nothing like that level of insight or courage. He failed and it is unforgivable.
Commenting on the atrocious acts of Smyth that spanned a forty-year period, O'Gorman recalls the level of terror still visible in Brendan Smyth's victims years later as something "extraordinary".
"I've never seen anything like it," he said. "The impact on those people as adults because of what he did to them when they were children. I don't use this word lightly, but he was monstrous."
Response raises serious questions
O'Gorman believes that Brady is trying to pitch himself as a "wounded healer" but as an abuse survivor, he questions whom he is trying to heal.
Is it his institution? Himself? His defences, his avoiding of responsiblity is certainly not bringing healing to those who were abused. He may be looking after his own self-healing by defending the indefensible.
He added that even if Brady cannot be judged on his actions in Dundalk in 1975, he can be examined for his responses to those actions in 2012.
"Doing that raises very serious question about his attitude in 2012 to these issues. That is a crucial point."
Refuting claims that there were no State guidelines to follow, O'Gorman noted that Brady was actually following the Catholic Church's process "to the letter".
"There were Church processes clearly set out. The abusers and the accusers were sworn to secrecy and the matter was kept within the church. That process was in place since 1962," explained O'Gorman, who has spent much time researching all mentions of paedophilia in Canon Law.
The first laws were actually introduced in the fourth century and they were specific to instances of clerical sexual abuse of minors, he said.
There may have been no State guidelines but there was Church law. He was following a clear set of instructions.
"But reducing it down to the basics, a 35-year-old man knew the names of children who were being raped and abused and did not report it to the authorities. If he cannot recognise that as a truly terrible failure, he is incapable of recognising the impact of that failure and questions of his leadership must be raised," concluded O'Gorman, before finally adding that Brady's resignation is only a matter for himself and his church – the damage to the abused has already been done.
Anybody affected or distressed by the current focus on child abuse can contact Connect Counselling for free on 1800 477 477 (and from Northern Ireland 00800 477 477 77). Opening hours are from 6 to 10pm Wednesday to Sunday.