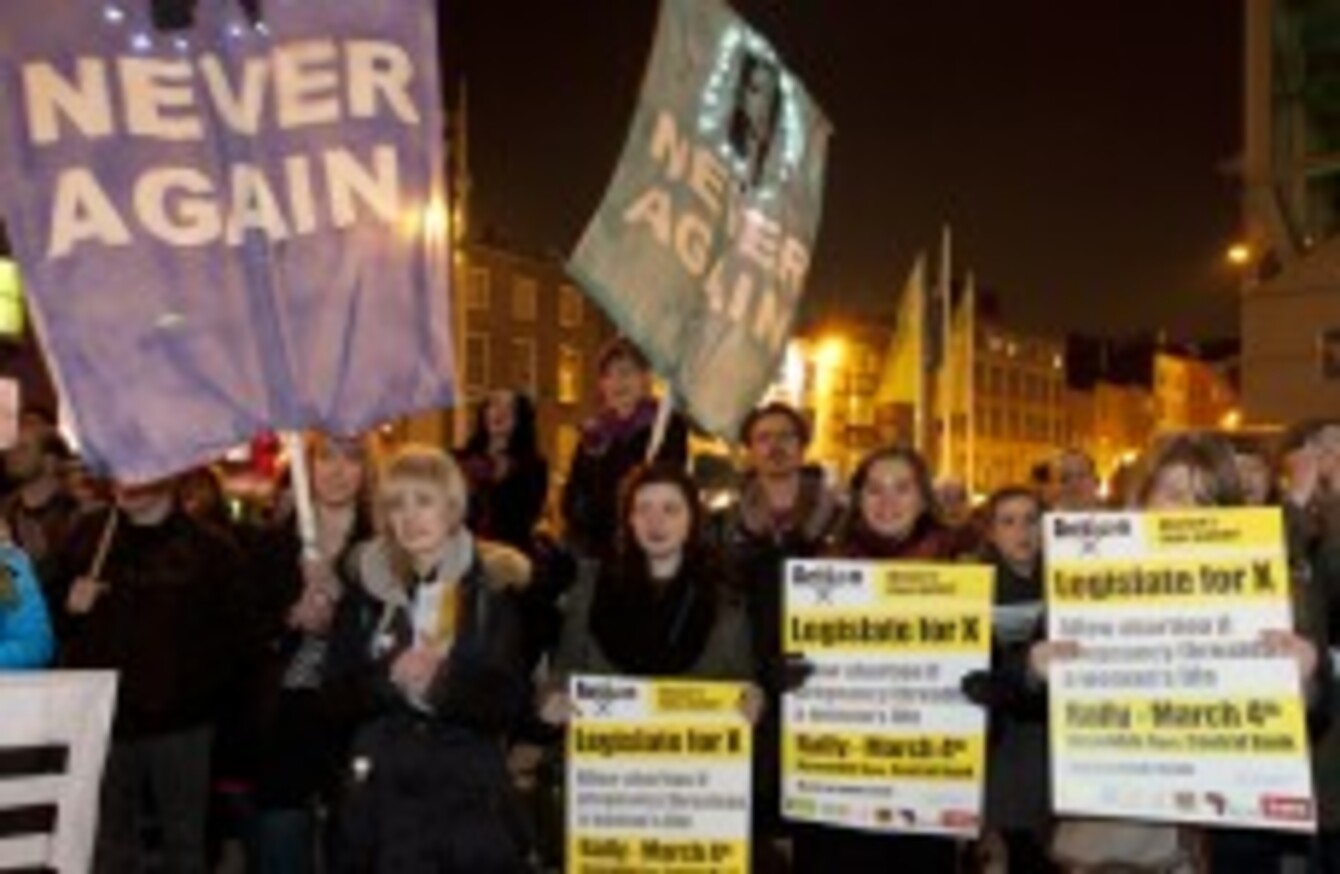 Participants at tonight's rally
Image: Eamonn Farrell/Photocall Ireland
Participants at tonight's rally
Image: Eamonn Farrell/Photocall Ireland
HUNDREDS OF PEOPLE are believed to have turned out for a rally in Dublin held on the eve of the 21st anniversary of the verdict in the X Case.
The Supreme Court case determined the right to abortion in Ireland in certain circumstances.
The pro-choice rally involved a number of groups, Action on X, SIPTU, Unite, the National Women's Council, the Union of Students of Ireland and Akidwa.
"We were delighted," Sinead Kennedy of Action on X told TheJournal.ie. "People were saying 7 or 800 people [turned out]. We were really delighted with the turn out."
Kennedy said that the groups were using the rally "to highlight the fact that it is now 21 years later and there still has been no action on X despite numerous promises by government".
She continued:
when it comes to protecting bankers they can keep the Dáil open late and introduce emergency legislation, but when it comes to protecting women's lives there is delay, after delay, after delay.
The Government are compelled to legislate for the X Case due to a European Court of Human Rights 2010 ruling, but Kennedy said Action on X believes that the legislation is going to be delayed beyond what was anticipated. "We may only see the heads of bill before the summer," she said.
She described the X Case legislation as an emergency measure. "It is the bare minimum – all it does is give provision for abortion where the life of a woman is at risk. That is nowhere near enough where people really want."
Over 100 people and civic society organisations have signed up to the call for legislation on X, including a number of independent TDs and senators such as Labour's Seanad leader Ivana Bacik.
Kennedy said that having been active in pro-choice work since the late 1990s, she had seen an increase in pro-choice support and activity recently. "I have been doing this for a long time and I have never seen anything like I've seen in the past seven or eight months."
Tonight's rally is part of ten days of action being undertaken by the campaign group to put pressure on the government to legislate for the X Case by the summer.
Pro Choice march, Dublin

Pro Choice march, Dublin

Pro Choice march, Dublin

Pro Choice march, Dublin

Pro Choice march, Dublin

Pro Choice march, Dublin