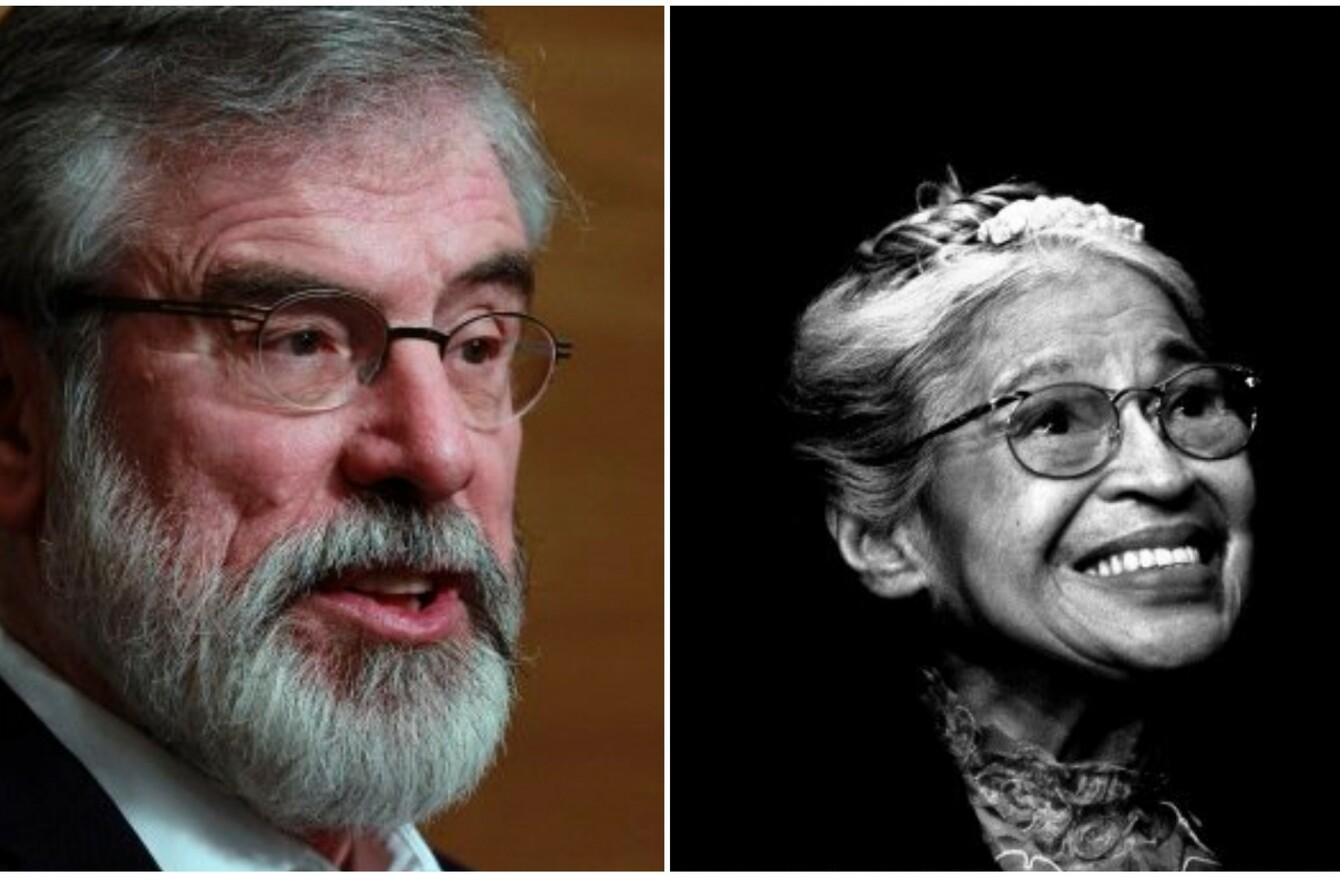 Image: PA Images
Image: PA Images
Updated: 5.30pm
SINN FÉIN LEADER Gerry Adams has defended a remark which appeared to compare the party with US civil rights figure Rosa Parks.
Speaking after being unable to attend a St Patrick's Day event at the White House due to what the Secret Service called an "administrative input error", Adams said the party would not "sit at the back of the bus".
The Sinn Féin president was due to attend the annual event hosted by President Barack Obama, along with deputy leader Mary Lou McDonald and the North's deputy first minister Martin McGuinness.
However he was prevented from entering the White House by security personnel who delayed him for 90 minutes before he decided to leave.
In a statement afterwards, Adams invoked the image of Parks, whose refusal to give up her seat on an Alabama bus was a major flashpoint in the civil rights struggle.
Sinn Féin will not sit at the back of the bus for anyone. We are elected to represent citizens and we will do this. I am hopeful that the controversy around my White House invitation will help lead to a resolution of all these matters.
That remark drew strong criticism, despite Adams previously citing Parks as an inspiration for the civil rights movement in the North. Indeed, Adams visited Parks in 1994, shortly after the IRA ceasefire was announced.
Speaking to UTV Ireland last night, Adams defended the comparison, saying that other Sinn Féin members had been delayed at US security checkpoints.
"It's clear that [Sinn Féin] will not accept anything less than equality for ourselves or the people we represent or for everyone else."
Meanwhile, Adams has released a statement calling for the US administration "to review their approach to Sinn Féin representatives".
The constant additional security processes and delays which Sinn Féin representatives are regularly subject to has long been a cause of concern. We have raised it privately in the past.
"Yesterday my colleague Martin Ferris was delayed getting on his flight to Boston and when he eventually arrived on a later flight he was held for several hours.
"In the course of my meeting with the State Department on Wednesday, during which they apologised for the White House situation, I urged the administration to review their approach to Sinn Féin representatives visiting the USA and to fulfil the commitment of the Clinton administration 20 years ago to normalise relations between the US administration and Sinn Féin."
- with reporting by Órla Ryan
Originally published 9.30am