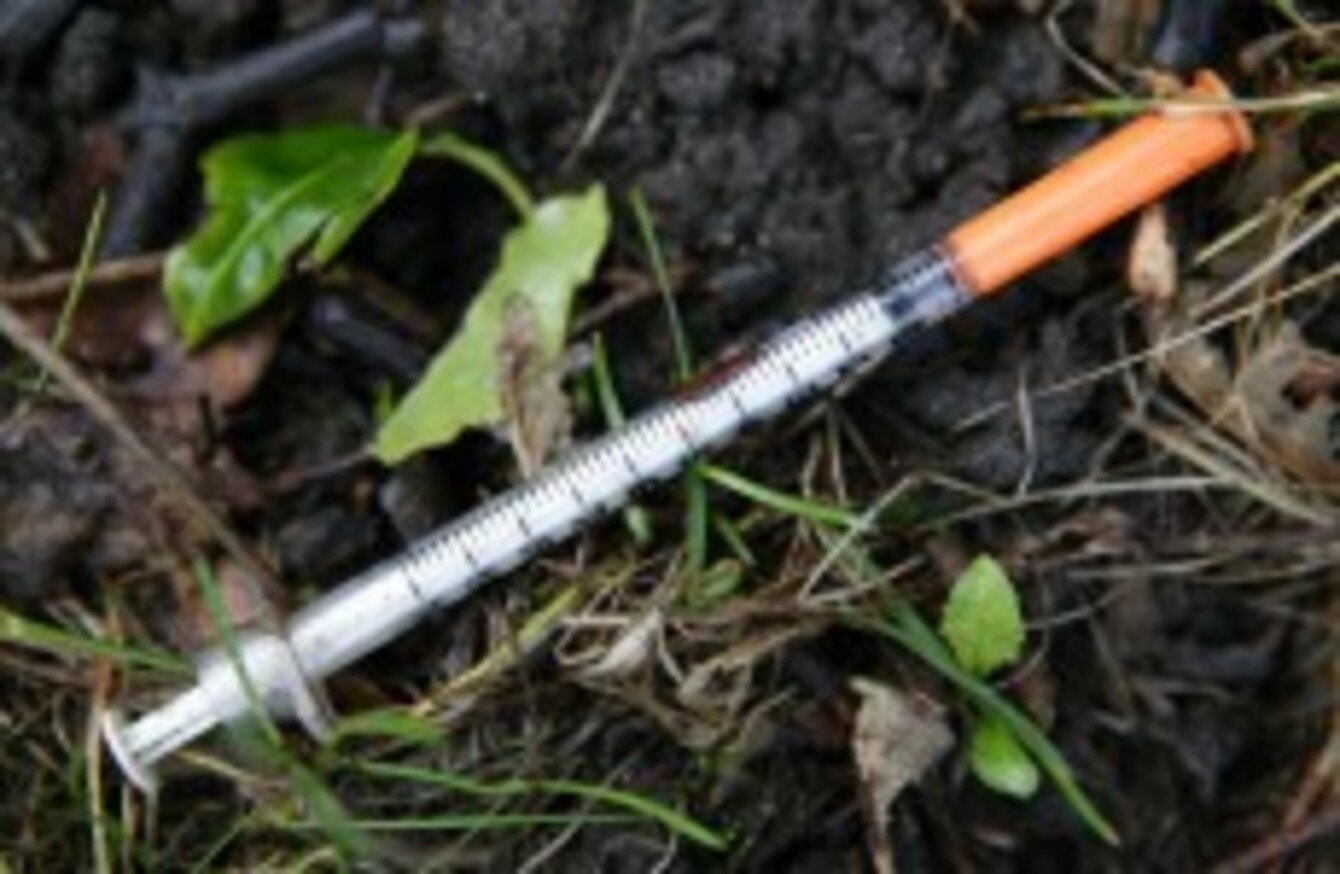 A discarded hypodermic needle
Image: John Birdsall/John Birdsall/Press Association Images
A discarded hypodermic needle
Image: John Birdsall/John Birdsall/Press Association Images
ALCOHOLICS ARE DRINKING hand sanitiser in order to get their alcohol fix, the head of the Merchant's Quay service has said.
Tony Geoghegan, head of the centre which provides services to those with addictions and those who are homeless, said that amongst people who use their homeless service "it is a phenomenon that we've seen over the last few years".
Since the use of hand sanitiser became more prolific following the initial outbreak of Avian flu, it has been easier for people to access these products.
Geoghegan said those who drink the sanitisers are alcohol dependent and tend to mostly be non-nationals and Eastern European.
He said often they have economic reasons  for this, such as the fact they may not have acccess to social welfare.
"It really just highlights the dependence on alcohol," he noted.
You have to be dependent on alcohol to start drinking hand sanitiser. There are different types – the gel form they don't seem to be able to drink but the liquid form, they pour it into a bottle of soft drink.
Geoghegan said that these liquid sanitisers can cause health damage, such as damaging the lining of the stomach.
Merchant's Quay has a primary health care centre with a doctor available and nurses working there full-time. They treat addicts for common problems such as leg ulcers and other issues.
Geoghegan said the main trend he has seen over the last number of years is the move away from single drug use, with people taking a range of different substances including alcohol.
Traditionally when we used to have two services – we had the homeless service that dates to the 60s, the friars used to run it as a penny dinner service – we opened our drug service in the late 80s and there was always a difference between the two in that drug users and people with alcohol problems didn't mix that much.
People with alcohol problems would look down on drug users and vice versa. We brought the homeless and drug services together in 2000. We were concerned about how the client groups would mix but there were no issues. People using drugs like heroin are also drinking alcohol and vice versa.
Geoghegan said that prescription drugs are also popular, such as valium and benzodiazapine, which addicts can buy on the black market.
He noted that the age group of addicts has moved up a bit which is in line with Britain.
"The age profile is getting older so there's not as many new entrants getting into the system," he said. "Equally, what is alarming for us is there aren't as many new entrants as there was before, so it shows there isn't people moving out the other end."
There are 10,000 people on methadone treatment in Ireland, which Geoghegan described as "a very high engagement level".
He said that while on one hand it is positive to keep people on methadone as it is regulated and a clean drug, rather than street drugs, "we don't have sufficient pathways out of methadone".
Merchant's Quay has long been lobbying for a Rehabilitation of Offenders Act to provide help for addicts who spend time in custody.
Geoghegan said it is important for people coming out of jail that they are not stigmatised and that they are helped to move on.
He is also in favour of specific safe injecting rooms for drug users, so that they don't have to shoot up on the street.
There are safe injecting rooms in Germany and Holland. Said Geoghegan, "certainly we have advocated for those over here but it's a bit of a bridge too far for here" at the moment.
#Open journalism No news is bad news Support The Journal

Your contributions will help us continue to deliver the stories that are important to you

Support us now
He said that in Ireland, the attitude towards drug use still comes "from a moral point of view" and that things will have to change before these rooms are accepted.
There is a connotation that you are enabling people to continue to use with even the providing of methadone – 'you don't give an alcoholic alcohol'. I can understand that people would have that impression but it really is trying to reduce harm for people.
He said these rooms benefit community safety – and can avoid discarded needles and other items.
Initiatives like that are important and I suppose it is the more they are discussed the more people become familiar to them and don't become so reactive.
We now have wet hostels – 10 years ago that would have been unheard of.
There are also needle exchanges which Geoghegan said were "radical at the time" 10 years ago.
Merchant's Quay was the first voluntary agency to hold a needle exchange and receive their supplies from the HSE – when it first started, it had to source the items from abroad.
The more issues like injecting rooms and different prescriptions and drug free options; the more they are discussed the more the people become accustomed to them and understand the rationale for them.
When it comes to the future, funding is extremely important to Merchant's Quay. It usually receives 80 per cent of its funding from the State and the rest comes from voluntary income – but the State funding has been cut over the last number of years.
The last three years had cuts and each time you are looking to bridge the gap with voluntary income, that gets more and more difficult. As your mainstream funding reduces, you are trying to increase voluntary income to maintain services.
We will reach breaking point. We don't know what the cuts are going to be next year.
We had a 10 per cent cut this year… that means we're starting next year 10 per cent down before the cuts.
There are two personnel who work on the fundraising element of Merchant's Quay, and there are a number of regular donors who get to see the impact of their fundraising first-hand.
Geoghegan said often people's initial impression of drug use is fear and shock, but when they engage in services that Merchant's Quay provides, it can challenge attitudes.
To find out more about the services that Merchant's Quay provides to the homeless and to alcohol and drug users, visit its official website.