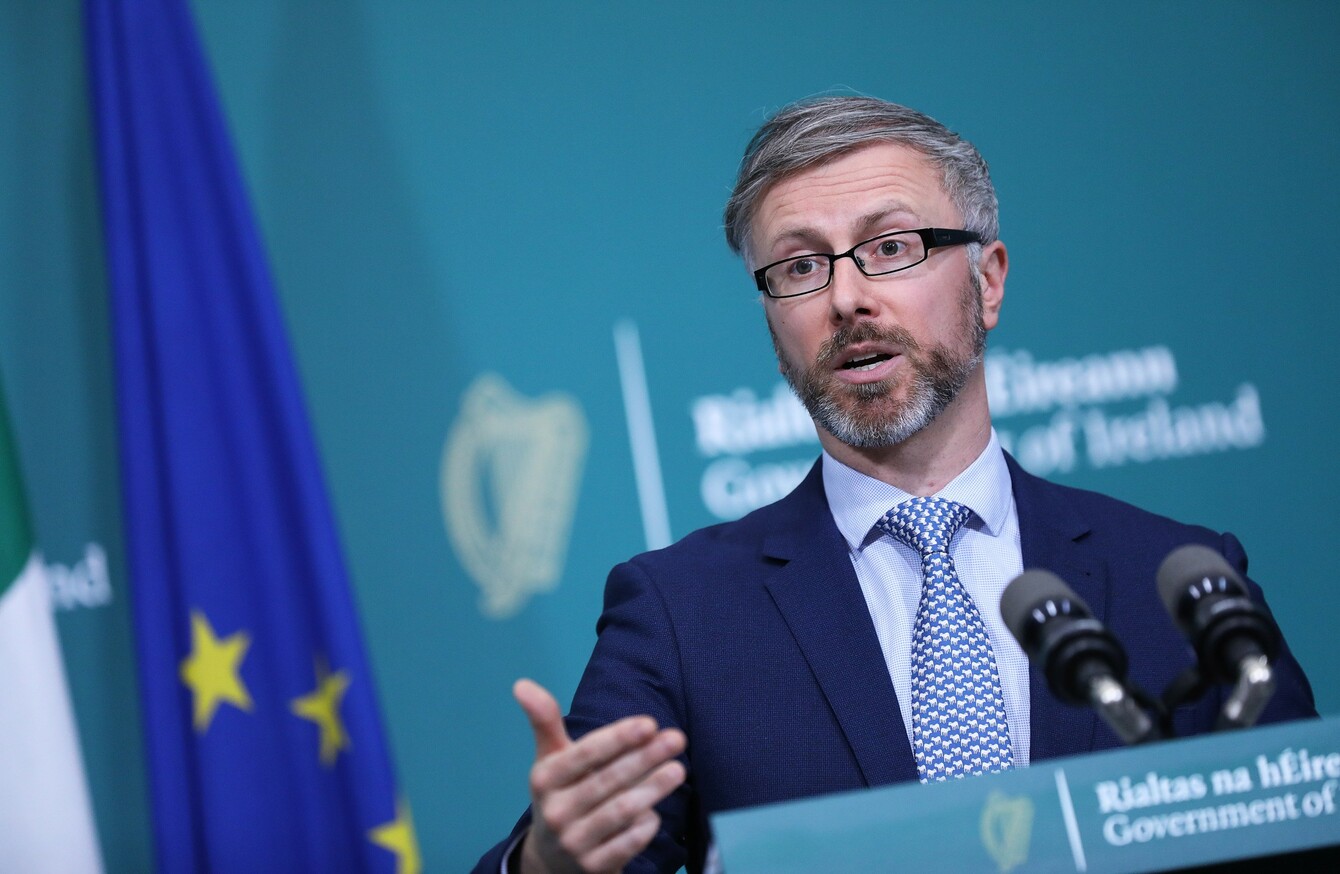 Children's Minister Roderic O'Gorman speaking at a briefing regarding the proposed legislation
Image: Julien Behal Photography
Children's Minister Roderic O'Gorman speaking at a briefing regarding the proposed legislation
Image: Julien Behal Photography
Updated May 11th 2021, 5:45 PM
PROPOSED LEGISLATION WILL enshrine in law a right for adopted people to access their birth certificates, and birth and early life information.
Children's Minister Roderic O'Gorman has described the legislation as "groundbreaking".
The long-awaited Heads of Bill, which were published today, provide "a full and clear right of access" for adopted people and others with questions on their origins to birth certificates and related documents.
The legislation will encompass all people who may have a question in relation to their origins and support access to the broad range of birth, early life, care and medical information that may be contained in institutional or other records.
The Bill will undergo pre-legislative scrutiny in the coming months before an Oireachtas vote.
The Department said the purpose of the legislation is "to recognise the importance of a person knowing their origins, and to achieve this through the full release of the birth certificate, birth information, early life information, care information and medical information for all persons who were adopted, boarded out, the subject of an illegal birth registration or who otherwise have questions in relation to their origins".
This legislation will, for the first time, create "a full and clear right for these people to access information relating to their identity at birth".
Under the new law, if passed, even if a birth parent says they don't want their child to get their birth cert or related information, the adopted person will still get access – a huge shift in the right to information versus right to privacy debate.
In a similar manner to Subject Access Requests under GDPR, people will be able to apply to the Adoption Authority, Tusla or any designated relevant body that may hold information about them.
In the case of early life and care information, the information will be automatically provided on receipt of an application from the person.
In the case of medical information, a person will automatically be provided with any medical information which relates to themselves.
Information relating to a birth relative which is relevant to the medical history or health of the applicant and is necessary for reasons of substantial public interest, will be released to the person's nominated medical practitioner. In these circumstances, the information "shall not identify the birth parent or relative but only the fact of the medical condition/health issue being something which arises in the applicant's birth family".
'A significant day'
Speaking to reporters this afternoon, O'Gorman said: "This is a significant day for the rights of adopted people, but I'm conscious too of the profound impact on birth parents across this country. People who, in so many cases, would have had a child in secrecy shrouded in a State and Church-enforced shame and who will have carried that secret with them often for decades.
"It's imperative in passing this legislation that their rights are respected too. And in order to achieve a balance of rights, the Bill creates a new statutory contact preference register. People will be able to apply to this register where they want to record their preference in relation to having contact with birth relatives."
O'Gorman wants the Bill passed ASAP - it will go before the Oireachtas Children's Committee for pre-legislative scrutiny in the coming weeks.

He says there is cross-party support for the law change as people recognise the negative impact the current law is having on people.

— Órla Ryan (@orlaryan) May 11, 2021
The minister explained: "When an individual applies for their birth certificate, they will be informed of their parents' contact preference if any. Where on the contact preference register their birth parents has expressed a preference for contact or if there was no entry on the register – in that situation, there will be immediate release of the birth cert and birth information.
"Where there is no contact preference, where the birth parents has clearly indicated a preference not for contact, the [adopted] individual will attend an information session and at that information session they will be told about their birth parents' no contact preference, they will be told about their birth parents' right to privacy and the importance of respecting privacy.
"Once the information session has taken place, the birth certificate and birth information is then provided to the adopted person fully, without any sort of redaction."
Unlike in previous attempts to bring forward similar legislation, there will be no criminal penalties for attempted contact of a parent by an adopted person.
"This is an extremely sensitive process for all concerned," O'Gorman said, adding: "I don't believe in criminalising adoptees."
1) The HoB will take time to digest, but for now:

✅ (I can't believe I'm typing this) after decades of campaigning, it appears adopted people will finally have unconditional access to our birth certs! 🍾

🚨 But, at a glance I can see there are issues in the Bill... https://t.co/neL9Nd1kYD

— Claire McGettrick / Lorraine Hughes (@cmcgettrick) May 11, 2021
The proposed legislation has been broadly welcomed by adoption groups but some concerns have been raised about certain elements of the Bill.
Claire McGettrick, co-founder of the Adoption Rights Alliance, questioned why people whose natural parents have registered a no contact preference will have to attend an information session with a social worker.
She said intervention from a social worker "is totally inappropriate here" and adopted people "do not need to be reminded of people's privacy rights".
Tracing services
O'Gorman noted that legislation also makes provisions for statutory tracing services which can be used by adopted people and their relatives, as well as making extensive provisions to protect relevant records and make the destruction of such records an offence.
The minister said the contact preference register that would be set up under the Bill will be different to, and more efficient than, the current contact register for adopted people as it would have a statutory footing and would allow Tusla and the Adoption Alliance of Ireland to share information.
He noted that previous laws in this area have resulted in much hurt over the years for adopted people. 
O'Gorman apologised to people who died before knowing their birth information. "This was wrong, the State failed these people," he said. 
However, the proposed legislation does not allow for relatives to apply to get a birth cert or related information on behalf of a deceased relative.
Under the new law, even if a birth parent says they don't want their child to get their birth cert or related info, the adopted person will still get access (after an info session with officials explaining the situation) - a huge shift in the right to info vs privacy debate.

— Órla Ryan (@orlaryan) May 11, 2021
Illegal adoptions
O'Gorman said the proposed legislation takes account of the issues facing people who are the subject of an illegal birth registration.
#Open journalism No news is bad news Support The Journal

Your contributions will help us continue to deliver the stories that are important to you

Support us now
In addition to this, O'Gorman and Minister Heather Humphries today brought a separate memo to Cabinet regarding wider support for affected individuals to address the issue of their incorrect birth registration and to have choice and clarity on the question of their identity.
These proposals were developed by an Interdepartmental Group established by O'Gorman and will be the subject of consultation with those affected by illegal birth registration in the weeks and months ahead.
The Interdepartmental Group was set up to examine issues arising for people whose birth was illegally registered at St Patrick's Guild adoption society. 
An independent reviewer who was tasked with examining Irish birth registrations as part of a probe into potentially illegal adoptions had strongly objected to the names of institutions being redacted from her final report. 
Although the review did not find conclusive markers to confirm illegal birth registrations, it discovered a significant number of files with "suspicious" markers within its 1,496-strong sample. From there, it estimated that between 5,500 and 20,000 files in the wider archive could potentially be from illegal adoptions in at least 25 adoption agencies. 
The review recommended against a full comprehensive review of all records, saying, among other reasons, that it would impact service users of Tusla. However, it said that the State should correct birth certificates where possible and establish procedures to allow those affected by illegal registrations to access their records.
With reporting from Sean Murray, Christina Finn and Hayley Halpin