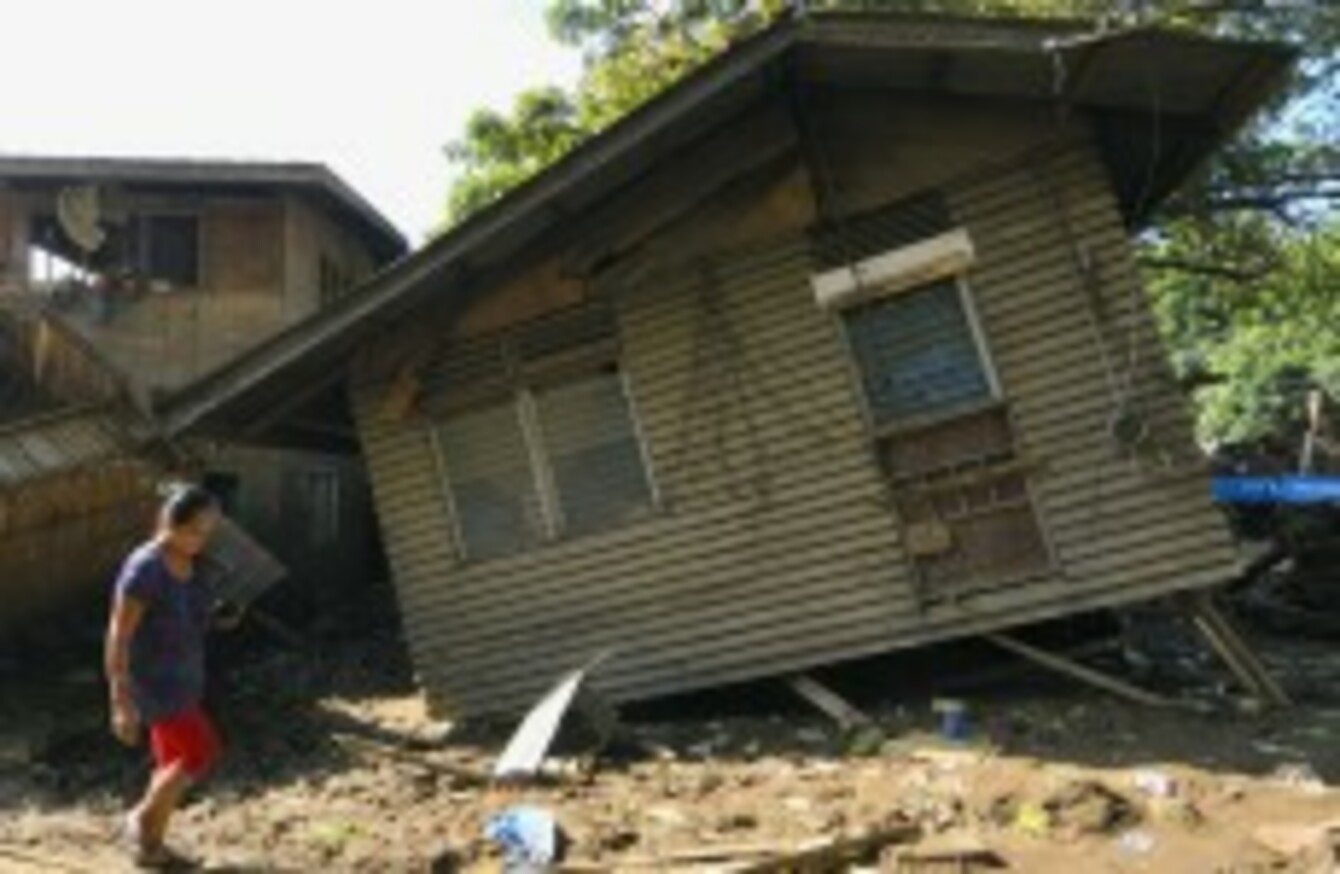 A house destroyed by flash floods caused by tropical storm Washi two weeks ago in Cagayan de Oro on the Philippines' Mindanao island
Image: */AP/Press Association Images
A house destroyed by flash floods caused by tropical storm Washi two weeks ago in Cagayan de Oro on the Philippines' Mindanao island
Image: */AP/Press Association Images
2011 WAS AN extremely busy year for the Department of Foreign Affairs and Trade, which provided €659 million in foreign aid to overseas countries.
The Department said today that it has been an "exceptionally busy year" as it had to respond to crisis situations in Tunisia, Egypt, Libya, Bahrain and Syria as well as to the earthquakes in New Zealand and Japan.
It added:
The fact that a number of these occurred at the same time and included countries where Ireland has no Embassy or diplomatic presence, posed particular challenges in helping Irish citizens and their families who found themselves in difficulty.
Its budget for foreign aid this year is €639 million, which will as usual be divided up in a number of ways.
Some of the funds go to NGOs, some go to nine partner countries – seven of which are in Africa – and a portion of the money is held aside to be drawn down for emergency events.
The Department's Crisis Centre and help-lines were open to the public for a period in February and March 2011.
As well as these events, the Department assisted almost 1,500 Irish citizens who had serious consular emergencies overseas.
These included deaths, arrests, kidnappings, accidents, child abductions and hospitalisations.
The highest number of consular emergencies occurred in Spain, followed by Australia, US, Britain, Thailand, France, Portugal, Poland, Turkey, the Netherlands, Canada, Germany, Italy, New Zealand, Greece and the United Arab Emirates.
This year the Department provided consular assistance to the families of almost 200 people who died abroad.
The Department also dealt with nearly 300 cases of arrest, as well as a number of child abduction cases.
Other work that the department did was process and authenticate 186 Adoption Dossiers for Irish citizens as part of the foreign adoption process.
The countries from which the majority of children are being adopted by Irish citizens include Russia, Bulgaria, Ethiopia and Mexico.
The Department of Foreign Affairs and Trade authenticated 67,000 Irish documents which were required for presentation abroad, many to secure employment or for property and commercial transactions.
The Department processed in excess of 8,000 applications for Irish citizenship through Foreign Births Registration.
This is for a person born abroad to a parent who, although not born in Ireland, was otherwise an Irish citizen at the time of the person's birth.
The majority of applications are received through the Embassies and Honorary Consulates in the United States, Britain, South Africa, Australia and New Zealand, reflecting the large Irish communities living in these areas.
It also issued more than 2,500 Certificat de Coutume (civil letters of freedom) to Irish citizens getting married abroad, with the most popular countries being Italy, Spain, Germany, Malta and Scotland.
As the year comes to a close, the Department said it urges Irish citizens thinking of travelling abroad in the year ahead, either on holiday or to work, to plan in advance and always keep their safety in mind.
The Department is continuing to monitor the security situation in a number of countries, particularly Syria and Egypt.
You can find out more about the services it offers through the 'Services to the Public' section of its website www.dfa.ie.