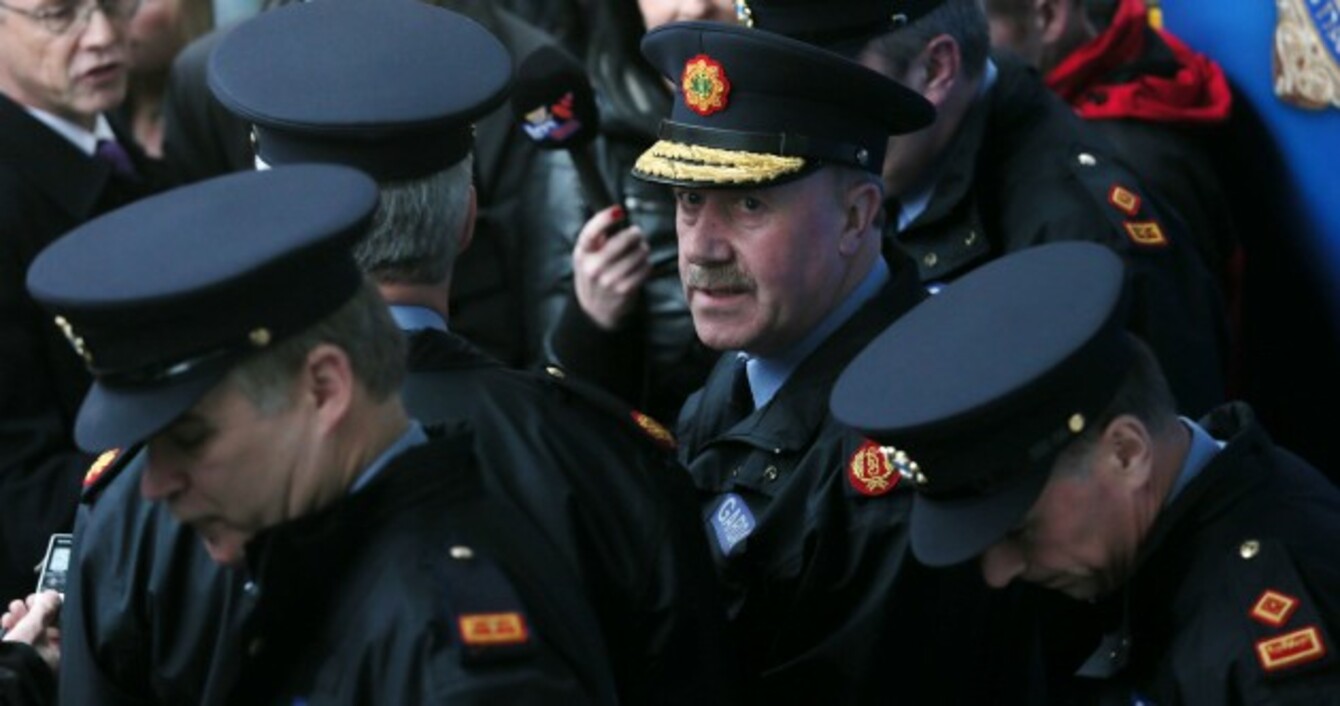 Garda Commissioner Martin Callinan speaks to the press at Dundalk Garda station this afternoon.
Image: Laura Hutton/Photocall Ireland
Garda Commissioner Martin Callinan speaks to the press at Dundalk Garda station this afternoon.
Image: Laura Hutton/Photocall Ireland
ALMOST A YEAR after the murder of Detective Garda Adrian Donohoe, investigators have reviewed approximately 400,000 hours of CCTV footage in an attempt to catch his killers.
In addition to the CCTV footage, the investigation has seen gardaí undertake 4,000 individual tasks, take over 2,100 statements, gather over 1,200 exhibits and conduct more than 30 searches under warrant.
Despite their efforts, nobody has yet been charged over the murder.
The 41-year-old father of two was shot dead during an armed robbery at Lordship Credit Union in Bellurgan, Co Louth on 25 January 2013.
Gardaí say that the investigation has made good progress in a number of areas and Assistant Commissioner Kieran Kenny says there are people who know what happened:
On the night of the murder in the car park in Lordship Credit Union there were at least five people involved in the incident.  One person fired the fatal shot that killed Adrian Donohoe. There are people out there who have knowledge of Adrian's murder and I would ask them to reflect on the impact that Adrian's death has had on the family, the Garda Síochána and the community where  he lived and where he served.
On the eve of the first anniversary of the detective's killing,  Garda Commissioner Martin Callinan has also issued a fresh appeal to the public for information and gardaí have stressed a number of key elements they believe people may have information on.
A replica of the child's car seat which was in the car stolen from Clogherhead and used in the murder of Adrian Donohoe. (Pic: TheJournal.ie / File)
The car
A 08-D registered Volkswagen Passat car was was stolen a number of days before the killing and was found burnt out in Newtownhamilton, Co. Armagh.
Gardaí believe the 'graphite blue' coloured car was burnt out around 10.30pm on the night of the murder of Adrian Donohoe and are appealing to anyone who knows anything about the taking of the car or where it was stored in the meantime.
Car seat
There was a child's car seat fitted in the stolen car but gardaí believe that it was removed before the robbery and murder. The Cosatto Brand, high-back child car seat was almost new and gardaí are are asking anyone who may have been offered this car seat or purchased it without knowing its origins to come forward.
Hammer
A black and red mallet hammer was discovered at the murder scene and is undergoing extensive forensic testing according to gardaí.  Gardaí describe the hammer as a  mallet type hammer with a black rubber handle, a painted red section of handle and a soft rubber head. It would usually be used by panel beaters, motor cycle mechanics or those in related trades and anybody with knowledge of the hammer should contact gardaí.
This child's car seat next to the hammer that was found at the scene. (Pic: TheJournal.ie / File)
Garda Commissioner Martin Callinan
Speaking at Dundalk Garda this afternoon, Commissioner Callinan said that gardaí would "leave no stone unturned" to protect anyone who came forward with information on the murder:
At this time, I would like to appeal to anyone with information on Adrian's murder to come forward and assist our enquiries. There are people out there who are shielding the killers and it is not too late for them to do the right thing and tell us what they know.
"His senseless, cold-blooded murder led to the bereavement of Caroline and their two children," he added. "It is Caroline and the two children who are uppermost in my mind at this time. "
Anyone with information in connection to the murder can phone, in confidence, the incident room in Dundalk Garda Station at 042 9388470 or the Garda Confidential Number at 1800 666 111.