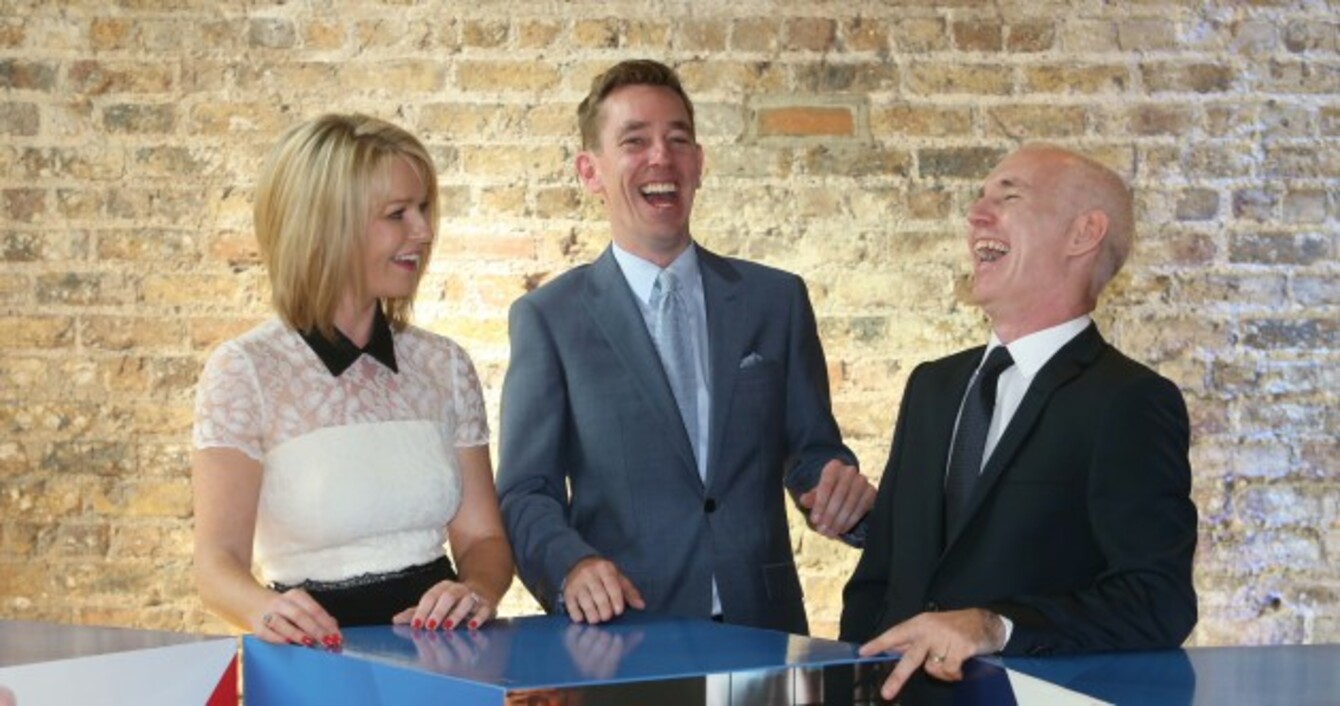 Image: Sam Boal/RollingNews.ie
Image: Sam Boal/RollingNews.ie
THIS WEEK RTÉ One launched its next season and, while Tubs was busy mugging for the camera, TheJournal.ie sat down with the new boss at the country's most-watched TV station.
Channel controller Adrian Lynch has been in the job at Montrose for less than a year after leaving his post as managing director of Animo Television, which supplied the channel with programmes like Celebrity Bainisteoir and The Secret Millionaire.
While earlier today we revealed how Lynch and soon-to-be TV host Joe Duffy were at odds on the tight broadcast restrictions applied to referendums, we also had a few more questions for the station chief.
Here's what he had to say about the next Love/Hate (or more of the existing one), licence fees, pro-government bias at the state broadcaster and, of course, the Angelus:
TJ: How are you finding the shift from running your own TV company to working for the state broadcaster?
AL: "When you're running your own company, as any business owner knows, you have your ups and your downs, sometimes things are going well, sometimes things aren't. I've worked in television all my life so I'm very passionate about that.
"This is looking at it on a more macro scale in terms of running a channel, but also it is a publicly-funded channel so we're accountable to the public in the decisions we make. It's a lot more responsibility because you're not just responsible for your direct employees, but it's a really exciting challenge."
Who do you look at as your biggest competition – and who do you keep an eye on most closely?
"There's two answers to that. One is that we compete against about 801 channels already so it's an intensely competitive market but obviously we have TV3 and UTV in the home market, we have Sky who have a big presence here. But also within that, we're very much committed to investing more money in programme making.
"But you (also) have the UK channels which have (their) channels here and they take about 25% of all commercial income out of Ireland without investing a euro in it, so that's €15 million a year that's going out that Irish broadcasters could actually be using to put really high-quality programming in their schedules."
Have you watched UTV Ireland, and, if so, what do you think of what they've been doing so far?
"I think getting a station to air is a big job in itself and I would never underestimate our competition, I think that's lazy and complacent. I don't know what the original vision was, but I think they're maybe revising certain elements within that. But, you know, they have two big English soaps in there that bring in audiences so we'll see how they build on it after that."
One thing you often hear from the public about RTÉ is a resentment of having to pay TV licence money for the state broadcaster, whether they watch it or not. Do you think that RTÉ provides value-for-money for all those licence holders?
"I think when you look at the licence fee … I think it's about 33c a day so when you're operating that many television channels, that many radio stations, orchestras, and it really is very central to Irish life… even just speaking from an RTÉ One point of view, it's interesting being in the charter now, you really get a detailed view of the breadth of engagement it has with the Irish public, from news and current affairs to drama to entertainment.
"Coming from my programme-making background, I want to invest in more programming. I absolutely think there's value. The more income we get, if the commercial income rises, for example, or there's more efficiencies within the licence fee, that will be reinvested into programming on the screens."
Another perception is that, whether it's because of the funding model or the fact it's a state broadcaster, RTÉ is a pro-government mouthpiece, particularly on big issues like, most-recently, water charges. Do you accept that with the way RTÉ is structured there's an inherent bias in what you do?
"I suppose that's always an argument with public-service broadcasters – is there a bias, is there more bias? I think RTÉ provides an absolutely independent and impartial news and current affairs service. Even if you look at the way the referendum was dealt with, everything was counted down to the second so it is different to being in a privately-owned newspaper… so I would rebut that (suggestion)."
Love/Hate was a really big hit for RTÉ One, what do you think is going to be your next Love/Hate?
"It's an interesting question. Love/Hate was such a phenomenal success … there has been five series of that made, which is amazing, and it didn't peak out earlier in the way. If you look at something like Fawlty Towers they only did two series of that and then they just left it alone, they didn't go back.
"I would never say never with Love/Hate. Stuart Carolan, who is the real creative, driving force behind it, he went off to write a feature film, Skippy Dies … I'd never say never in the coming two years, but at the moment we're really focussed on offering a diverse drama (range) to the audience.
"I think in Clean Break and Rebellion we can see the fact that we do absolutely different things … they're very different kinds of dramas, so we're not just sticking to one thing and I think that's hugely important."
What has been RTÉ One's biggest success in the time you've been there?
"My background is that I would have done a lot of big factual stuff. Over the summer we had legacies for example, which was your documentary with Páidí Ó Sé, Tony Ryan, Brian Lenihan, so that kind of serial that is blue-chip, well-made, very well produced and provides an insight into things, that would be the first little sample. But coming into the autumn now we've got over 53 titles to launch, which is more than we've launched in a long time."
#Open journalism No news is bad news Support The Journal

Your contributions will help us continue to deliver the stories that are important to you

Support us now
What's the biggest flop or disappointment that you've had – and what have you learned from it?
"It's interesting, I'm only coming into my first autumn now so we'll catch up at Christmas time. Making television is not an easy thing … to make quality television, maybe 85% of the time you get it right but the other 15%, sometimes the team doesn't quite blend or the access that you had initially is suddenly more restricted or you've got the wrong person directing it, or all of those sorts of things, and then you find yourself in a different place to the one you imagined you would be in."
What's your favourite programme on any station on TV right now?
"Right now… I quite liked (Channel 4/AMC's) Humans, I thought that was kind of OK. I tell you one thing that I think is going to be fantastic is this Recruits documentary series that's going to be on RTÉ One – I've seen both the cuts from that and it's just so strong, so raw and so real. It's first-class, authentic storytelling. It's going to be one to watch and I think it's going to make quite big impact."
When it comes to the presenters and personalities you have on RTÉ One at the moment, who do you think is the best?
"I don't think there are best people, I think people do very different things. If you look across our schedule and you look at presenters like Clare Byrne and Miriam (O'Callaghan) or David McCullagh or Ryan Tubridy, they all do different things, so I don't think there's a best. And different audiences engage with them in different ways … some people love them and some people hate them, but they all do the job to a very high standard. It's about having that diversity and breadth within the schedule."
Is it difficult balancing the wants of all your big names? For instance, Brendan O'Connor didn't seem too happy with losing his Saturday night slot to Ray D'Arcy…
"I don't think so, we have a very good relationship with all the talent. I think if you're straight with them they are impressed. Also I would say that we have big names but we also have a lot of people within the schedule who do a fantastic job for us, so the talent spread is very diverse."
And last question, what do you think of the Angelus?
"In terms of the Angelus, we're setting up this (commissioning process) so that's an opportunity for everyone to pitch in … to do their creative work and I think that's good to open it out. So the Angelus is one of our most-controversial programmes."
But what's your personal view?
"I don't have a personal view on it actually, because I think when you get into running a channel it's not about what I think, it's about what the audience thinks. So that's what we listen to."