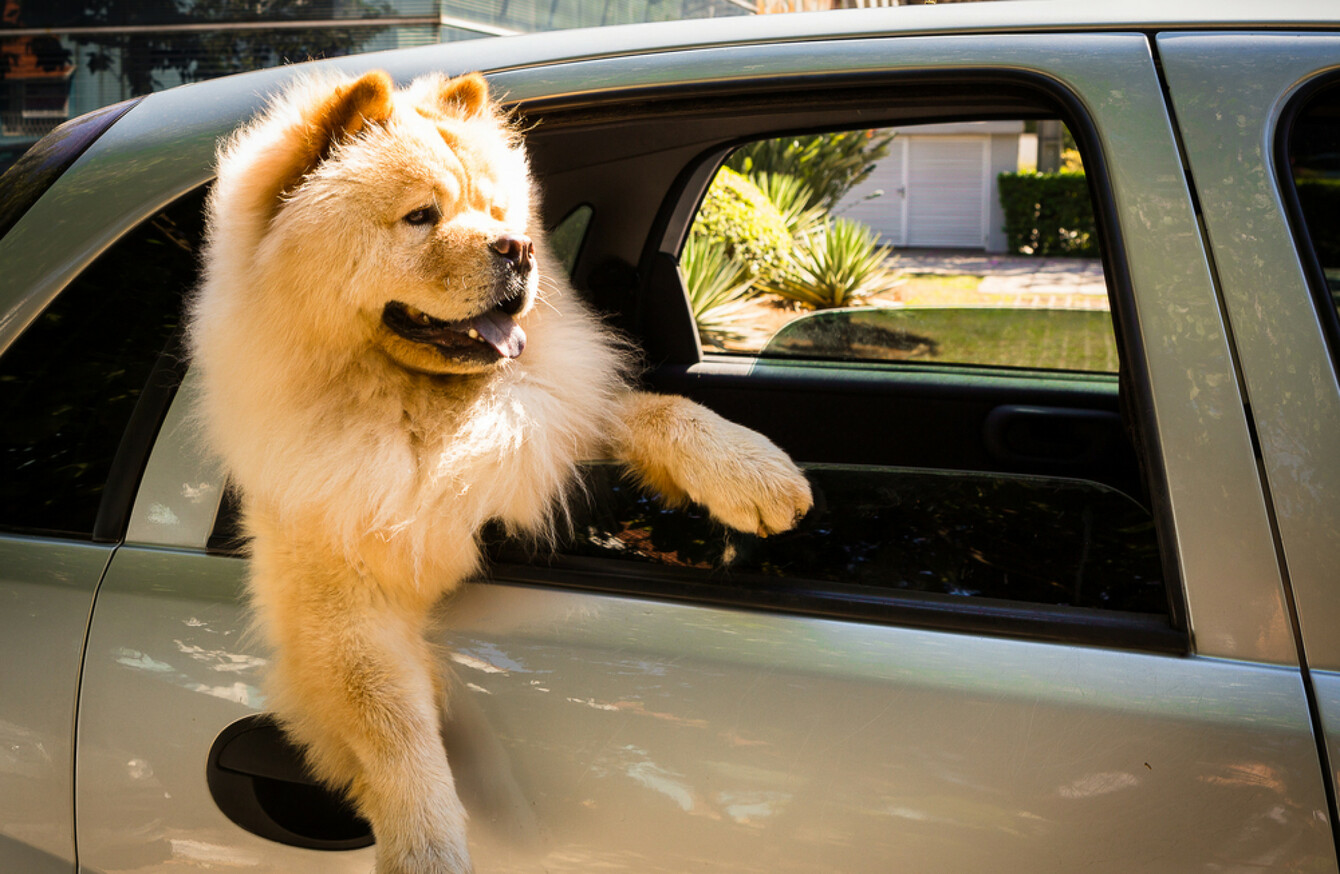 Just cruisin'
Image: Shutterstock/Will Rodrigues
Just cruisin'
Image: Shutterstock/Will Rodrigues
PROVIDING YOUR PET with shelter to get out of the sun, not feeding them big meals, and giving them plenty of cool, fresh water – experts say these are just some of the basic steps you can take in order to keep your dog safe and happy during the warm spell.
The advice comes as temperatures soar once again. Met Éireann says the temperatures will be well into the 20s for much of the coming week.
Dogs Trust is advising owners not to leave their dog in the car and to exercise them at cooler times of the day such as morning or evening. Pets can be left vulnerable to heat stroke when exposed to high temperatures for prolonged periods of time.
Older or overweight animals are most at risk. In terms of breeds, owners of flat nose dogs like pugs or bulldogs need to take particular care too.
Gillian Bird of the DSPCA said dogs shouldn't be brought on long, unnecessary journeys in the car and that they should never be left alone in parked cars.
In-car temperatures can soar within minutes of the air-conditioning being turned off.
If you wouldn't leave a chocolate bar or an ice-cream on the front seat of your car, Bird said, "then that is too hot for your dog".
Dogs don't have sweat glands like humans and cannot regulate their body heat. They only lose heat by panting and it takes the animals longer to cool down.
If a dog is panting rapidly or collapses from exhaustion the animal could be suffering from heat stroke. Dogs suffering severe dehydration or heat stroke require immediate medical care and fluid therapy by drip.
In these extreme cases owners are advised to look out for warning signs like excessive panting; red gums and tongue; vomiting or diarrhoea. Here's what you should do in these cases:
Take the dog out of the sun

Cover the dog with a cool wet towel

Get the dog to drink small amounts of cool water

Seek veterinary advice immediately
Simple precautions can be taken to avoid such problems, obviously. If you take your dog out during the good weather, make sure to bring along water for the journey.
If your pet is staying indoors owners should avoid leaving dogs alone in conservatories or glass environments as these tend to be much warmer than other parts of the house.
If your dog enjoys lying in the sun, Dogs Trust advises leaving down a wet towel so your pet can keep cool.
Finally, it you're taking the dog out for a walk, check the temperature of the ground (particularly on the beach or tarmacadam surfaces) and bear in mind that your dog's paw pads can be burned.
Other problems 
Recently Village Vets, which has surgeries in Dublin and Meath, saw cases of dogs suffering from vomiting and diarrhoea as a result of water bowls contaminated with insects or bird droppings.
Treatment for this involves admitting the pets for up to five days to be treated with antibiotics and drips to correct dehydration.
The DSPCA advised people to be "tick aware" at this time of year especially in long grassy areas, as it is easy to get an infection.
Brushing can be an opportunity to check for ticks or irregularities on the skin or fur of your pet.
Regular grooming of dogs' hair during the summer is a must to avoid overheating and to make the dog more comfortable.
#Open journalism No news is bad news Support The Journal

Your contributions will help us continue to deliver the stories that are important to you

Support us now
Pet sunscreen can be found in pet stores and the DSPCA advises owners to pay particular attention exposed areas such as ears, nose and belly.
Other animals
Cats, especially white cats, can develop get skin cancer on the tips of their ears and they require factor 50 sunscreen in these areas as they have very little hair there to protect them from the sun.
In hot weather rabbits living outdoors need shade and as the sun moves their hutch should be moved to a cooler area.
Village Vets suggests placing ice packs around the hutch for them to lean up against if they want to cool themselves down and advise leaving out bowls of fresh cool water for the animals to drink.
Outdoor rabbits get used to hot environments and don't need to be brought in during the heat of the day but guinea pigs need to be kept inside during high temperatures.
Domestic fish tanks or reptile cages should be kept out of contact with direct sunlight and if you have other animals, like birds or hamsters, don't leave their cages on the windowsill.