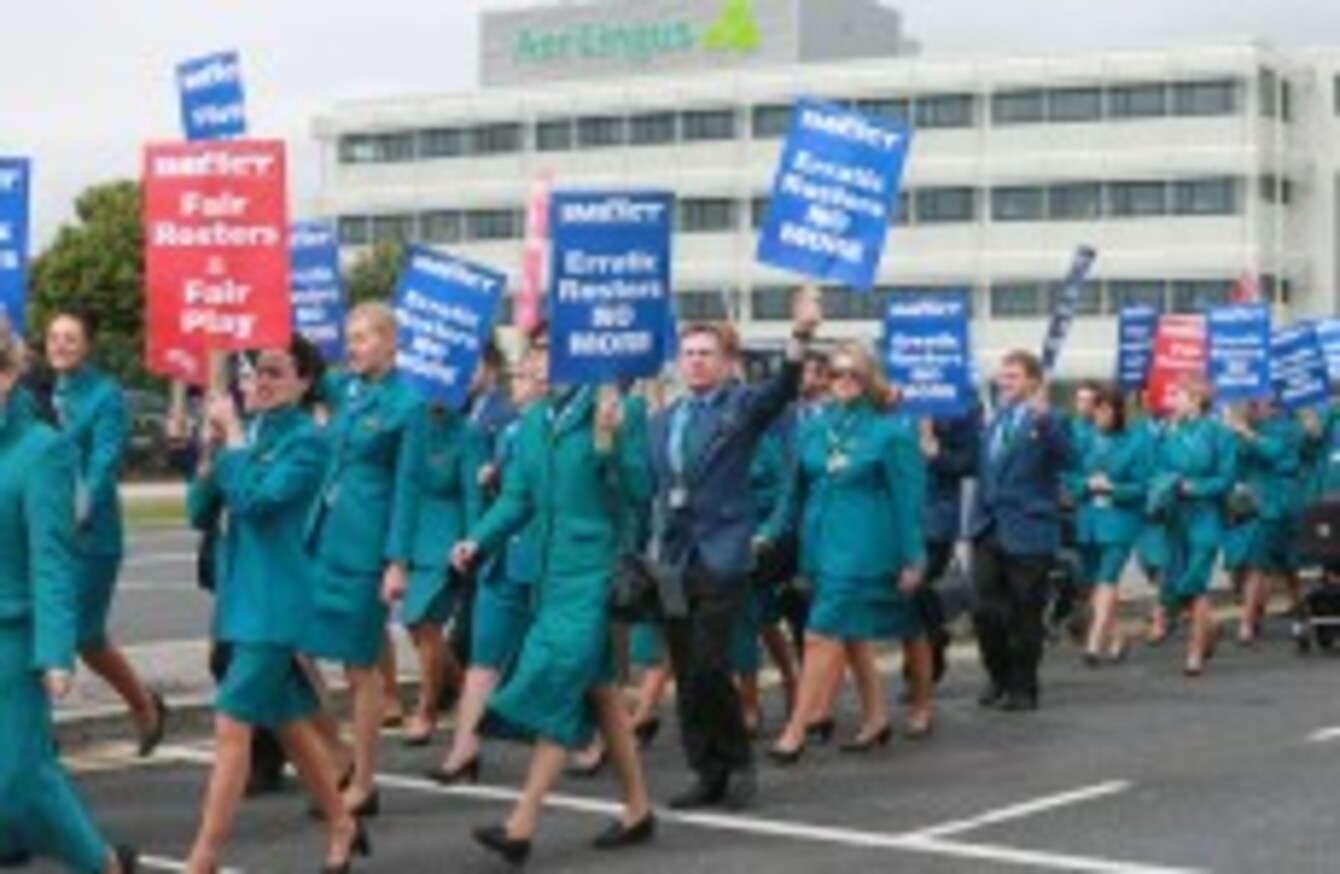 Image: Laura Hutton/Photocall Ireland
Image: Laura Hutton/Photocall Ireland
AS PASSENGERS FACE the prospect of more strikes, Aer Lingus and trade union IMPACT have agreed to meet at the Labour Court to try and resolve their dispute.
They both accepted an invitation from the Labour Court today to attend on Wednesday morning at 10am.
A spokesperson from IMPACT said that the invitation had come from the Labour Court this evening.
The invitation was issued under the section of the act that allows the court to intervene in a case that is in the public interest.
Earlier today, Transport Minister Leo Varadkar invited management and union representatives to use the Labour Relations Commission in a bid to settle the dispute.
It came following the breakdown of talks between the airline and IMPACT, which represents cabin crew, on Friday.
Dispute
The long-running dispute between the airline and the union centres on the issue of rosters.
IMPACT will not be calling off the strikes – due on 16 and 18 June – ahead of the talks, the union said this evening.
Transport Minister Leo Varadkar has been outspoken about his thoughts on the dispute, saying a month ago that people are "pretty sick" of Aer Lingus workers threatening to go on strike.
However, IMPACT had said the union had been left with no other way to negotiate with the airline other than balloting for strike action.
Varadkar said on Saturday that the State's industrial relations machinery "remains available to both sides and should be utilised, if direct negotiations have proved unsuccessful".
Industrial action
At the beginning of the June bank holiday, the dispute was felt by travellers when many Air Lingus flights at Ireland's three man airports were cancelled.
Aer Lingus has said it is willing to "engage in a process to achieve the desired roster pattern", but in a way that does not impact on cost or operational efficiency.