Image: Niall Carson/PA Wire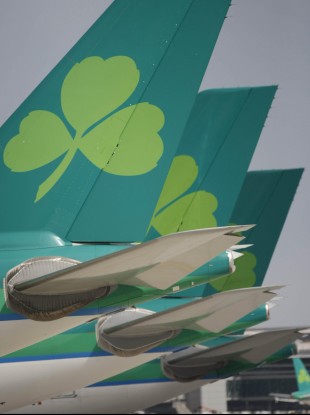 Image: Niall Carson/PA Wire
AER LINGUS HAS seen an increase in passenger numbers for August 2013.
It said today that total flown passenger numbers, including Aer Lingus Regional operations, increased by 0.9 per cent to 1,126,000 in August 2013 compared to the same period last year.
The vast majority of passengers were taking short haul flights, including on Aer Lingus Regional – 1,005,000 of them in total last month, a decrease of 0.8 per cent on August 2012.
But the long haul passenger numbers saw a big increase, with 121,000 taking the longer journeys, an increase of 17.5 per cent on the same time last year.
The company had previously stated that good weather conditions in July had "somewhat eroded our forward booking profile", and the impact of this is reflected in its August short haul figures.
Last week, Ryanair was ordered by the UK's Competition Commission to sell its 29.8 per cent stake in Aer Lingus down to 5 per cent.
Ryanair has said it will appeal the UKCC report, claiming that it is "disproven" as competition between the two airlines has, it says, intensified rather than waned.