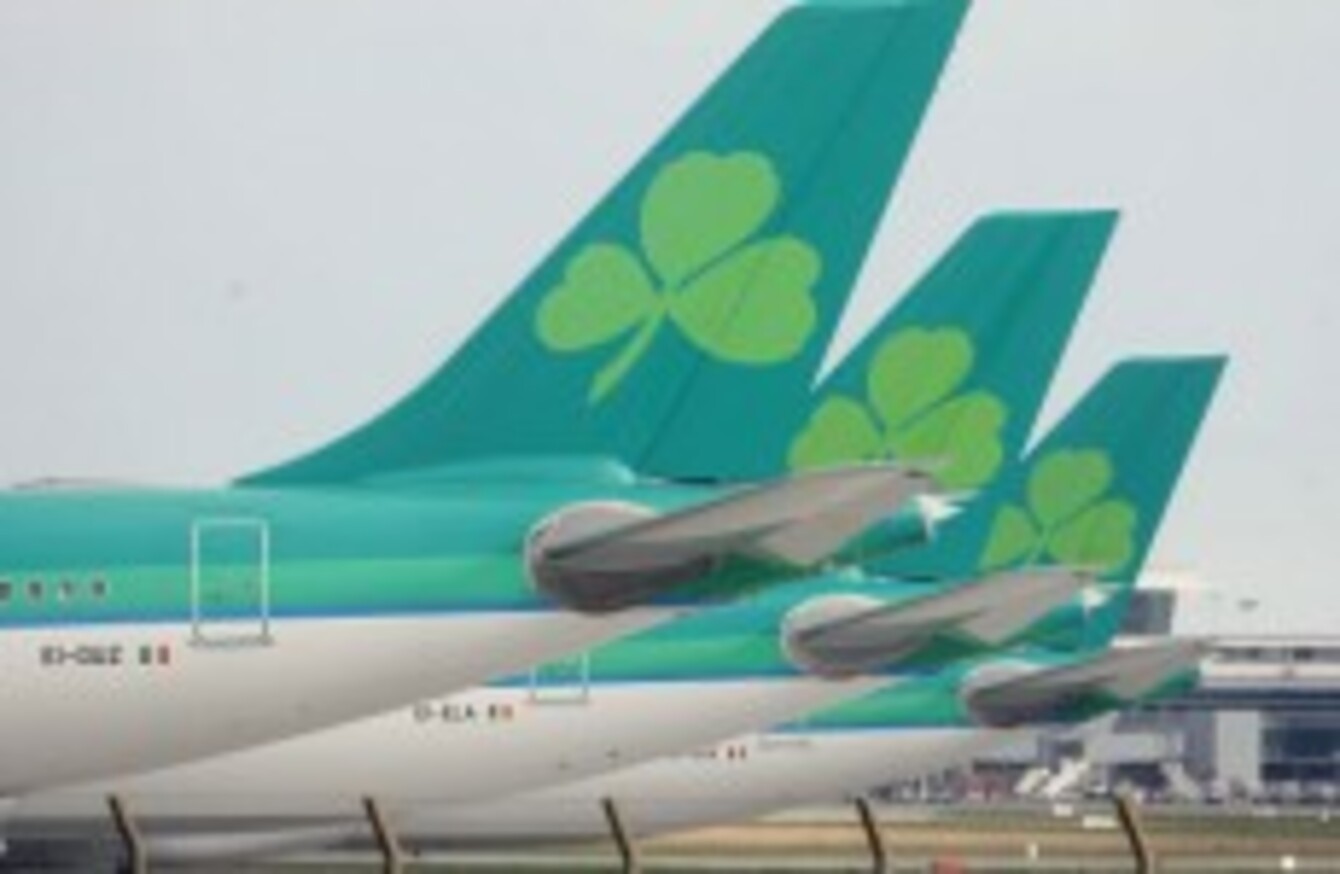 Image: Niall Carson/PA Wire/Press Association Images
Image: Niall Carson/PA Wire/Press Association Images
WORKERS AT AER LINGUS are poised to go on strike over the airline's plans to sell off its Shannon Hangar, which could see up to 55 compulsory redundancies or relocations.
The group of unions representing the employees have threatened "likely" summer disruptions at the airline over the handling of the matter.
Unite Regional Officer Brian Gormley told TheJournal.ie that the unions do not issue "idle threats" and that staff were seriously considering a full withdrawal of labour ahead of a meeting next week.
"There is a strong belief among members that unless we take action immediately, we will have no chance of reversing a decision which will see job losses," he said.
Unite understands that the sale of the Shannon Hanger is "pencilled in for the end of June" and if that happens, workers could be "uprooted to Dublin" or face losing their jobs.
Over the past two months, union representatives have been involved in detailed discussions with senior management on how best to yield savings of €1.5 million to try and avoid the sale.
"It now appears that the workers representatives who were engaged in what they thought was an opportunity to find the savings necessary to protect their jobs, were not given a fair hearing," claims Gormley.  "It seems that Aer Lingus management were committed all along to divesting the lease of the Shannon Hangar and moving the work to Dublin."
As workers discovered that initial plans were still being pursued, they contacted their respective unions – Unite, Siptu and the TEEU – to ask them to "resist any attempt by the company to impose compulsory redundancies on the Shannon workers".
A meeting of trade union officials and employees will be held this Tuesday to discuss possible actions.
Asked whether any strike action could potentially harm the airline further, Gormley said it was "unfortunate" but people in Ireland have the right to protect their jobs. He also placed the blame back on company management, stating it was "their choice" to sell the hangar without fair consultation.
Unless the company changes their attitude, I couldn't see anything other than a withdrawal of labour. We can't allow them to sell the hangar.
A spokesperson for Aer Lingus told TheJournal.ie that as the company is engaged in a formal consultation with unions in relation to the Shannon hangar, it would have no comment to make on the matter.